Sailing Trip with the Stahlratte
A long time ago we were sitting one night on the deck of a big cargo ship. We had found a corner sheltered from the wind, set up the deck chairs and looked out into the clear night. Above us the wide starry sky, below us the gentle sound of the sea and in us the great bliss of starting a life on two wheels. It was the night of Christmas Eve.
Moe got a big cigar from home out of his pocket. On the shelves of the students' apartment it had already caught a lot of dust and lost its good taste. "It's for a special occasion," he said at the time. Now the occasion was distinct enough and while sipping the cigar, we dreamed of far-off lands. Even those that make the finest cigars. "If we're very lucky, we might even make it to Cuba", Moe said to me, and we spent half the night puzzling about what it's really like on the island over cigar smoke and red wine.
Now we are – two years later – at the port of Cartagena, the motorcycles ready for departure. This is the end of our time in South America. But at the same time it is also a beginning, a new chapter of our journey. A journey that now actually leads us to Cuba.
Captain mischief
We watch as a small boat with three men coming across the calm sea and stopping at our place. A well-fed middle-aged guy with blond storm hair climbs off the boat and grabs a bundle of old ropes lying in it. He throws them over his head like hair and introduces himself:
"I'm the Rastaman."
"Hey, I'm Moe," Moe replies laughing as he strikes his outstretched hand.
"Well, I wouldn't have expected that," he promptly answers with a Berlin dialect.
A short break follows, then the comedian tells us that he is Captain Ludwig.
And there they are again, the prejudices: We expected a much more serious appearance from a captain who also goes by the stuffy name of Ludwig. Well, sthis funny guy is a positive surprise!
They are making short work now: "Come on, bring the bikes over here!"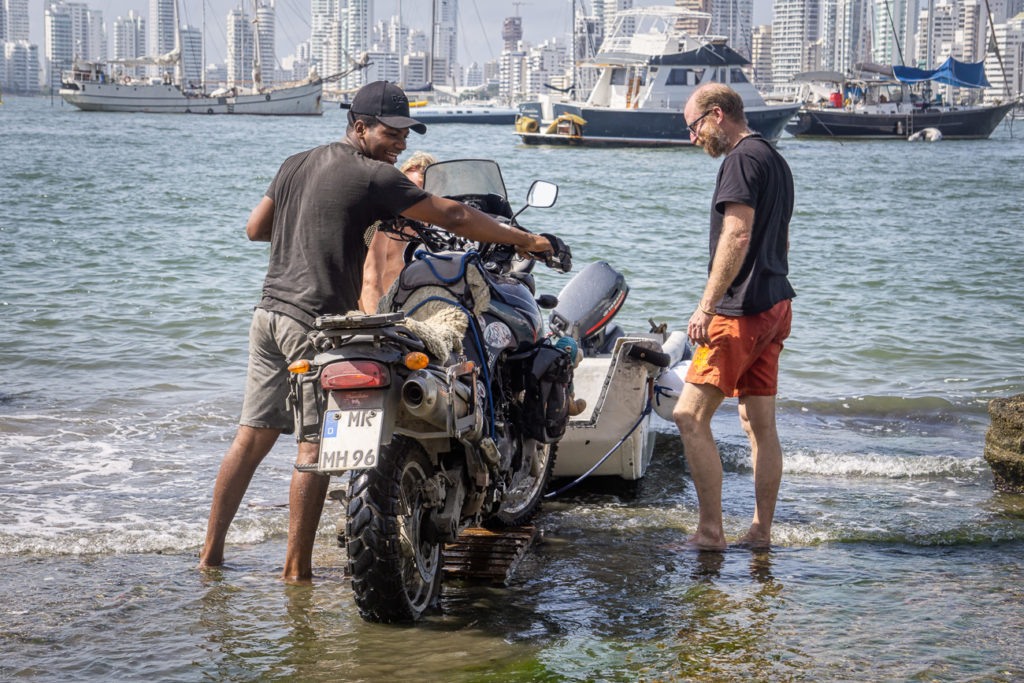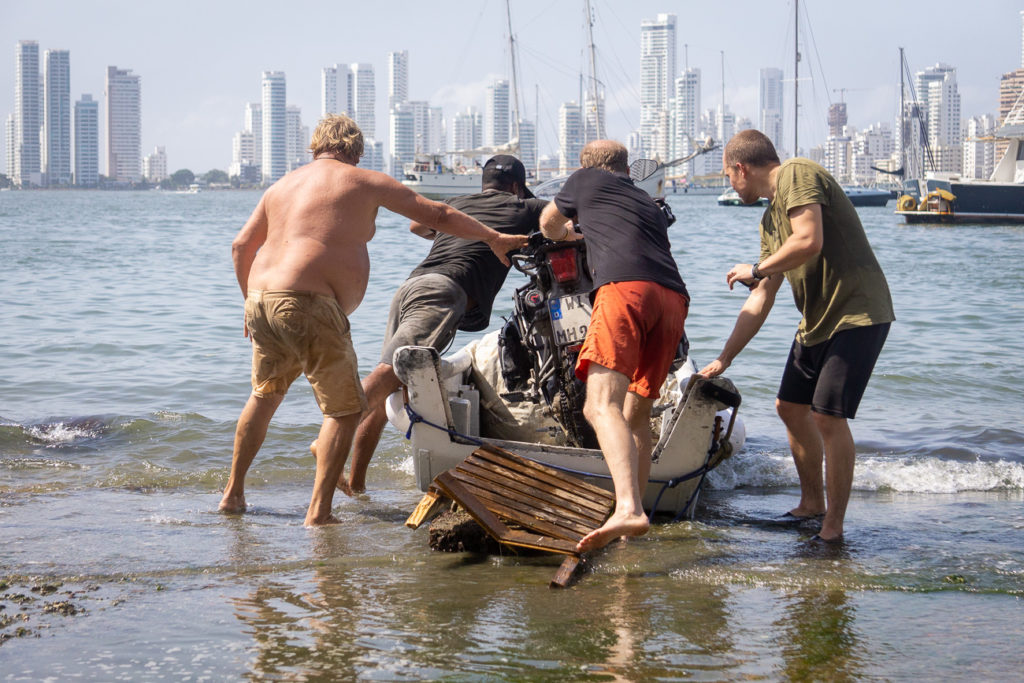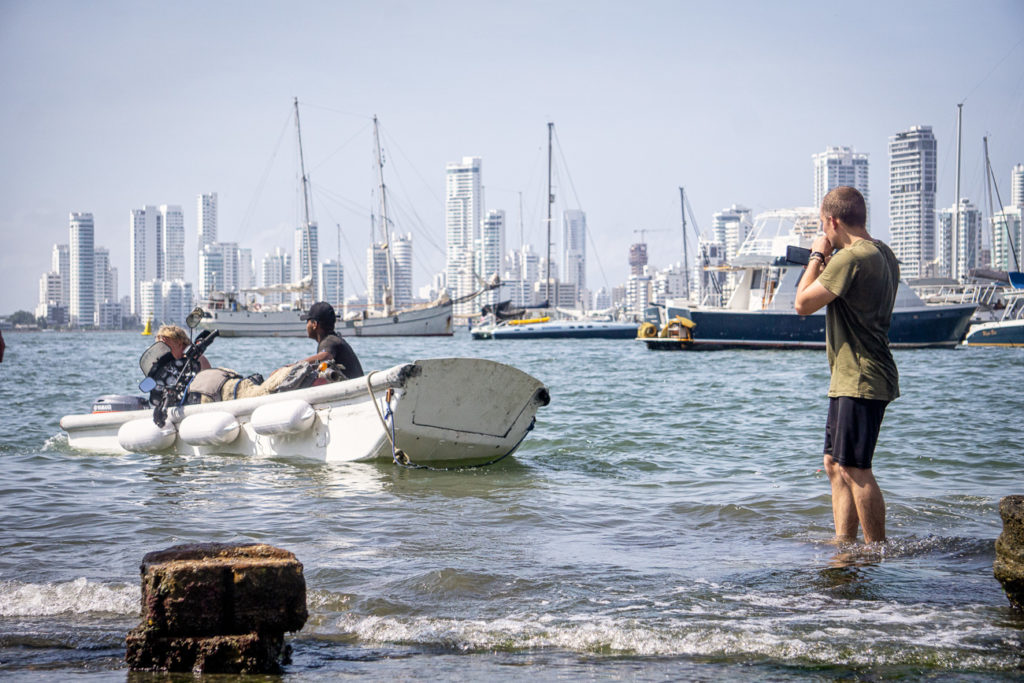 A ship with character
One after the other, the motorcycles are now pushed onto the small feeder boat to bring them to our ship, the Stahtratte von Bremen (steel rat). The old sailing ship is 117 years old and has a very eventful history.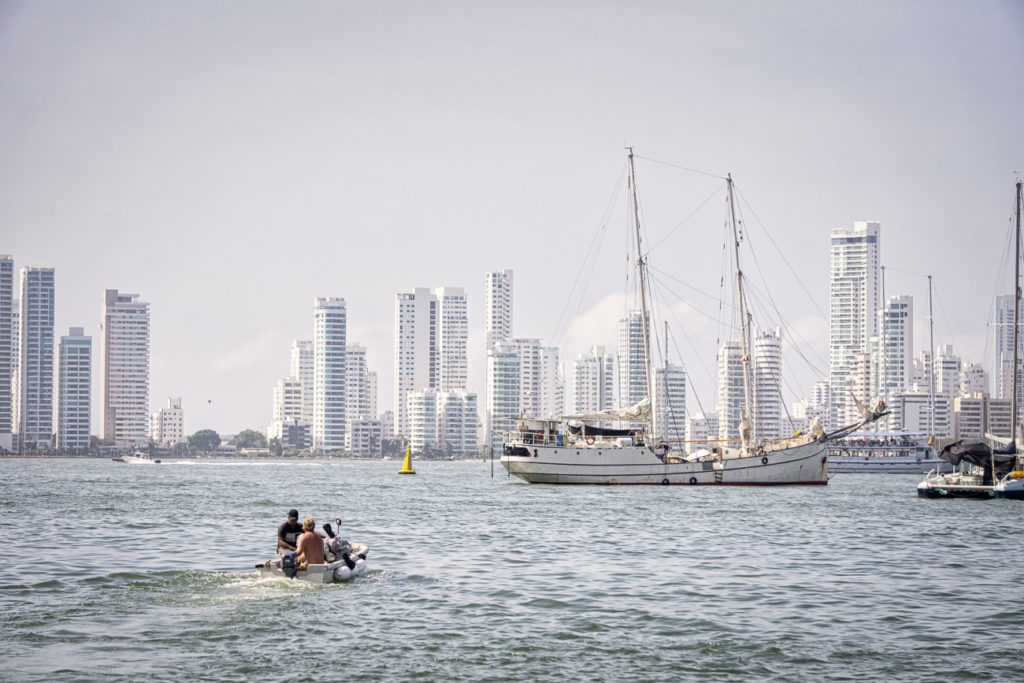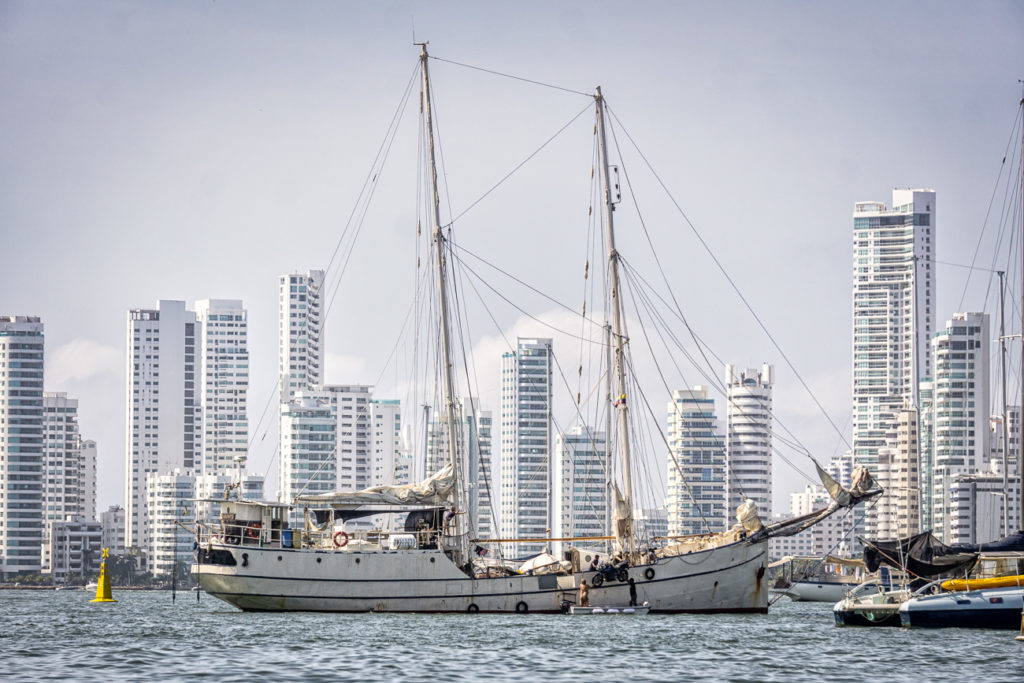 Once built in the Netherlands, the steel rat was used for sail fishing for the first 80 years of its life. But then a few people came along who had more in mind for the old lady: the non-profit "Verein zur Förderung der Segelschiffahrt" was founded and bought the logger in 1984 in Bremerhaven. A long history of conversion to a 2-mast schooner began, followed by the first great adventures in the Mediterranean, the North Sea and the Caribbean with several Atlantic crossings.
After the subsequent reconstruction in Hamburg and Bremerhaven, there was an extended first trip to Cuba, before the big decision followed in 2004: the steel rat should circumnavigate the world. But in the middle of this journey, the money suddenly ran out. In order to replenish the sailors' funds, the crew considered renting the free beds to travellers in the Caribbean. Afterwards the transport of motorcycles was added. Today – about 16 years later – the old lady is still touring across the Caribbean Sea.
Especially between Panama and Colombia there is a lot of work for the steel rat, because the famous Panamericana has a gap here (by the way, we didn't know this until shortly before our departure). Although one sees land on the map between Central and South America, there is no getting through. In the "Darien Gap" all roads end in the densely overgrown bush. Here you can find rare plants and animals as well as malaria, cholera, swamps and small indigenous groups. But this gap is known for one thing above all: highwaymen and the drug mafia. A lawless zone. In other words: If you are not a crazy US veteran looking for the ultimate adventure, you have to overcome the Darien Gap by sea or air. The steel rat has become a legend among motorcycle travelers.
Before we start: a short video to get you in the mood
A bit like home
We sleep one more night in Cartagena, then we go on board. To our great surprise we are only four passengers travelling with five crew members. Quite a luxury. And what is even more pleasant: Eight of the nine people on board speak German. It feels like home.
The other two passengers are Carina and Zuppi. Carina lives in Germany, but uses every free day to see a little more of the world. Meanwhile she has already seen a lot, but in her opinion this was not enough. She has a weakness for sailing trips and discovered the steel rat via a book. But as she tells us, Captain Ludwig did not get off so well. Therefore, it's even more courageous to spend a part of her holiday sailing over the rough sea together with the "Grumpy" from the book and biker lovers.
Zuppi is once again one of those who are stalking and meeting us everywhere: Swiss. He is the only other motorcyclist on board. His luggage consists of an old Royal Enfield with a diesel engine, on which he is already on his second world tour. The first trip took place "classically" on a large BMW GS. When I ask Zuppi why he has now voluntarily gone down to eight hp, he answers cool: "I have noticed that you don't need to go so fast."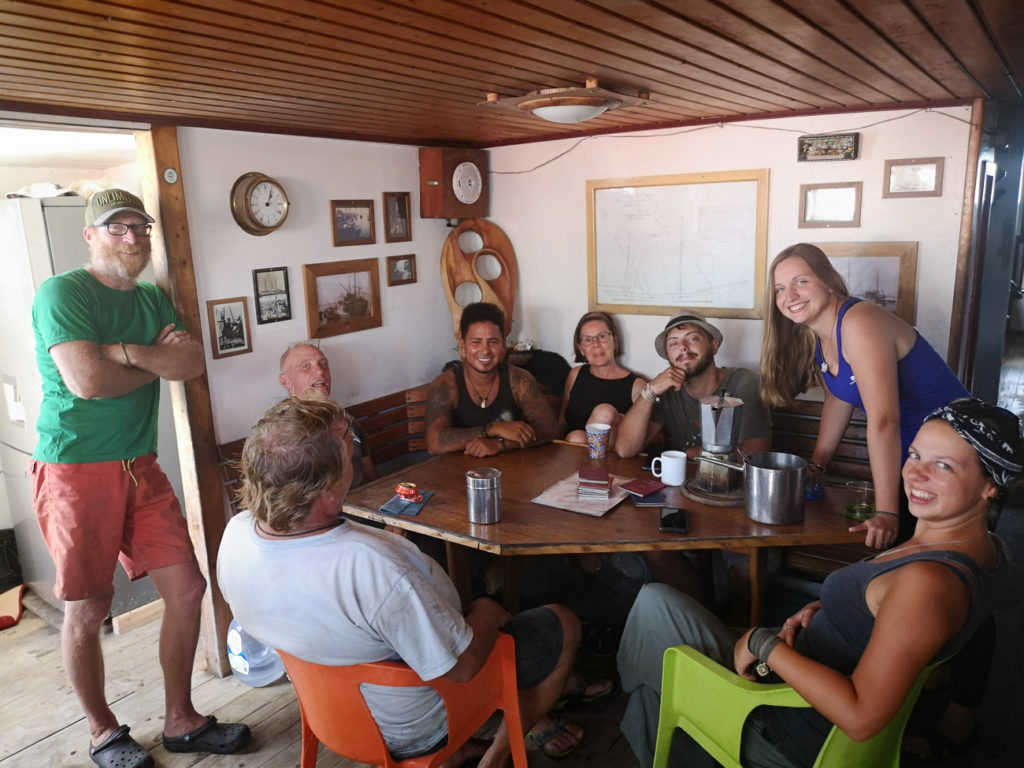 Cast off, or: "Can a ship like this actually overturn?"
We spend another night on the logger, then we slowly sail out of the port of Cartagena. But what follows shortly after our departure from the port is definitely not for delicate landlubbers. The sea is so stormy and the swell so high that my heart immediately slides into my pants. How much inclination can the ship withstand? AND WHAT IS ACTUALLY HAPPENING TO OUR MOTORCYCLES RIGHT NOW?
The extreme oblique position makes me insecure. Moritz, the so-called ship's boy, who is actually no longer a boy, but a very nice guy at our age, tries to reassure me: "The Dutch certainly knew how to build ships". Let's hope so…
Nevertheless, huge amounts of salt water keep sloshing over the starboard and make not only us but also our babies soaking wet. Well, they are wrapped in a tarp but it doesn't help much. Yes, I think I finally know how it feels to be a caring parent of a child (greetings go out to mum again!).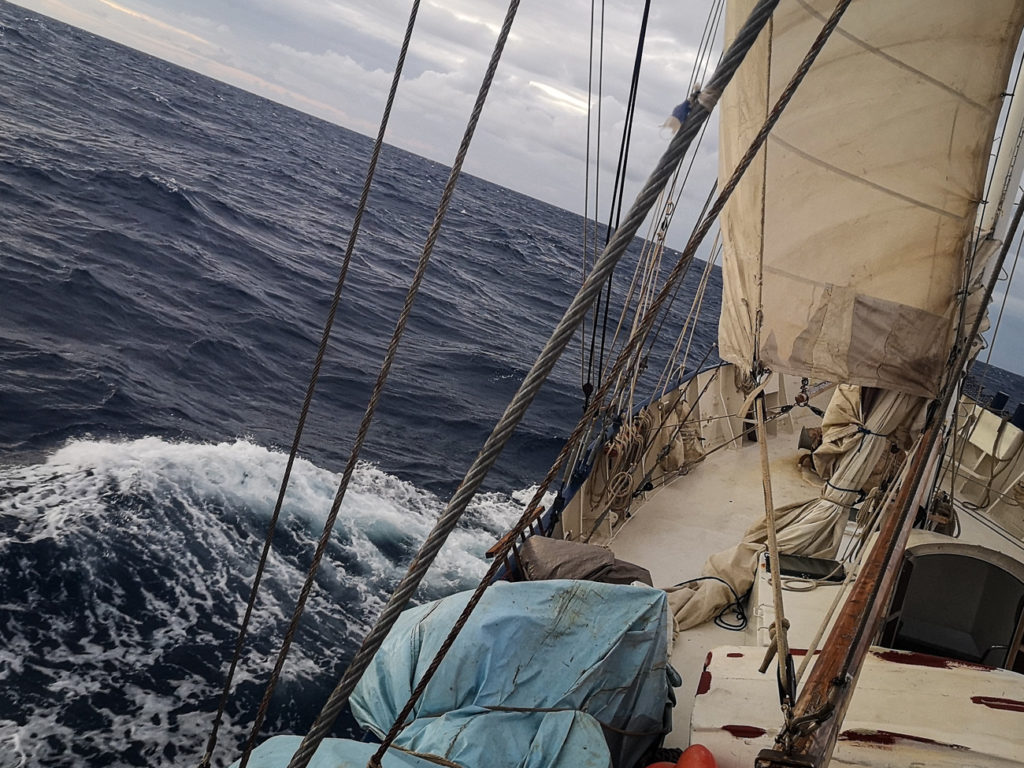 Besides the constant observation of the bikes from the corner of the eye and the physically more and more exhausting rocking around, there is a reason for joy.
"Look Moe, there are dolphins", I excitedly call out when I see the first one jumping out of the water. Immediately all of us jump up and stand at the starboard side to be able to observe our new companions better.
Fish Food
After a short time Moe runs towards the port and leans over the railing. "Are there any more?" I ask as I stagger over to him. At this moment, however, I see how Moe lets some fish food fly overboard in a high arc and empties his stomach. To leave the horizon out of sight for a few seconds – a fatal mistake.
Moe is first put under the table, then moves down to our bunk some time later. I sit outside and enjoy the salty air around my nose. But something else doesn't really work either: Every time I get up and have to concentrate on something (be it just getting from A to B), I notice a sinking feeling in my stomach. So I just stay where I am. Until it gets dark.
Impertinent luck
Until late at night I sit up on deck and look out at the stormy sea and the cloudy sky. It is lonely and beautiful up here. Now and then the moon shines through and is reflected in the water.
While I look at the horizon, it suddenly comes over me. A deep satisfaction. I realize now that we have actually made it this far. It was so good.
Every day I get up to do what I love. Together with the person I love most in the world. This is absolutely not a matter of course. No, it's true happiness. Such a rich life – it seems almost impertinent to me.
And the best part is, it's going to continue. We're on our way to Cuba. Then we're going on to Central and North America. And I'm really excited about every single country in front of us.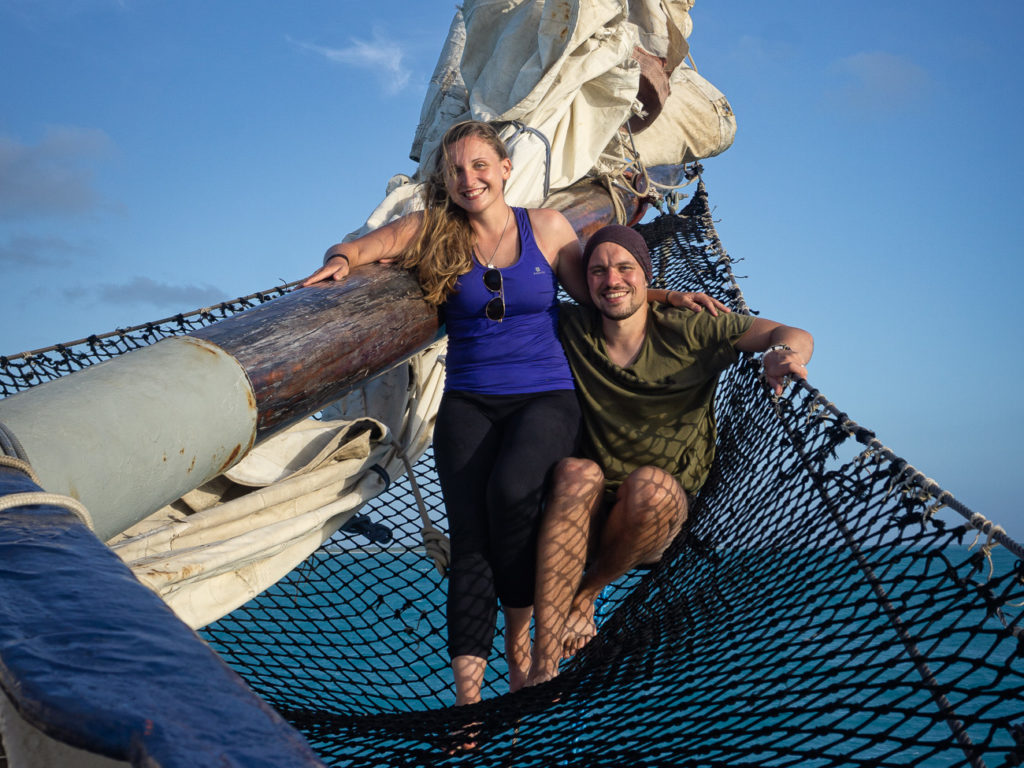 "This is stress, it's not supposed to be fun!"
But now back to the events on board and this nice quote from Gabi, the vice-captain. Apart from a sail that tears right on the first day and has to be sewn, the following six days are not very eventful.
Since the route does not allow it otherwise, we have to sail without a stop. For us, it is admittedly a silent struggle. We would never have expected that the constant rocking could be so physically and mentally exhausting. Although it is not our first tour. But the Caribbean Sea is a tough one and makes the waves beat high. What does it feel like? Imagine yourself on a roller coaster. The first rides are really great, yes, it's fun for a while, but when the roller coaster goes on for days without a break, it's just exhausting.
At night we don't get a wink of sleep, the food is hard to eat and a shower is out of question. Although we are full of salt water from our stays outside. Actually, we would like to help the crew with cooking and cleaning, but we usually don't succeed. And then there is the constant worry about the bikes and in general that we might capsize (although the crew assures us that this will not happen). But the jerking as well as the strangest noises are not that confidence-building!
By the way, the following rules have proven to be useful for life on board:
Always have both hands free to hold on to (danger of falling)
It is not a particularly good idea to hold on to the wheel (danger of falling)
Always look at the horizon (danger of nausea)
Never read (danger of nausea)
Only get up when it is really necessary (danger of nausea)
Avoid going to the toilet if possible (danger of nausea) and if so, only pee sitting down
Drink the water immediately and never leave the glass on the table (danger of injury) (it is better not to drink any water at all – see point 6)
Always "feed the fish" in wind direction (well, you know why)
You can't even distract yourself by reading. Podcasts are once again our friends, but honestly: after the third day you can't even hear the constant chatter anymore. If only the rocking would stop for a short time and one could relax a little…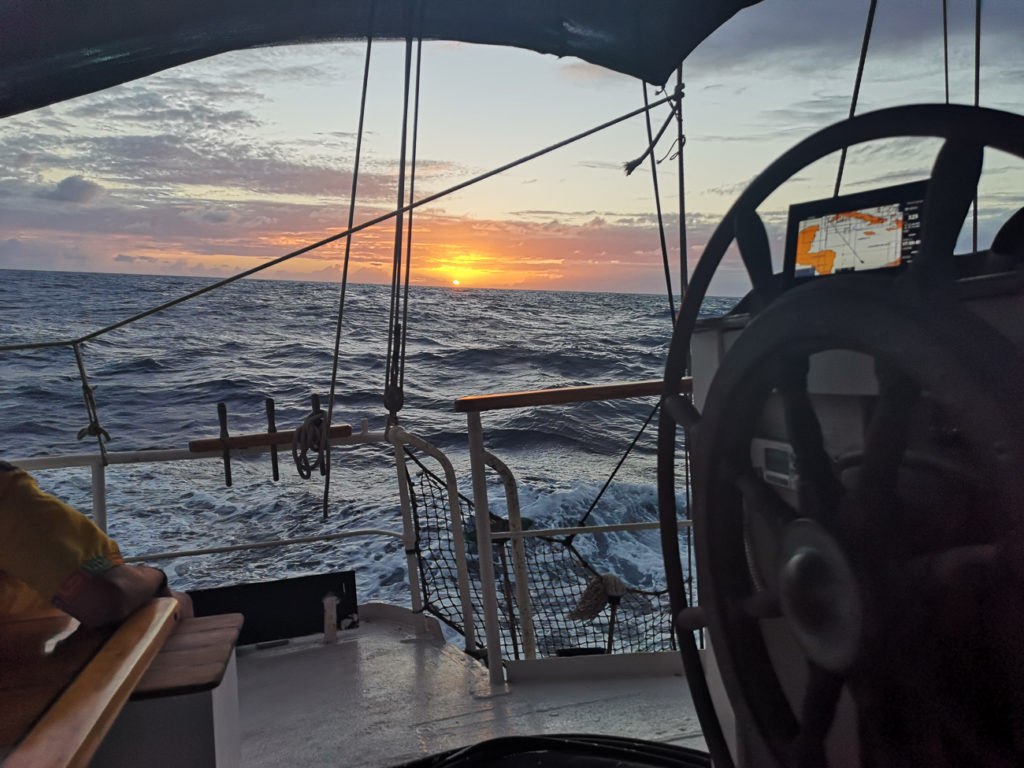 Exhilaration snacks
All in all the company is rather taciturn. Considering the general lack of sleep and the continuous workload of the crew, this may not be surprising. We also have to get along with ourselves first.
Yet, here and there some of the necessary humor comes through, which is essential to endure the adverse circumstances on board. Vincente, the good Colombian soul, is always in a good mood despite he's tortured by everybody speaking German language, the rest of the crew makes sarcastic comments and Carina also turns out to be a little comedian. So it's always cheerful when we get together for meals in the galley.
The moments when Captain Ludwig – known to everyone as Lulu – talks out of the blue are also among the great moments of this journey. Lulu has been a captain since 1986, is a passionate flamenco guitarist and has a weakness for bad jokes. He provides us with interesting, sometimes wild theories and entertaining stories of old sea voyages.
My favourite is that of a troupe of elderly Finns who were riding Alaska-Ushuaia at record-breaking speeds on their motorcycles. Six hundred kilometres a day – the minimum. Nevertheless, they did not let themselves be taken their daily two bottles of rum per person (!). They had ordered a "rum flatrate" from Lulu in advance. He had agreed to it beforehand and thought, "well, they won't drink that much" – he was disabused.
Also good are the memories of times long past, when a community from the Berlin squatter scene lived on the ship. To supplement their travel budget, they took passengers on board, who then wrote long letters of complaint to the tour operators. The content ranged from nude culture to crew members who carried out their daily morning business – visible to all – in buckets on deck.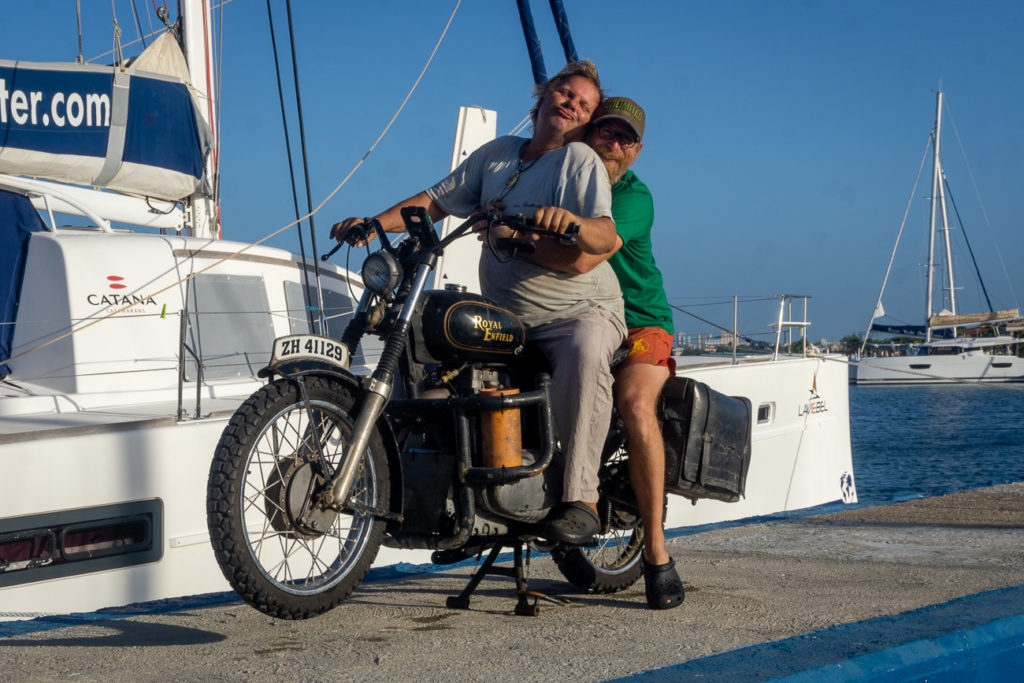 Broken engine in paradise
Hallelujah – the "I-must-hold-on-to-everything-not-to roll-away" has finally given way to a gentle rocking: We have arrived in Cayo Largo. The 25 kilometres long and south-facing island of Cuba is a true paradise. Turquoise-blasting water, the finest icing sugar sand, perfect palm trees – Cayo Lago has it all!
The only problem is that we are too far away from the beautiful beach. Our engine has a problem and it is too stormy to sail. While we can finally relax on deck and enjoy the Caribbean flair, the crew is working hard in the engine room to get the engine going again. By the way, it was installed in 1963 and dates back to 1955. I don't think I have to explain more. (Spoiler: But on the second trip to Mexico we'll get to the beach and it's really as beautiful as Lulu announced)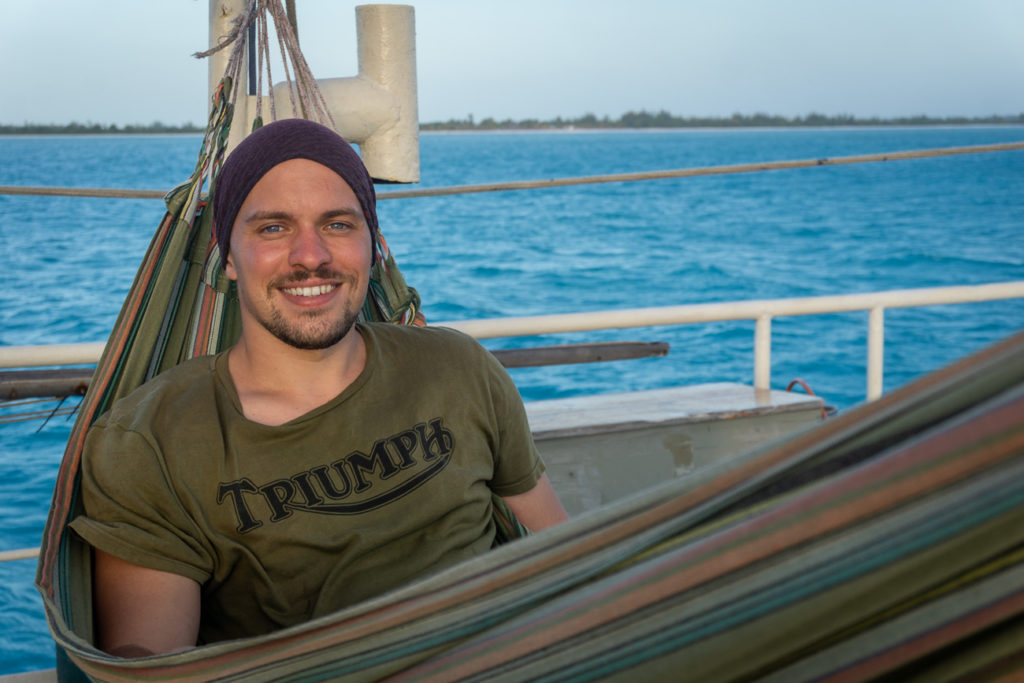 In between the Cuban customs tries again and again to reach our boat so that we can enter the country officially. But with the swell it doesn't work and they have to turn around every time.
Nevertheless: the atmosphere is extremely good. It seems as if we have mutated to an even funnier troupe with the thrown anchor, which constantly tries to outdo each other with silly sayings and flat jokes.
It's a shame it'll be over soon. Towards the end we got used to the rocking, the group dynamics of the crew were always entertaining to watch and there were always nice retreat possibilities. But after two days in paradise the engine is running again and we sail towards Cienfuegos at night.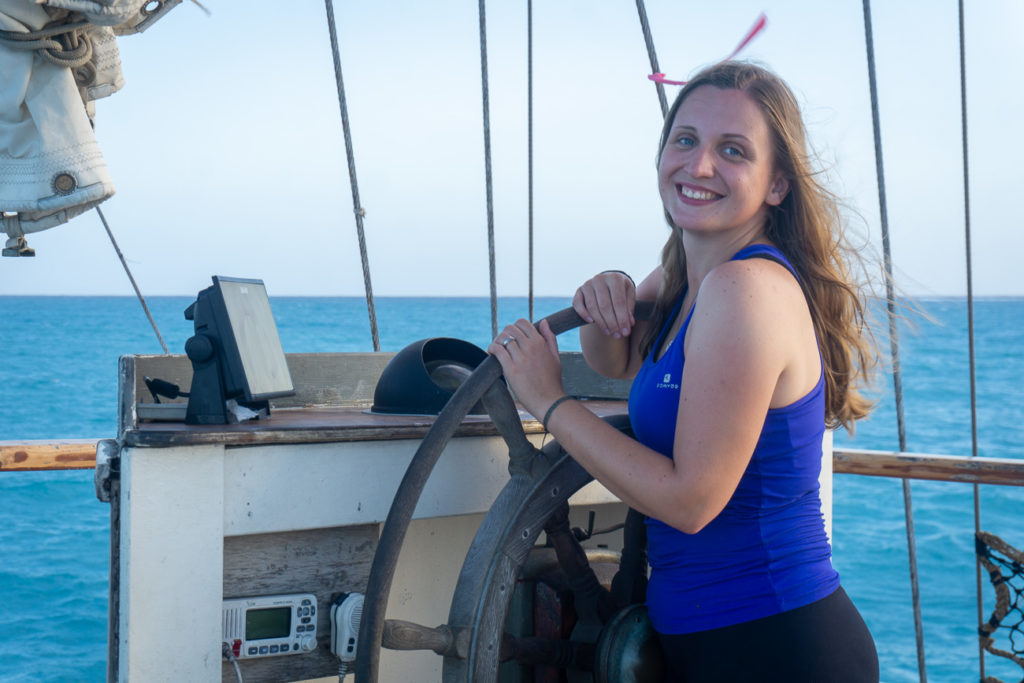 The last evening
When we arrive in Cienfuegos the next morning, the mood is at its peak. Immediately the harbour bar is stormed and we treat ourselves to real Cuban Mojitos. Somehow it's unreal to have landed here.
We then go into town to stock up on money and tokens which we need the next morning for the motorcycle import. Thereby we are totally impressed by the quiet and comfortable traffic, the beautiful houses with rocking chairs on the veranda and the charming promenade. Cuba appeals to us directly.
But before we set off to explore the island, we spend a memorable evening with the crew on board. The rum is flowing abundantly and at a later hour old workers' songs are dug out. To this we sing loudly and dance exuberantly. Gabi and Ete, two Berlin originals and long-established members of the club, talk a lot about their enthusiasm for Cuba. They come to the Caribbean for three months every year to volunteer on board and have witnessed the changes on the island over many years.
Later I will remember a sentence from Ete, which describes the spirit of this heart project, in which great people are and were involved: "This ship sails only because there are still people who are willing to do it".
For us it was not only a very nice way of crossing the gap, but above all a great opportunity to meet interesting people and to get to an island with the Tigers that we always wanted to visit.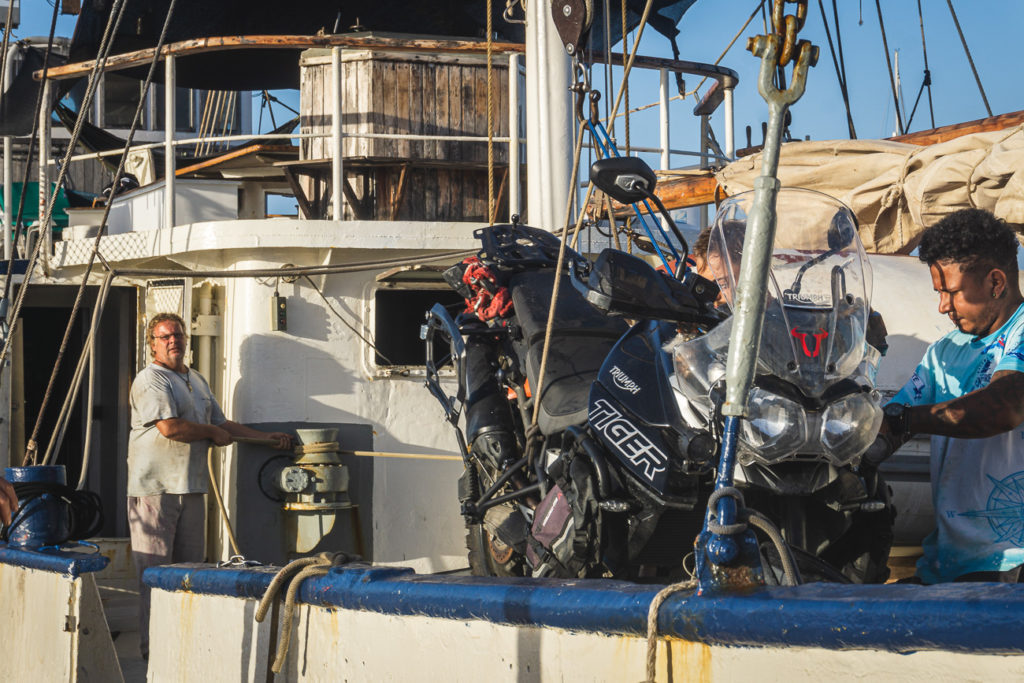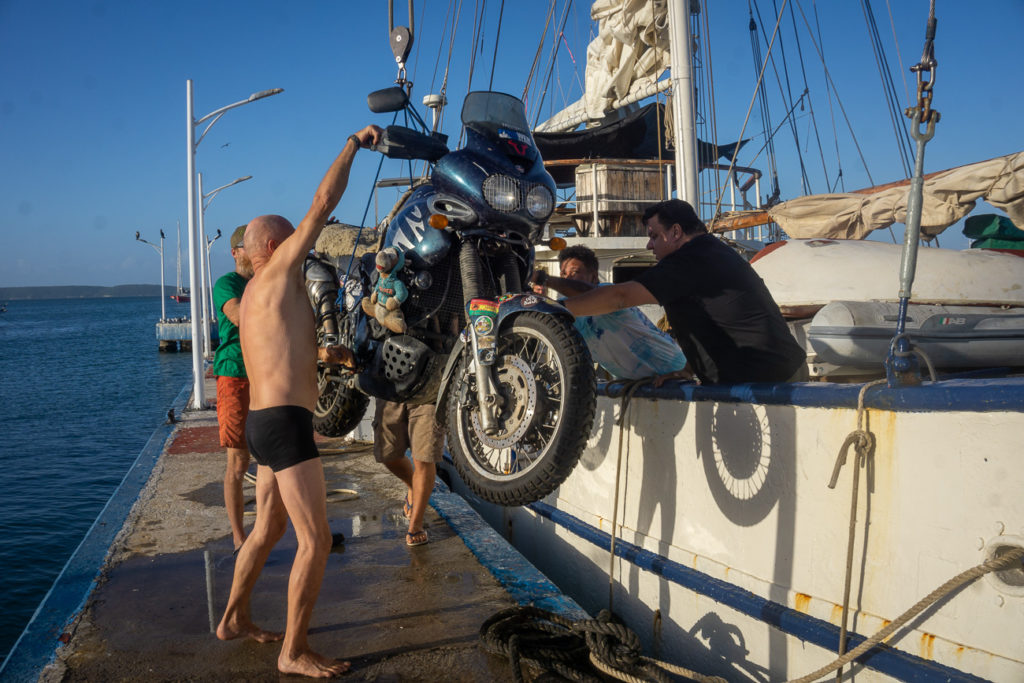 If you would like to treat us with something for the 234567 hours of work, because you enjoy our stories: You can give us a roll if you like (guaranteed not to be spent on rolls but on beer).

Read More
← previous post
next post →