How much does a Trip Around the World by Motorcycle Cost?
Travelling the world on your own motorcycle – that's the declared dream of many. But to make this dream come true, you need two things above all: time and money. And quite a lot of it.
Well, with the time factor, we can confirm this: the more, the better. But with money, it's not quite so simple. Of course, you need a certain amount but when you're on the road it is just like in "normal" life: more is not necessarily better. A lot of money certainly makes you more comfortable – but does it also make the trip better?
You have to answer that question for yourself.
But what can help is to look at the costs of other travellers to get an orientation. So here is an overview of our expenses which we have been writing down daily for over two years.
My journey is not your journey
One thing right from the start: Of course, it can never be said in general terms how much a trip like this costs in an individual case. Because: Travel costs always depend on the individual travel style.
Do you sleep in hotels or do you prefer camping? Do you go out to eat in fancy restaurants or do you cook yourself? Do you take a taxi or walk? There are thousands of small decisions that make a big difference in the end.
Many people prove that you can travel with relatively little money. We are certainly not among the hardcore low-budget travelers. Nevertheless, compared to other long-term travellers we have met, we live quite thrifty. Interestingly enough, it doesn't matter if someone travels by van, motorbike, backpack or bicycle!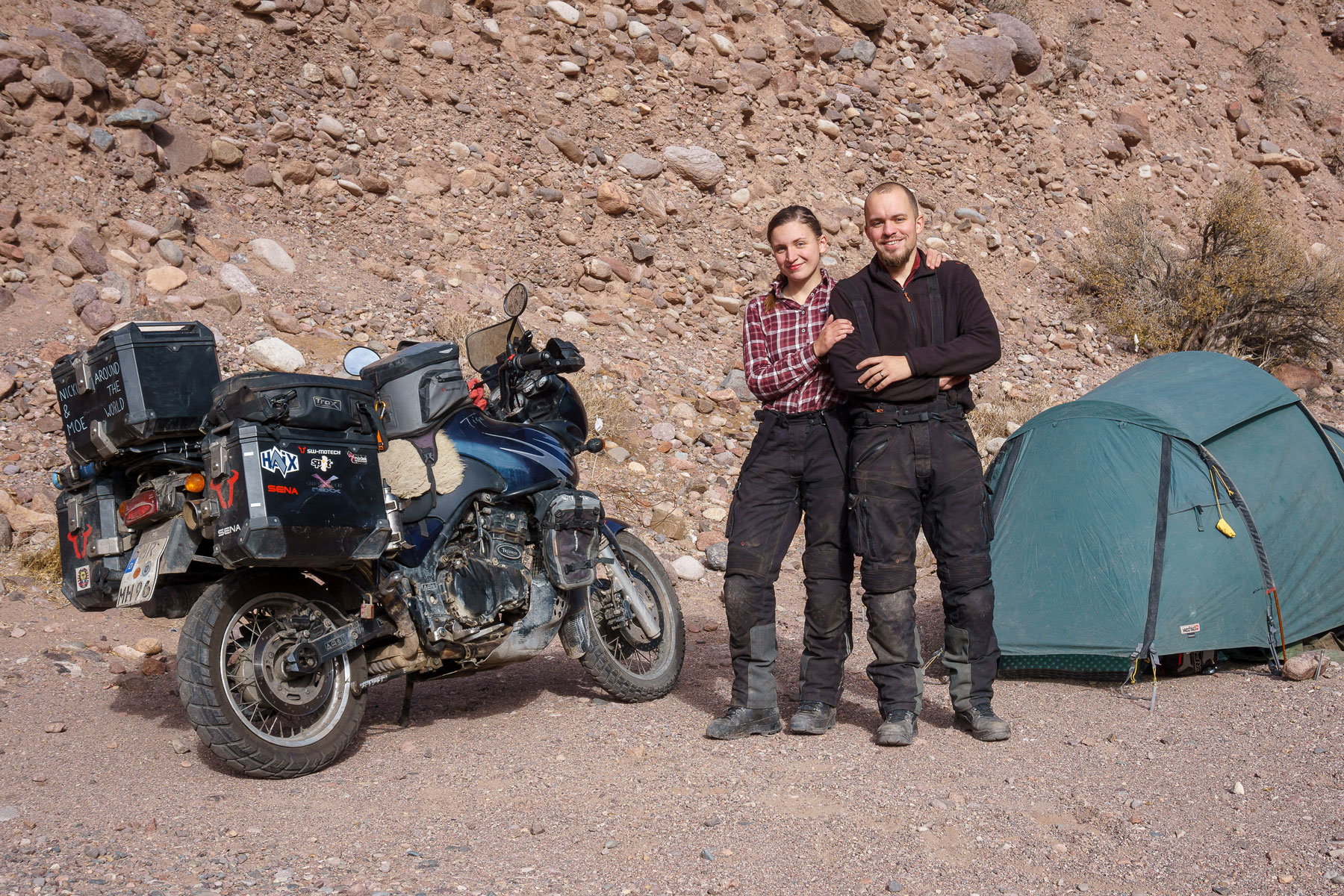 The decisive factors are always how fast you are travelling and how much luxury you need.
Priorities
Keyword priorities. Ask yourself honestly what is really important to you. Is a hot shower indispensable for me? Do I need my favourite limo every day to be happy? And will I die if I can't consume all the time?
If you want to be on the road for a long time with little money, you have to be consistent. Travelling is not a vacation! That doesn't mean, of course, that you can't treat yourself. No, occasionally you should buy what makes you happy. Otherwise everyday life becomes tedious.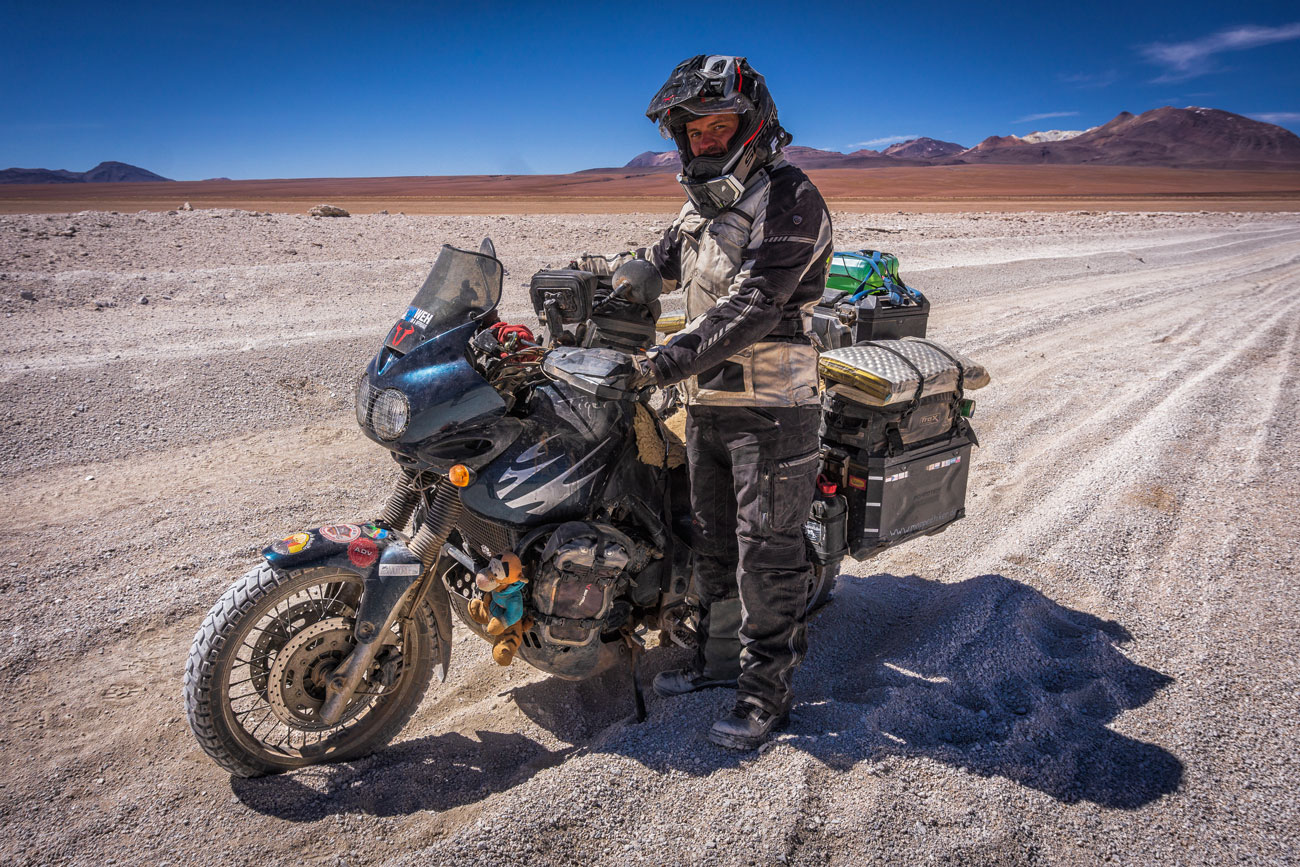 Traveling can also be exhausting. Especially when the budget is tight!
But let's get down to costs
Enough of the preliminary skirmishes, which nobody here wants to read about anyway – let's finally get to the facts!
Let me start right away with the most interesting figures, namely the average costs of our trip around the world so far, everything included:
We calculated this from the two years we have travelled from Europe across the Atlantic and across the South American continent. The exciting thing is that our expenses in expensive and cheap countries in South America do not differ. For example, in high-priced Chile we mostly wildcamped because we felt very safe there, whereas in Colombia we often chose one of the affordable rooms.
How are the expenses distributed?
You can do something with that now. But it gets really interesting when we look at what we spent all this money on. And to make it look nice, I have created the following graphic: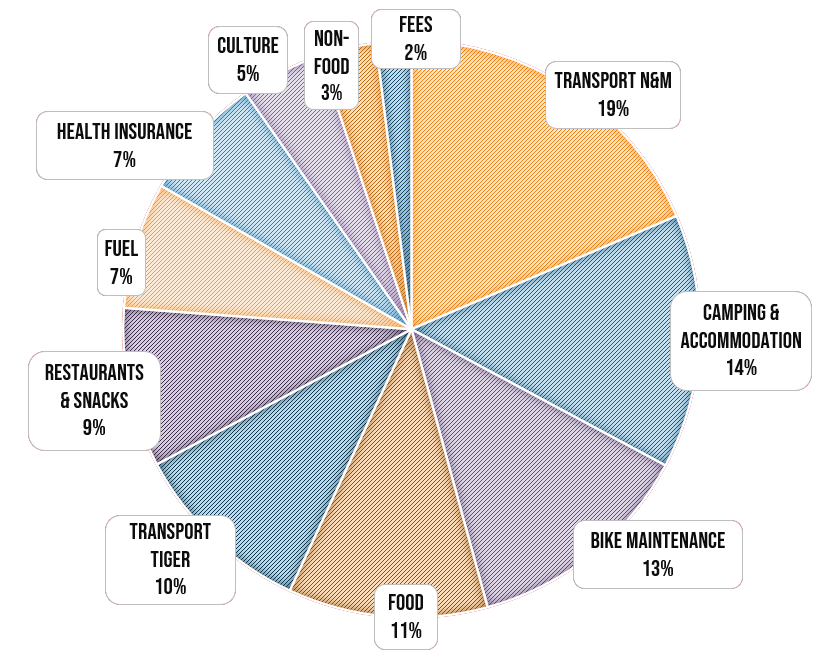 I hope that the categories chosen are fairly self-explanatory. Nevertheless, I will briefly explain what falls under each category and why the individual items make up such a large or small proportion of our budget. I will go through this in descending order:
Transport of us
When it comes to the biggest piece of the cost-cake, we are directly back at the priorities. For our transport across the Atlantic – right at the beginning of our journey – we did not choose the cheapest option (by plane), but the slower alternative of a sea voyage. This was very expensive for our means, but it fulfilled a dream. By the way, if this money would be deducted from the total bill, our average expenses per day would shrink to 16 Euro per person.
Not only the big crossing but also tickets for bus, train or ferry are included. But these only make up a tiny part, as we practically always walk within towns.
Camping and accommodation
Although this is the second largest position, all in all we are quite frugal with our choice of accommodation. We camp a lot and if it is possible, we like to wildcamp. In addition, we also worked temporarily for board and lodging or used couchsurfing in larger cities.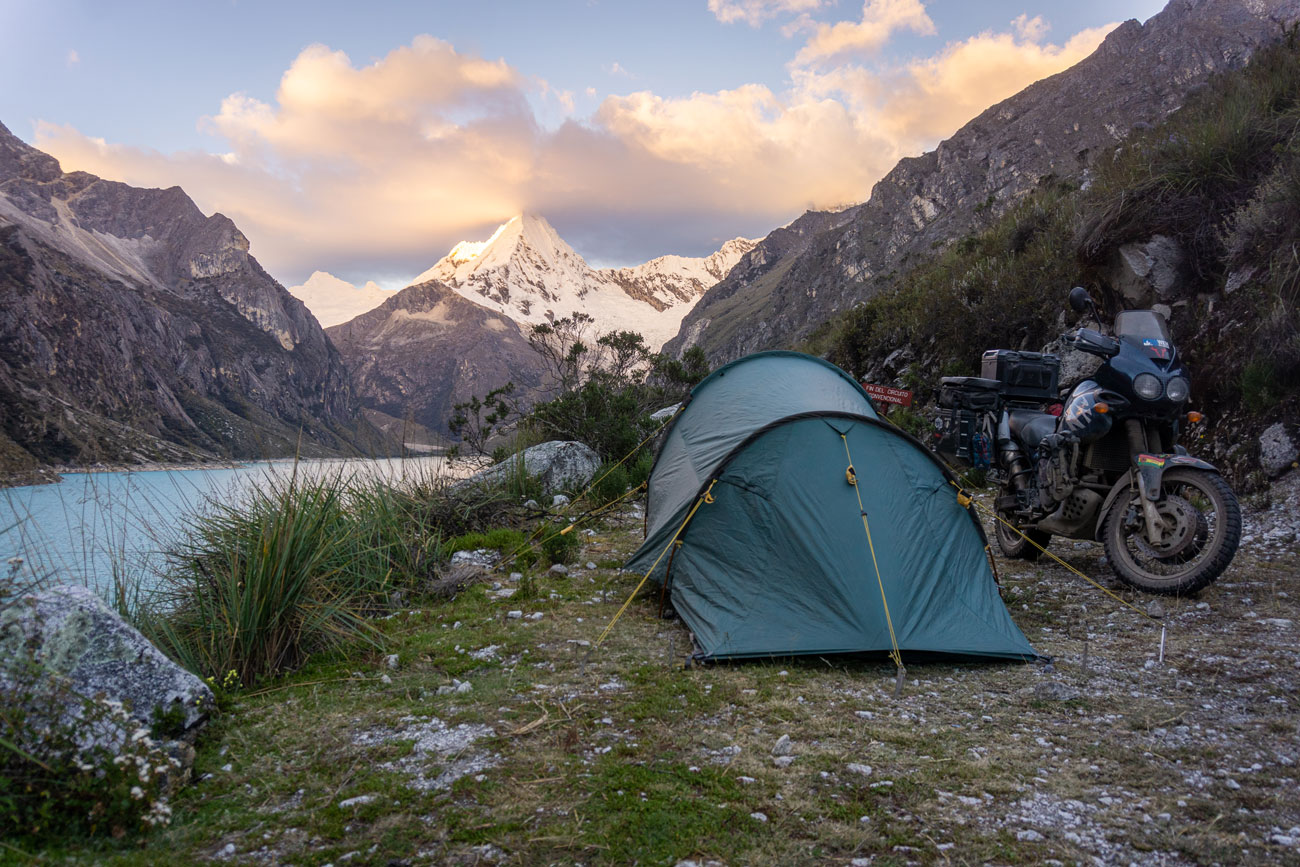 Wild camping is free of charge. The places you find are sometimes priceless.
Whether we look for a permanent roof over our heads in between depends mainly on two things:
Whether this is affordable for us in the respective country. Per night we have a limit of 20 € for both of us. For this we would not even get a broom closet in the USA, whereas in Mexico we can get a nice room for less money.
Whether we have to work. As some of you know, we make money working on computers. For that you need at least a power connection and in our case also stable WiFi. And this is often only found in a fixed accommodation, instead of camping (although depending on the country there are also well-equipped campgrounds which then charge corresponding prices).
Motorcycle Maintenance
To save costs, we always try to do as much as possible ourselves. Nevertheless, for the motorcycle maintenance is a quite decent piece of cake. When you ride your bike almost every day, it's just like that. But if you consider that our tiger is old and we did not pay much when we bought it, it is okay for us. Because even if we add all the maintenance costs to the purchase price, we would still not be able to buy a new bike with that money.
But also consider that 19 of the 24 months of travelling that we used for our bill, we were 2up on one motorbike. If we would have travelled the complete two years on two motorcycles, then the total expenditure as well as the cost shares would be much higher in the categories Transport Tiger and Fuel.
Food
If eating out is more expensive than cooking, we coquinate. This is always time-consuming but also fun to try new creations with local ingredients. As a luxury we sometimes treat ourselves with a beer but otherwise we make sure to buy as cheaply as possible.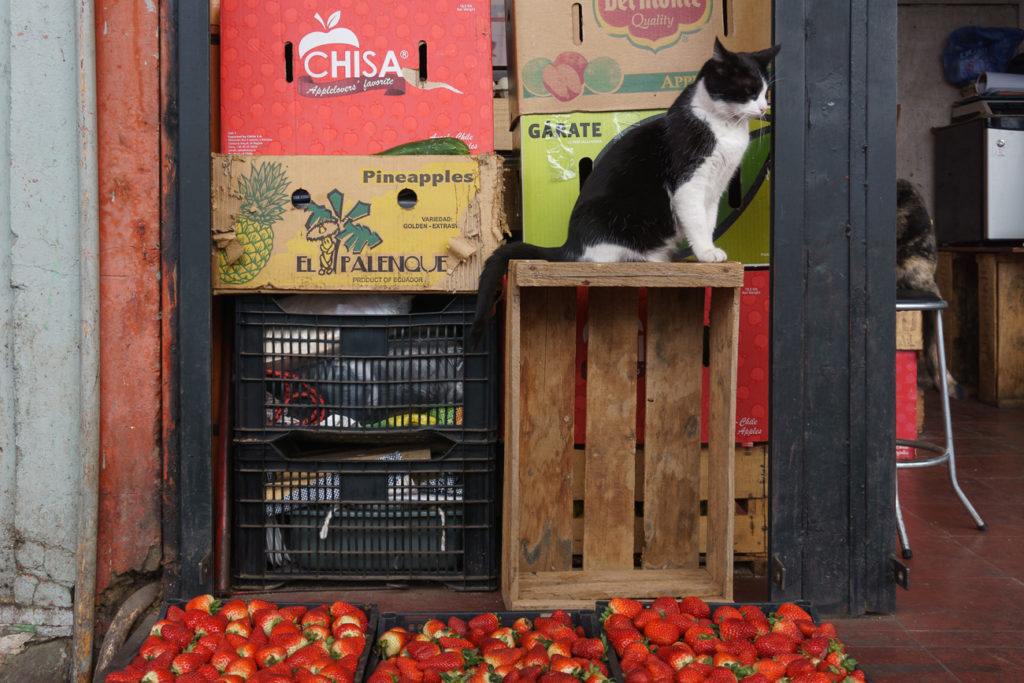 In many countries, food on the local market is much cheaper than in supermarkets.
Transport Tiger
All ferries and the big transport across the ocean for the bikes. A lot of money disappears from the travel budget with a motorcycle transport, but it's okay if you take a lot of time on site.
Restaurants and Snacks
Granted: We love (good) food. And tasting the cuisine of a country extensively is simply part of travelling. Nevertheless, this does not mean that we are going to the expensive sheds. We prefer the kitchens that are not found on TripAdvisor. Here, one gets simple and authentic food and most of the times, we also like the atmosphere better. Our own nose, personal recommendations and how many other people are sitting there are used as decision criteria.
Fuel
That surprised us a little bit: we would have expected a larger share. It's probably not only because of our speed, but also because of the cheap petrol prices in South America.
Health Insurance
There are travellers who "save" these costs as well. But we prefer to have the certainty of being covered in case of an emergency. Even if we have not been seriously ill once on this trip – you never know…
Culture
These are the entrance fees for national parks, museums, archaeological sites or concerts. Also here we try to save money if possible and only pick out what we really want to see.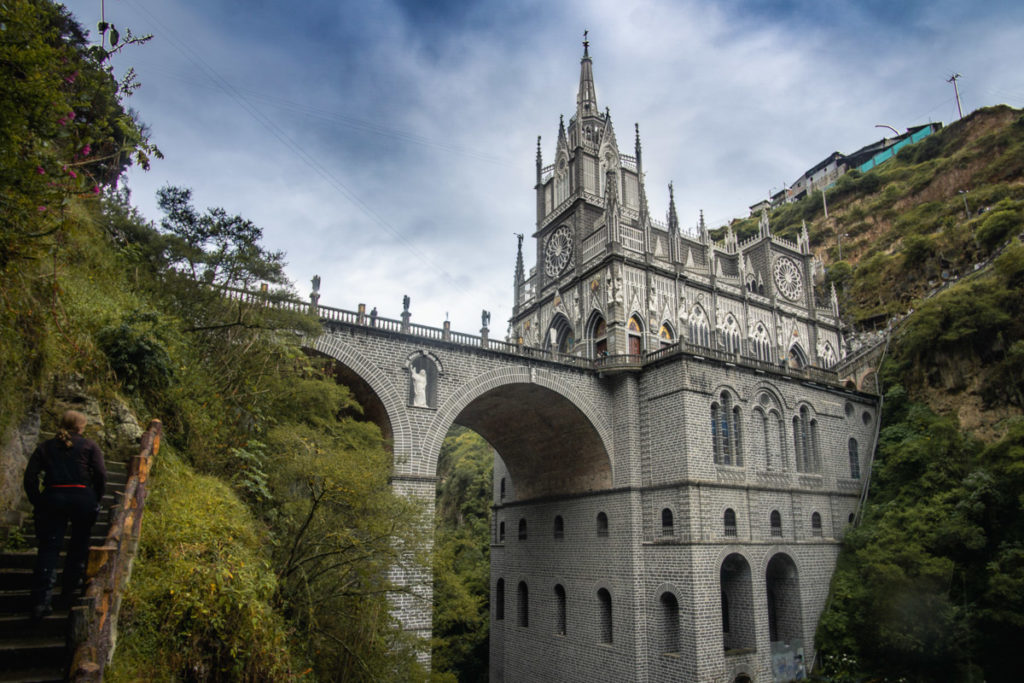 Oft gibt es auch kostenlose und weniger überlaufene Alternativen, wenn man danach sucht.
Non-Food
As the name suggests – this includes the things that you cannot eat but still need. For example shampoo, anti-mosquito spray or sunscreen.
Fees
All the things that people usually don't like to spend money on: visas, motorcycle insurance, entry and import fees, toll roads and such.
That's all fine and dandy, but how do you earn the money for a trip around the world?
Since we are asked this question all the time, we made a video some time ago where we answer this question in detail (it's in German but I think you can choose automatic subtitles). But we do not want to complain about this question. No, we think it's actually quite good if people ask openly instead of assuming invented things about us and spread them in public (greetings go out to Uschi!).
We will continue…
Hopefully this information will help you a little bit with your own planning. But not only for this purpose, it was worthwhile to write down every cent spent. It is also interesting for us and we will definitely continue the list. Let's see how our costs will shift on other continents.
The sad fact that I am writing this article in Corona isolation has at least the advantage that we will probably have rather low expenses in the coming months. In regards to the fact that the USA and Canada will be next, that might not be too bad…
If you would like to treat us with something for the 234567 hours of work, because you enjoy our stories: You can give us a roll if you like (guaranteed not to be spent on rolls but on beer).

Read More
← previous post
next post →