Expedition into the Andes Part I: Holding on at any Price?
When we start walking with our heavy-loaded backpacks, I'm a little restless. This trek is different than usual. For days, we will be on our own, see no other soul, and follow a largely unmarked path alone with the help of map and compass. I'm fascinated by this uncertainty. I'm a little scared, too. Just one thing is for sure: it's gonna be fucking exhausting. Aww, yes…
We are at the beginning of the Condor Circuit. Just about 250 km South of Santiago, the 100 km long long distance path makes its round through a unique mountain and volcano landscape. Along dense forests, highlands and wide deserts made of lava stone, the path goes far away from any civilization. There are clear mountain springs to cross and hot thermal baths to bath in. A trek, where you can still experience something like wilderness and true loneliness.
It wasn't planned that it would be just us two walking here. Originally, we wanted to go to the Condor Circuit with our buddy Jendrik. But plans had to change in the short term because jendrik had to postpone his vacation. We've been getting used to the fact that everything turns out different than you expect.
In our preparation, I have already read a lot about how demanding the hike is. Moreover, the path is not properly marked in many places, which is why many hikers rent a guide and a mule for the load. We have renounced this – finally we want to keep our costs as low as possible and be on our own. No question that it's going to be very strenuous in this way. But we are, as always, very optimistic and a little naive. We'll manage it somehow.
1. Day – 23 km: When Are We Finally There? (or: NEVER Trust a Sign of the Chilean Forestry Authority)
First, we have to find a safe place for the motorcycle. Leaving the bike on the side of the road for a whole week, doesn't seem to be a very smart idea. That's why we asked Franz from the foundation) Trekking chile for advice. The foundation provides the map of the Condor Circuit. He recommended us to leave the motorcycle with a villager. When we finally knock on his door, a very friendly old man opens us. The cat can stay with him for the next eight days. So, the adventure can start.
At the beginning we have a demanding ascent through a dense forest andb have a view over the numerous mountains and gorges. Hundreds of small lizards and some huge spiders cross our way. I'm glad we have a closed tent. I like animals – but in the idea of having one of those hairy, black spiders in the sleeping bag isn't funny. I rather like other companions. It's a pity that the colorful birds and lizards are too fast to be captured with the camera.
Keeping One Eye on the Goal
The path continues through an autumnal valley and finally up to the first viewpoint. Here, we see him for the first time: the Descabezado Grande ("the great beheaded"). The nearly 4000 metre high volcano trumps with its unique beauty and of course with its size every other mountain of this landscape. A true giant. Ambitious hikers can optionally climb the volcano on the third day of the circuit. We also set this goal. We have never been on a volcano. And now that I see him, I'm determined. I want to get up there.
But first of all, I need to get fresh fresh air at my feet during the break. When I take off my socks, I see the mischief: on my heel, a big blister has formed. That will be fun if I can torture myself for the next few days. Fortunately, we have a lot of blister pads.
First Obstacles and Annoyances
We follow a very slippery and extremely steep descent. I fall and slide down a little bit. When I discover fresh hoofprints, I seriously wonder who the hell makes such a dangerous descent on the back of a horse. We already have our effort to get down here on our own legs. A false footstep can have fatal consequences here. You must have huge trust in your horse to do this…
We reach the river valley of the Rio Claro, surrounded by impressive gorges. It's time to hurry up a bit, because we're afraid we won't be able to reach the camp on time. This morning, we lost important time for packin and started later as planned. Campimg outside of the places provided is strictly prohibited in the national park. But a few kilometers further, we breathe a sigh of relief: a signpost indicates that it is only 3 kilometers to our present goal. We'll make it easy. While the sun is starting to fall, we cross the first river on the hike.
When I take off my socks, I notice that the blister has become worse. The patch didn't hold. Fortunately, it's not far to the camp. We are very tired right now. To carry backpacks with food rations for eight days really takes it out of you. We take some extra water on our back and keep going. The fact that the following path seems so long is presumably due to the heavy burden. It's getting darker and the path is, by the weak light that dawn is still offering us, only hard to see. Finally, I discover a shield in the distance. Hallelujah!
But when we approach, I am shocked: it says still three miles to the camp. That can't be true. The same thing was already written on the last sign?! I look into the map and see that we actually have still some stretch ahead of us. In our exhaustion, we had not questioned the signpost or looked at the map. Now it's clear that we will never make it to the camp in the light. How are we supposed to recognize the way in the dark? It doesn't help. We move on a bit depressed, while it's getting darker minute by minute. After all, the hoofprints are the only thing we have as an indication of the way. Actually, we're completely at the end and we need a break, but it's not even about that anymore.
It's already completely dark when we reach the camp. To our surprise we are not alone: two friendly gauchos, whose hoofprints we followed today, sit at the bonfire. They invite us to drink red wine and booze with them. Finally, we fall fall asleep deadly in the tent.
2. Day – 11 km: When There is No Way Forward
The second day is the worst, they say. Fortunately, for today, we only have to deal with a comparatively short trek of 11 km. It will lead us to the foot of the Descabezado Grande. We have stayed a little longer in the tent to recover a little bit from the efforts of yesterday. The good news is that the backpack has become a little easier by preparing dinner and breakfast. When I take it back on my shoulders, I still don't know how to handle that heavy thing all day.
An Ascent That Won't End
The first stage leads us today through a magic forest. After only a few steps, I realize that something is wrong today. It's not the weight of the backpack, it's my feet. A terrible pressure pain that I feel at every step has been added to the blister. Although my feet had a few hours of rest last night, it's worse than ever. It was a very big mistake not to break in my boots without the inlays that I otherwise wear to ride the motorcycle.
Through a deep gorges, we constantly walk uphill along the slope of a cooled lava field. The midday sun shines merciless on our heads. I have been trying my best so far, but now I am clearly at the end of my power. I am just limping right now. The loose boulders under the feet are extremely unpleasant to walk on. Often I slide away and I have to balance with my ankle. Such situations are more painful than ever. I try to lace up the boots even stronger, but nothing wants to ease the pulsating pain. I'm slowly moving forward through lava rocks and debris. Moe's already far ahead of me, and has to keep waiting for me because I can't do it without breaks. After 7 kilometres on this section, we should get to a lagoon that I'm waiting for feverish. But behind every horizon, there is only one further ascent that leaves me disappointed. These are the longest 7 kilometres of my life.
Approaching the End of the Border
"Hiking is supposed to be fun, isn't it?", I'm shouting towards Moe exhausted, who's waiting for me a few meters ahead. "I'm not enjoying this anymore. This is a pure agony." It's really impressive here, but I can't enjoy it at all. I'm just busy trying to distract myself from the the pain. Put one foot in front of the other. Without thinking.
Moe's encouraging me. He assures me that it won't be that far and we will reach the lagoon soon. But that's exactly what I've been saying to myself for the last hours. The only motivation I still have are the hot thermal springs that are waiting for us. Nothing is more beautiful than the idea of a bath in the natural basin right now. So it has to go on. No matter how.
Hour by hour passes and there is still no lagoon to see. I don't know where to take the energy anymore. How am I supposed to last another 5 or 6 days? I can never make 2000 Meter ascent and descent tomorrow. You have to be in a good shape for that, which for me is as far away as the moon. I'm breaking up with the idea. "I can't do it anymore, I'm serious" I confess Moe while the first tears run over my cheeks. If I don't speed up my pace, we won't a camp today. "If you can't go on no more, we must go back", concludes Moe at my sight. I feel sick. I didn't fight until here to turn back. However, I am seriously thinking about it. Because with every step, we move further away from any civilization. I would never have expected to experience such a hard test on the second day. I finally reached my physical border. Now, it's all about overcoming it.
To go back is not an option. Instead, I propose to take a recovery day instead of climbing tomorrow. But it also means that I have to abandon the idea of reaching the top of the Descabezado. At the moment, however, it is only a matter of continuing.
Greyer, Older… and Fitter
Under the greatest effort, we can actually make it to Laguna Blanca. This name is, however, a euphemism: at the moment, it rather seems to deserve the name "big puddle". Finally, we are having a bigger break. That I don't even want to have a piece of chocolate anymore, is making Moe very concerned. I have no appetite at all. It's still a few kilometers to the camp. Without painkiller, I can't make a single step, even if I wanted to avoid using our supplies so early. Half an hour later, I'm actually better.
While we rest, we suddenly discover a human being on the horizon. No, there are even two! An older couple – maybe about 50 – is strolling past us. I'm looking at Moe incredulous. Are they going to climb the volcano while I'm fighting to get there at all? Oh man, now I feel even weaker and more depressed.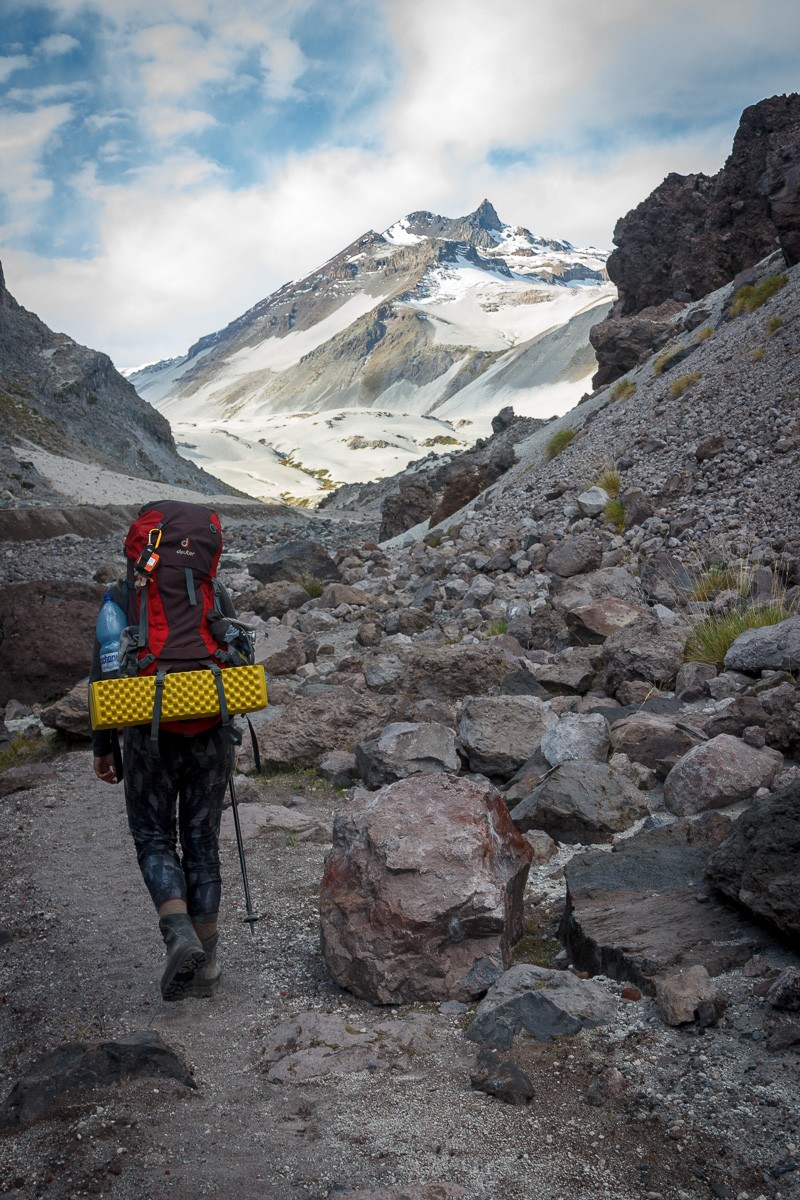 Foolish Ideas
On the last few hundred meters to the camp, I'm even thinking if we shouldn't dare to climb the Descabezado tomorrow. Gazing at the peak, I cannot let go of the thought. Maybe we can just take a half-day break tomorrow and go to the 600 meter higher camp on the slope of the volcano. From there, it would also be "only" 1400 meters up and down. The problem is that we would need to get about five gallons of water there per person. A nightmare. Moe doesn't trust his ears, "earlier you were crying and we were thinking about going back because you couldn't walk anymore, and now you're seriously telling me you want to go up there tomorrow? That's not a good idea at all." Right, it's a foolish idea. I can't walk right. "Let's take a break and see if it goes on at all" Moe continues. I nod while I look up to the summit.
I'm full of happiness when we finally reach our campspot on a flood plain. When we arrive, I see the little tent of the older hikers from far away. It stands right next to the junction that marks the path to the crater. They really want to do it.
All day, I've been looking forward to the rewarding bath in the hot thermal springs. Now I'm not capable of anything. Building up the tent and starting a fire is a great challenge in my condition. We have enough time for the thermal baths tomorrow…
3. Day – 0 km: A Painful Decision
Today, we are just resting. You can hardly imagine a better place for it. Bright Sunshine, fresh mountain air and the flow of streams are so peaceful. But I still can't let go of the volcano today. I always look up to the crater of the Descabezado. I'm so close and yet thousands of painful steps away.
After we've been looking for the hot springs for half a day, we finally find them. It's the muddy, just lukewarm swampy holes right ahead of us. What a disappointment. Good that I didn't know that before…
While I'm laying in the sun, I keep thinking. Maybe tomorrow we could take a shot. If we leave the tent and equipment down here and Moe carries water and camera, I might make it. Or we'll go to the upper camp tomorrow. However, the problem with these considerations is our food. We haven't planned for an extra day. Having too little food at the end of one day would be incredibly bad. I am thinking, however, whether we can not simply cut the trek in other places to climb the Descabezado. We'd probably miss a lot of sights. No matter how you turn it, it would be the most sensible decision to simply forget about the Dezcabezado.
Letting Go is Hard
After a day full of rubbish, an eternal back and forth, Moe finally makes me come down to earth: " Nicki… I don't say no if you want to go up there with me. But ultimately it's a pure ego thing." Of course, Moe is right. Yeah, goddamn it, it's an ego thing. If the effort worsens my condition or I hurt myself, I risk the whole tour being screwed up. Finally letting go of the Descabezado is incredibly difficult. But I have to admit that it's just not possible. I wonder how long it will take me to get over it. How many times I will think about what it would have been like to stand up there. And the feeling if I would have been able to do it. I can't say that yet. All I know is that it's the only sensible decision. But being sensible has never been my thing.
If you would like to treat us with something for the 234567 hours of work, because you enjoy our stories: You can give us a roll if you like (guaranteed not to be spent on rolls but on beer).

Read More
← previous post
next post →