Central America: An Episode of Contrasts
What a change! After a month in quiet Cuba, we arrive directly in the heart of mass tourism: the Yucatan Peninsula. It is the most popular holiday destination in Mexico and we experience a culture shock: After horse-drawn carriages, old colonial buildings and small pizza stalls in Cuba, we find ourselves here in the midst of speeding SUVs, mega malls and global fast food chains.
Oh, so here they are: the achievements of capitalism. On endless supermarket shelves, every customer finds a type of toilet paper that suits his or her personality. Yes, even street food in Cancún is advertised with Trip-Advisor ratings. I am happy about food products that I have been missing for a long time (real natural yoghurt and cheese!). Finally, worn out (travel) clothes can be replaced by respectable ones. And also the brake discs and pads of the old Tiger can be easily replaced here.
The other city
Although we have been warned explicitly, I am actually quite positively surprised by Cancún. After all, this city is a phenomenon when you consider that the "copy of Florida" was completely erected only 50 years ago. At that time, the Mexican government wanted to attract tourists to the southeast of the country. The narrow spit of Cancún with a few fishing villages was found to be the perfect place for tourism and a dam was built – similar to the development of Miami Beach in Florida. With the help of international private investors, more and more hotels were built on the Caribbean beach, as well as an international airport and a huge holiday industry. So the plan worked out. Today, Cancún is at the forefront of tourism and a hotspot for the annual escalation of the US Spring Break.
Sounds bad,but I can take some of the credit for Cancún. First of all, the young Cancún has neither a central square nor any other historical buildings. Therefore, there are wider streets than never before and at night, everything shines in different colours. This city is simply different from anything we have seen in Latin America in recent years and that is why I like it. Secondly, we didn't stay in one of the typical beach hotels but in a hostel on the mainland part of the city. This is where the many people who work in tourism and in downstream businesses live (so it is correspondingly quieter). But out of curiosity we also take a look at the nightly spectacle on the party mile at the other end of the city. It is said that the listed shows here could easily keep up with Las Vegas.
Tied to the coastal edge
Our friend Alex surprises us again with spontaneity and visites us for a second time on this trip. This time he brought Pia with him and they rent Rolf, a mini-van. The only problem – which we unfortunately only find out about when we arrive in Mexico with the Stahlratte – is that we cannot temporarily import our motorcycles into the state of Quintana Roo. All we get is a legal text that says that we are legally on the road. But only as long as we are not more than 20 kilometres away from the (natural) border. Pretty frustrating, because this means that we would have to go directly to the border to Belize.
Despite our – not entirely unjustified – respect for the Mexican police, we illegally ride a bit to the next state and visit the beautiful island of Holbox. Although it is not completely untouristic, it has a Caribbean dream beach and luminescent water, meaning algae that make the water glitter when it moves (sorry, this can't be photographed).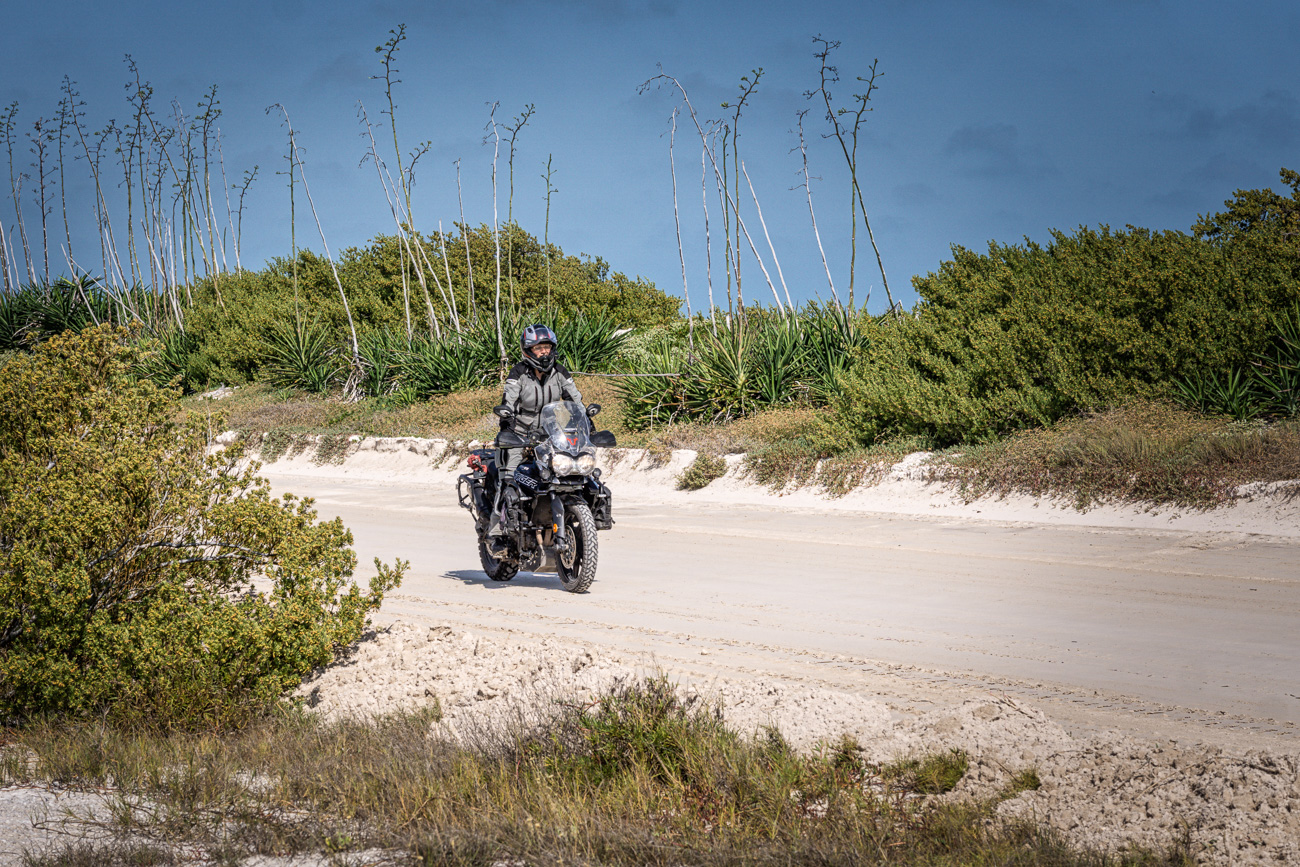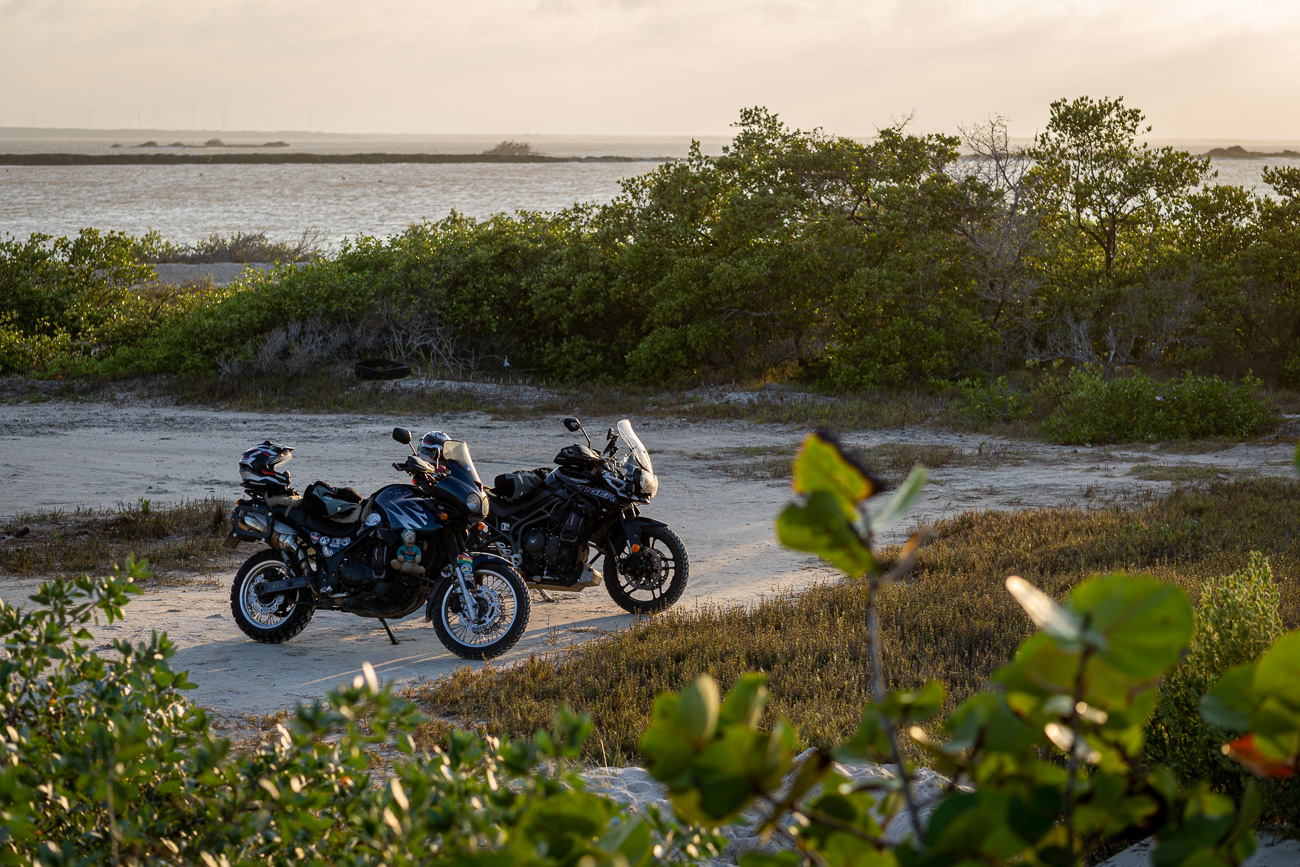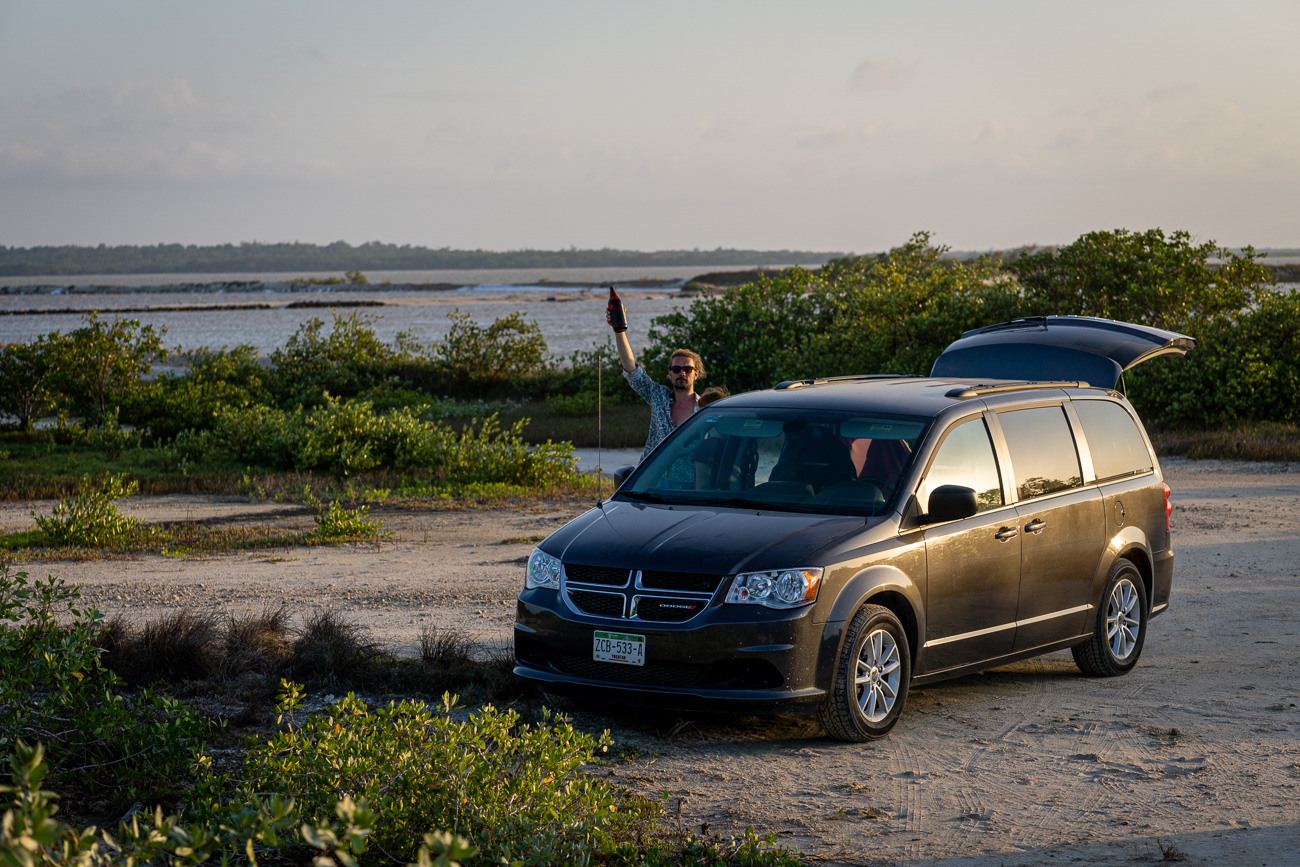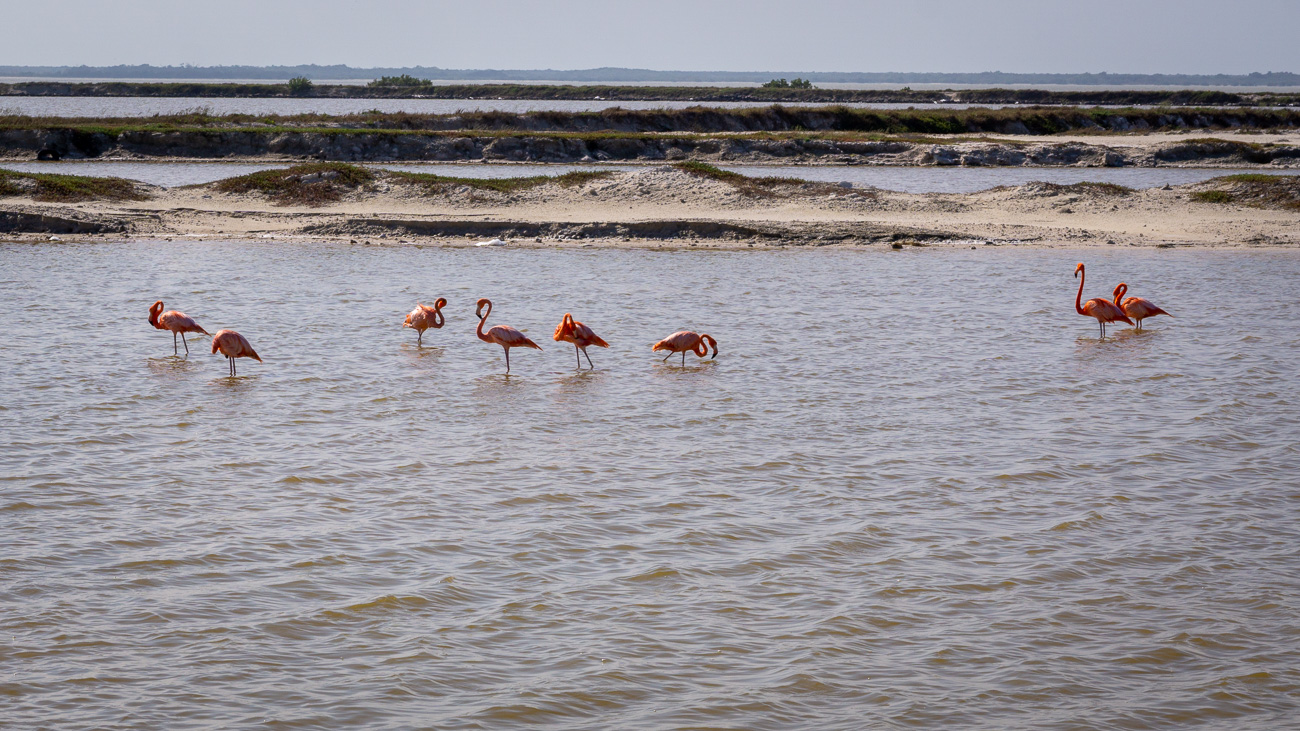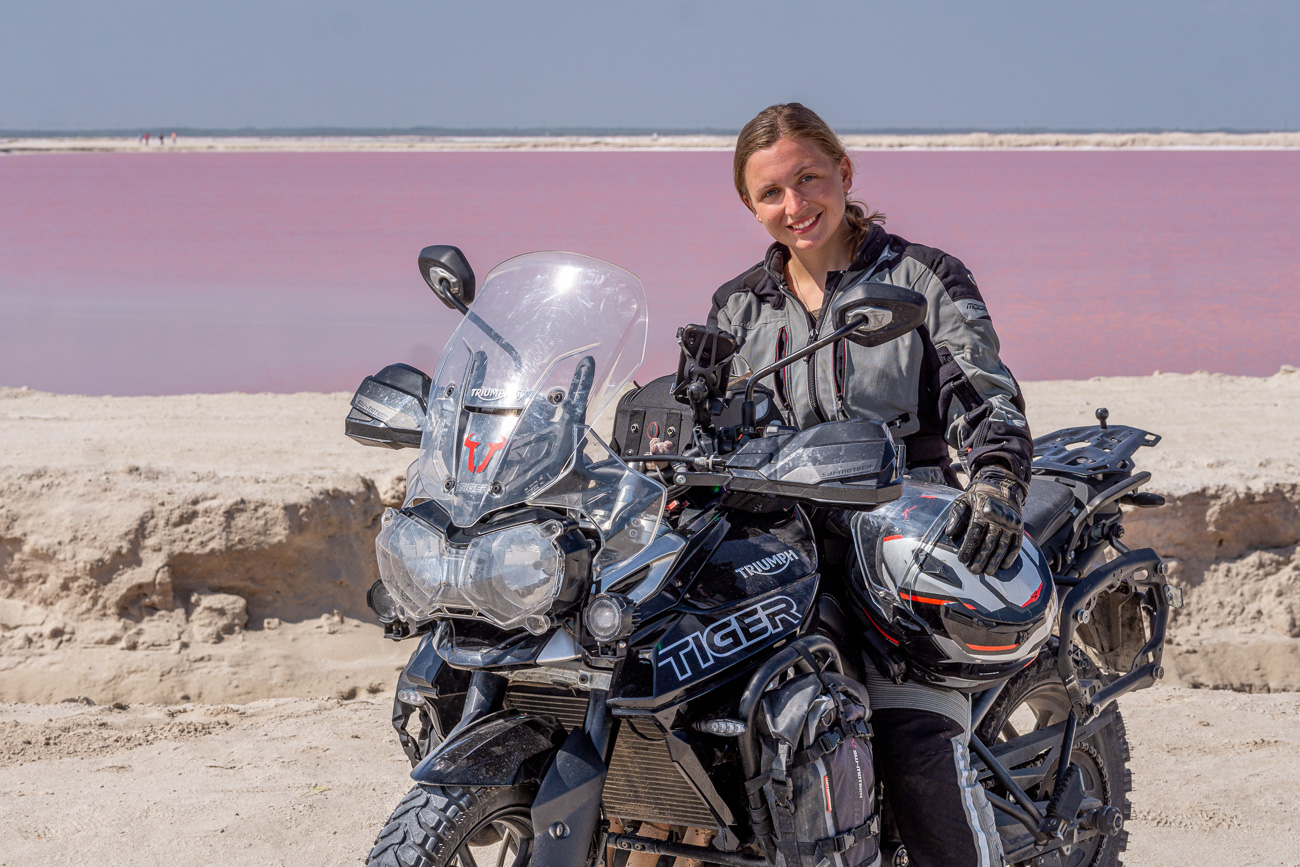 Everything goes well and not the documents of our Tigers but the van of Pia and Alex is examined in detail by the police. But after this detour we don't want to test our luck too much and ride via Valladolid, where there is actually more to discover, back on the permitted roads to the south.
Along the coast there are other tourist traps like Tulum and Bacalar, where it is quite nice but somehow soulless. We will not find the authentic Mexico here. But I did not expect that either.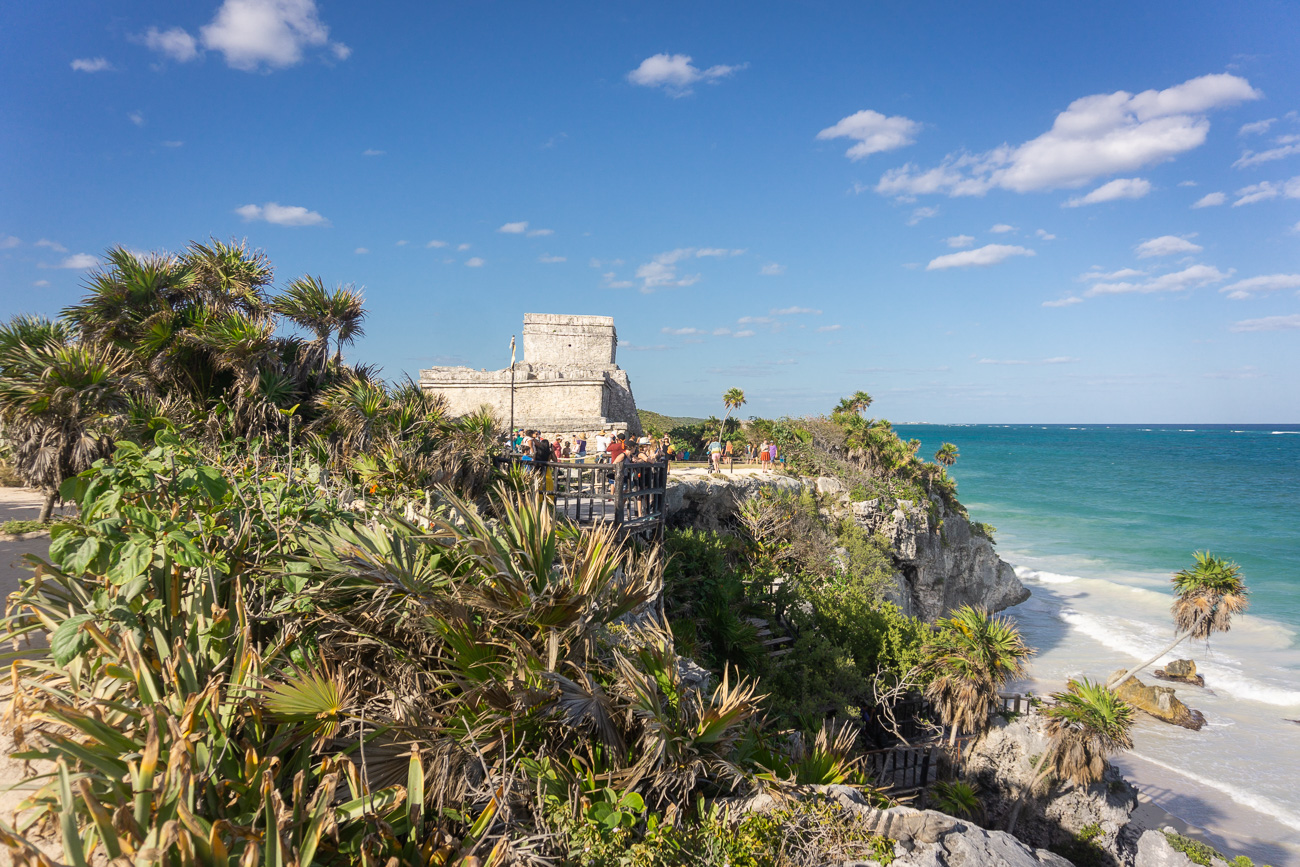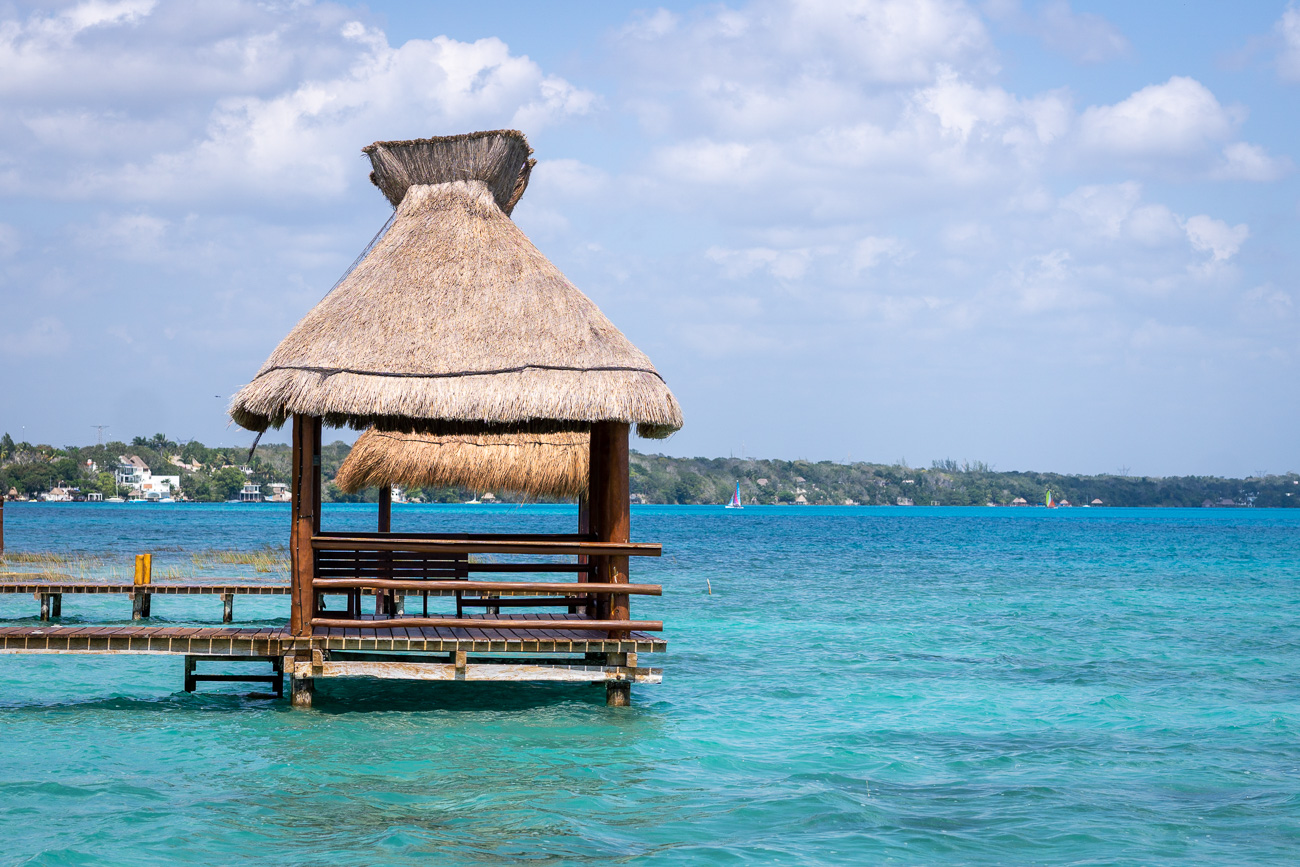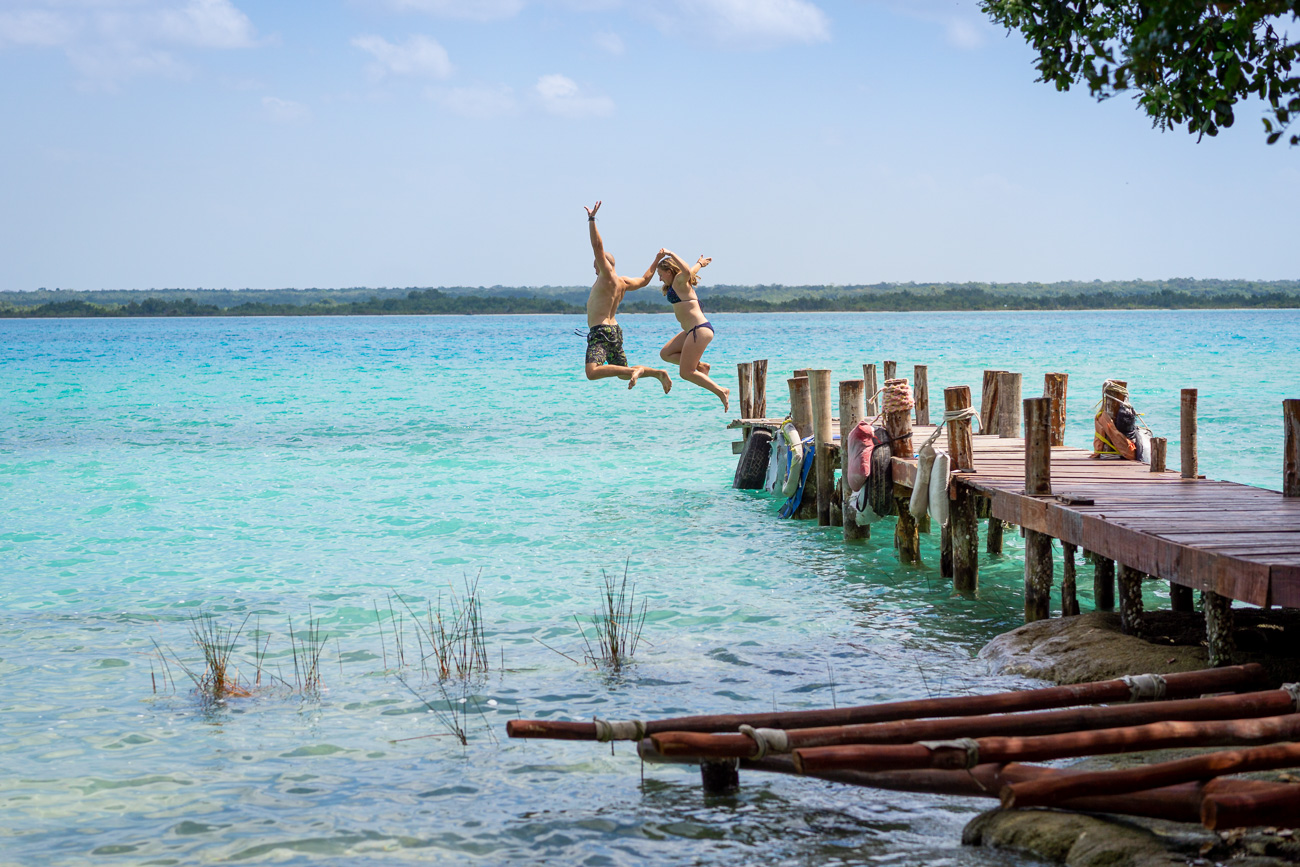 The country stepping out of line
Then it's time for Belize. Before our trip we didn't really know anything about this small country in Central America. Honestly, when do you ever hear anything about it?
What we pick up from others during our trip is also not the best advertisement: Belize is expensive, hot and has not much to offer. So it doesn't seem so tragic that we can't give this country much time. My conclusion after three days: Although there is some truth in the prejudices, it would of course be unfair to say that this country does not deserve time.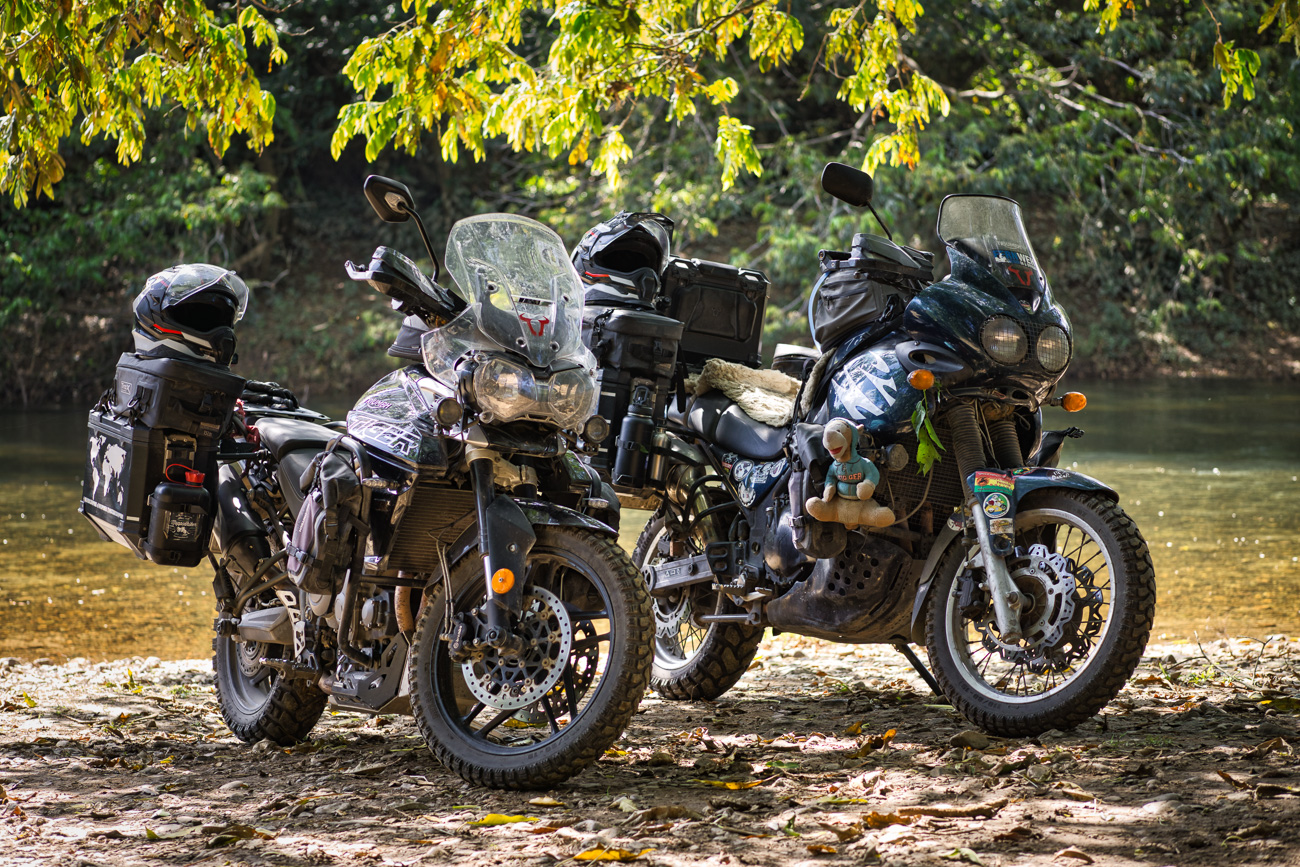 That Belize is a little out of line can be seen and heard. About one third of the people who live here have African roots, about 30% of the population is under 14 years old and one pays with the Belize Dollar, which is tied to the US-American one (1 USD = 2 BZ$).
Unexpected and nice: Belize knows how to spread positive vibes. Already at the border there is a totally relaxed and well-intentioned atmosphere. As we cross the country, we meet friendly faces everywhere. Even the riders greet us, which we are hardly used to. But what is even more unusual is that English is the official language here and after such a long time we cannot help but greet in Spanish, whereby we get some irritated looks.
Forbidden is what's fun
But we do not get the most exciting insight into a small part of this country in Belize itself, but on a camping site directly before the national border. Here a huge group of very strangely dressed people appears who speak their own language and pray several times a day: Mennonites.
We had never heard of the followers of this protestant free church and therefore we watch the the hustle and bustle of our tent neighbours with great interest. Besides we researched a bit on the internet and finally get into conversation. This is what we have found out:
Mennonites originally came from Germany and the Netherlands, but early on they emigrated all over the world due to persecution and legal restrictions. There is a wide range of orientations among the various Mennonite communities. Conservatives in particular reject not only modern technology such as cars and electricity, but also "everything that is fun" – such as jokes, music and card games. They withdraw from modern society in order to lead a simple life dominated by conservative values.
The group here is definitely one of the more progressive ones, because they came with several cars and not with a horse-drawn carriage. But they do not seem to have any other technologies. We especially notice the strict gender roles, which are also expressed in their clothing: Women wear long, closed dresses with an apron and a hat, while men wear black trousers and plaid shirts. Not once in these three days do any of the women speak in the group.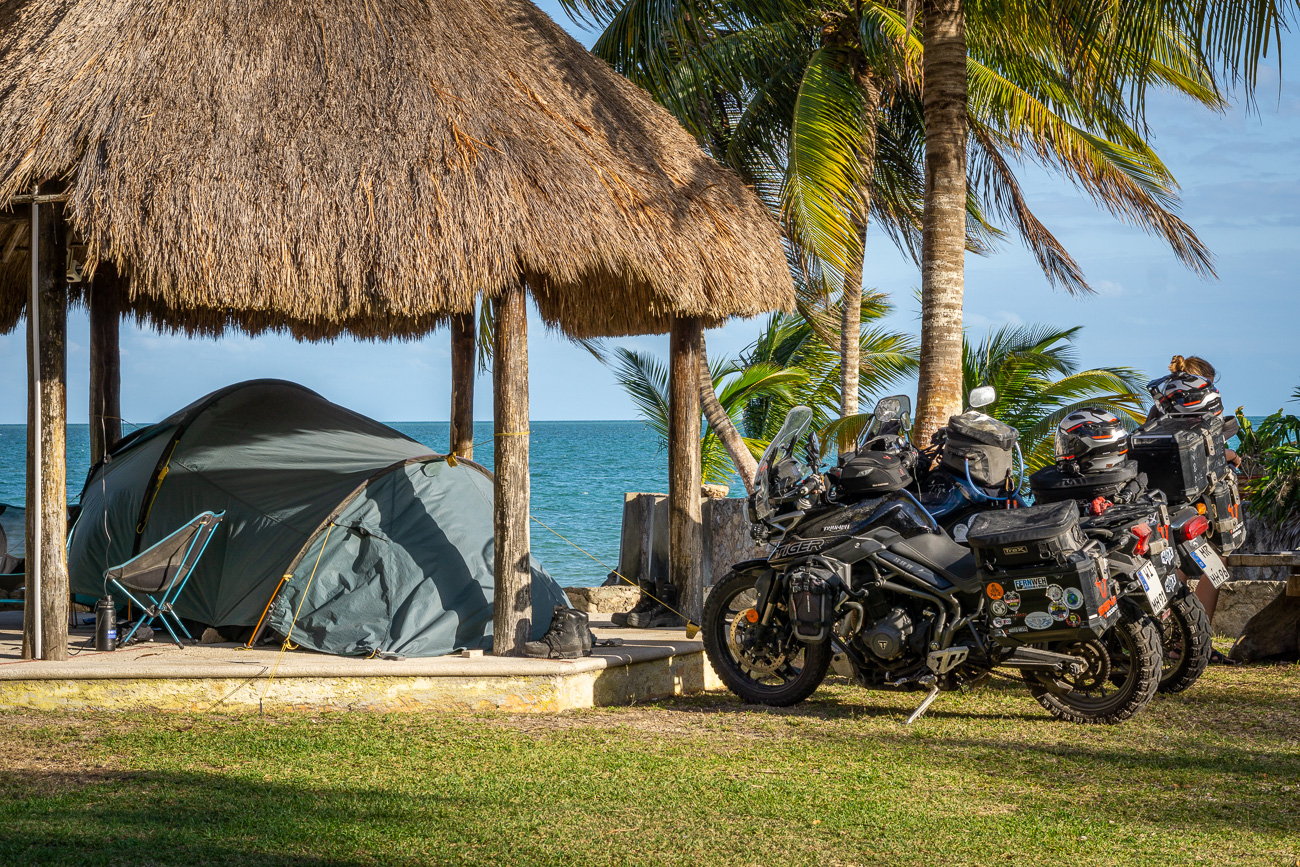 Two worlds meet
The Belizean communities immigrated to the country in 1958 after their principles could no longer be reconciled with life in Canada and Mexico – where they had previously resided. The Mennonites negotiated with Belize and were guaranteed land on which to live and operate; the security of practising their religion free from persecution and the promise of exemption from military service. In return, they brought extensive agriculture to the country, for which there was a great need at the time. To this day they pay all taxes, but do not participate in any form of social welfare programs.
The Belizean Mennonites speak fluent English and Spanish, but among themselves they speak Plautdietsch, an old form of Low German. We don't understand a word of it, but we can even talk to them in High German. This is taught in their schools.
They live from farm work and handicrafts. Although the Mennonites make up only 3.7% of the population of Belize, they produce (mind you, sometimes without any technology!) over 85% of the country's poultry and dairy products. The key to this economic success lies in their faith. According to their belief, the performance of work with the utmost diligence is considered to be the fulfillment of earthly duties, which serve to attain the pleasure of God. Occupation thus becomes vocation, and since Mennonites do not spend the money they earn on any "luxury" whatsoever, but save it ascetically, it is reinvested in even more land. The spirit of capitalism in its purest form.
In the conversation we also tell a little bit about our life, whereby a huge cluster of children forms around us. We are looked at with big eyes. I wonder how they see us. With the bikes, laptops, smartphones and our lust for life, we must be the epitome of sin for them.
The encounter remains a small insight into a strictly religious parallel world, whose discipline and simplicity fascinates us, but at the same time leaves us heavy-hearted. Such a joyless and serious life has a sad sound for us.
If you would like to treat us with something for the 234567 hours of work, because you enjoy our stories: You can give us a roll if you like (guaranteed not to be spent on rolls but on beer).

Read More
← previous post
next post →