Along the Coast of Uruguay
In the port, the check-in happens really fast and we can start to ride the bike after a short time – but where should we go now? We decided on the ship that we would like to see a part of Uruguay before we go down south. The coast is best for travelling, because only there wildcamping is possible. So, we're heading towards the little fisching village Punta del Diablo, which was previously recommended to us by an acquaintance. It's pretty north up the coast, near the Brazilian border. I saw that it is also an "insider tip" in the lonely planet travel guide that I borrowed from Caroline on the freighter (although I was thinking that I should never look into those books again), which made me a little skeptical. In fact, almost every backpacker is traveling with a lonely planet these days, which means that "lonely places" are not so lonely anymore. Well, we have the advantage that we can just turn back if we don't like it there.
The First Night Outdoors
First, we need to get out of Montevideo quickly. Riding the packed motorcycle through the hustle and bustle of the metropolis is just no fun. As in every country in which you are riding for the first time, we need to observe the traffic and its participants. Many of them are quite impatient and we have to get used to the traffic lights system, as the lights are always at the posterior end of a crossing. We also don't understand who has the right of the way. There are no signs, it's more a matter of intuition.
It's high tourist season here in Uruguay. The school holidays attract many tourists to the popular beaches that we pass fastly on our the way along the coast. We quickly realize that it can be difficult to find a lonely place to sleep. But we're lucky and can find a halfway quiet spot behind a little dirt road. Finally, we can unpack our tent, the chairs and the small cooker and make ourselves comfortable outdoors for the first time. And even if we're not alone here and a few people come by, our presence doesn't seem to bother anyone.
Quickly Leaving Punta del Este
The next day, we don't have to ride far until we arrive at Punta del Este. The city is a true tourist magnet. Here, the high society of South America meets up to sizzle in the sun and sip cocktails. The beaches aren't especially beautiful and the numerous skyscrapers have no charm for us. On the other hand, the Uruguayans are very nice to look at, as they appear to be a sporty crowd: along the promenade, we see flocks of joggers, which are only lightly dressed.
At Punta del Este, we go to a Triumph and Ducati shop to meet up with Ignacio, the representative of Touratech Uruguay. He invited us to a visit him, after we contacted him on Horizons Unlimited (a group for independent travellers). Unfortunately, Ignacio isn't here today. That's why we decide to stop by on the way back.
Once again, we just take a look at the map to find a place to sleep for the upcoming night. We'd like to stay close to a lagoon, so we can use some water for washing. But this dream won't come true this time. The whole area around the water is fenced. As we ride further on the dirt roads towards the inland, we still remain unsuccessful. Without exception, we pass fenced pasture, which is reserved for cows and horses only. Yet, this side trip is fun, because the dirt roads in Uruguay are a really nice entrance into riding offroad. Finally, we turn back towards the coast, more specifically near Laguna Rocha. Along the long dirt track towards there, the green parrots are flying around. And at the end of the street, we find a little dirt road that brings us directly to the beach. We don't mind a couple of local anglers this weekend.
Gravel is a Good Sign
The next morning, we break up early to go on the rather boring way to Punta del Diablo. It's always going straight. Just before our goal, the backpackers that are standing with their thumbs up and dreadlocks on the side of the road are becoming more and more. When we arrive, we can hardly believe it. What may have been a cozy nest has evolved into a pure tourist attraction. The place seems to be flooded by people that hoped for a lonely beach. The restaurants advertise their expensive beer prices and food that is displayed on pictures with huge signs. The campsite is superfancy, the required 30$ for a night are truly jaw dropping. Moe and I agree: Let's get out of here! We're going back to the next place, where a gravel path leads to. Moe laughs and says, "I think gravel is a good sign". And he's right, because here it's like extinct. The campsite is much cheaper and almost empty, the beach also deserted.
Moonlight-Ride
On the way back to Montevideo, we make a stop in La Paloma. Here, we go to a restaurant to order Chivitos, a national dish of Uruguay. Chivitos consist of a thin slice of beef, packed together with ham, eggs, mozzarella, tomatoes, olives and mayonnaise in soft white bread, served with French fries, just like a burger. Excellent stuff! To save the budget (and because we love it too), we always cook on our own. However, we would like to get to know the local cuisine at least a little bit and therefore want to eat a proper dinner once in every country where restaurants are a costly pleasure.
We've been dawdling at dinner, and the sun's already going down as we jump back on the bike. We don't know where to sleep tonight. It is not so easy to find a good place to camp, but in the dark – almost impossible… Since it is not too far to get back to the undisturbed place on the beach where we slept quietly two days before, we decide to go there again. Fortunately, today is a full moon, which gives us a better view on the abandoned road. At the beach, we have our problems to find the little dirt road that leads to the dunes. For half an hour, we go up and down until we finally find the little driveway. Fortunately, we are rewarded with the fact that we are now completely alone. We put up our camp and go naked swimming in the sea under the light of the full moon.
On the Farm
The next day, we want to make it back to Montevideo. Maybe we can take the ferry to Buenos Aires from there. On our way, we go back to Punta del Este. We want to visit Ignacio. However, he is too busy to take more than two minutes to talk to us. After we wait for him in vain for half an hour in the burning heat, we have to leave in order to make it to Montevideo. We had hoped for more exchange.
In Montevideo, a very positive surprise awaits us. Via the "iOverlander"-app, in which independent travellers can enter their overnight stays with recommendations, we find the organic farm of Matthias and his family. This is a place that we like from the beginning. We set up our tent in the garden, surrounded by well-fed dogs and cats that you only see very rarely in the streets. After that, we have some time to look around the yard. The diversity of vegetables and fruits that are grown here is amazing. In the middle of the more down-at-heel area around Montevideo, this place seems like a small oasis. As we talk to Matthias' father, we learn that he acquired this land 45 years ago and converted it to today's farm in 30 years of painstaking work. Quickly, we agree that we would like to stay another day. For dinner, we can buy excellent fresh eggs, fruit and vegetables directly from the farm.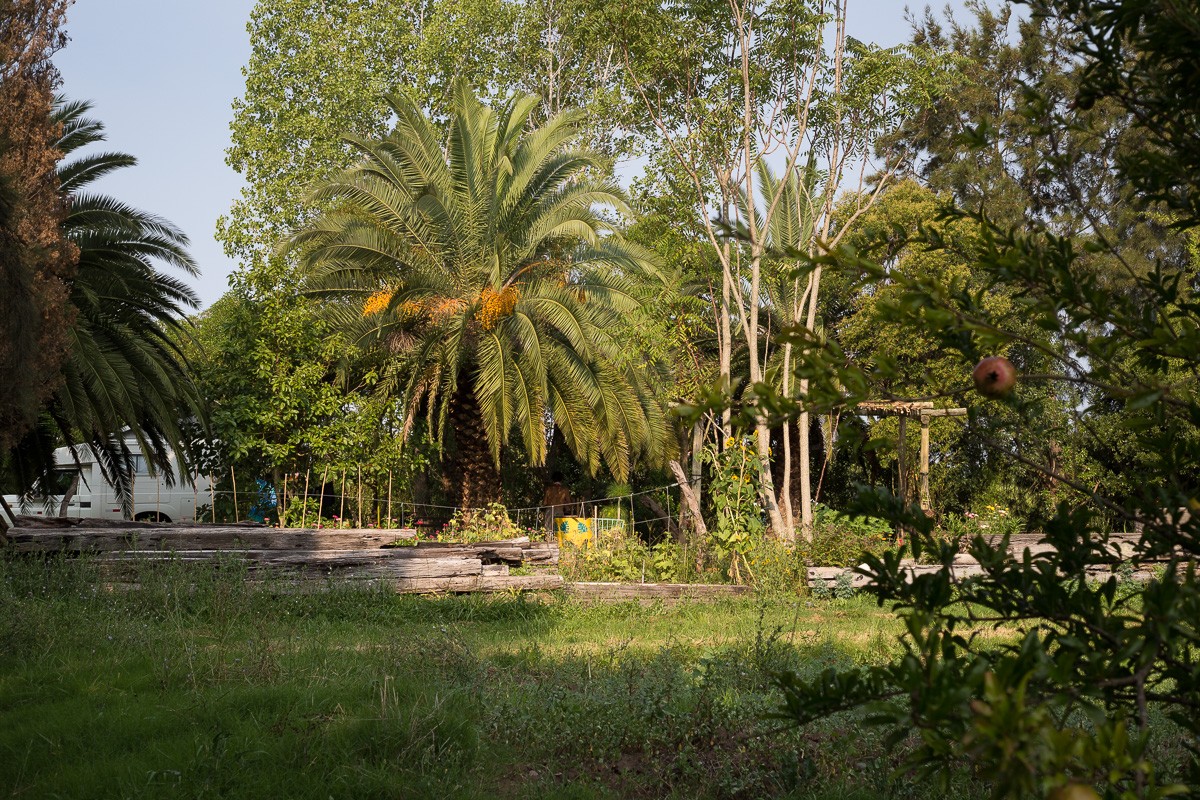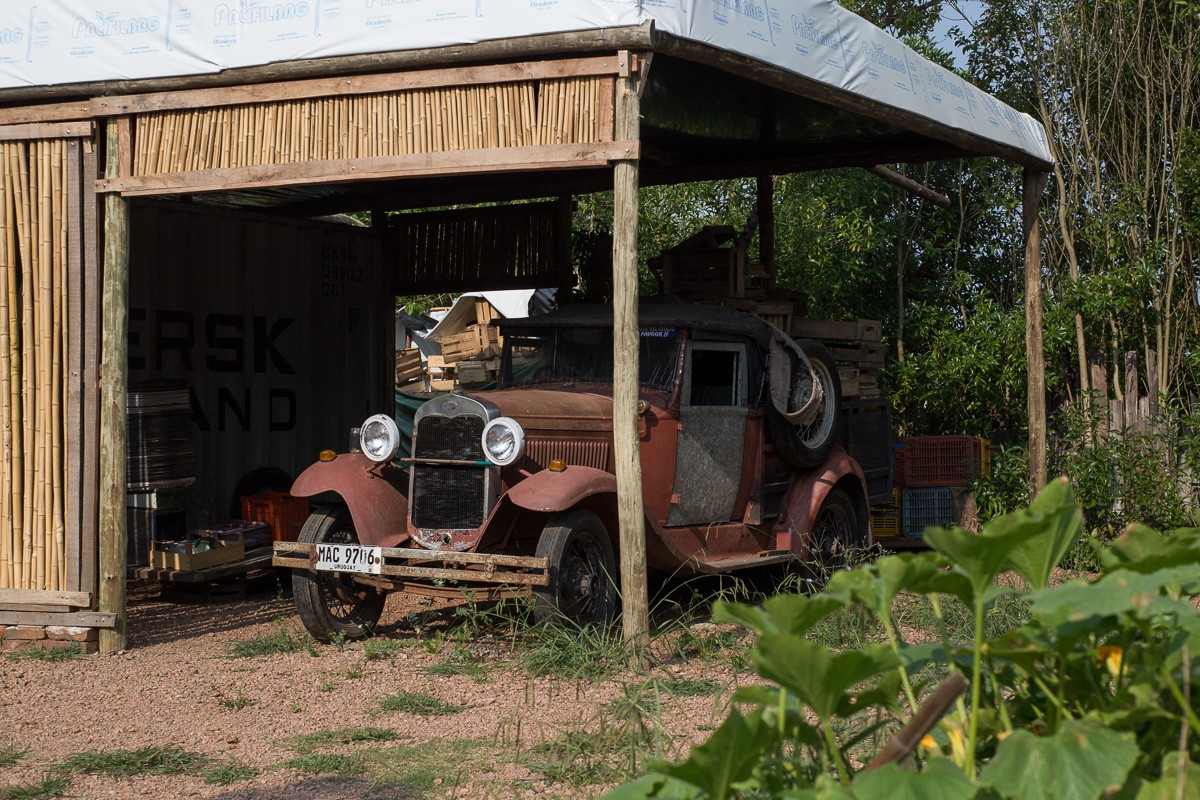 The next day, it even gets better when Dora and Fritz suddenly turn around the corner. The two Swiss have crossed the Atlantic with us. We spend a nice evening together and hope that we don't have to say goodbye to them for the last time.
If you would like to treat us with something for the 234567 hours of work, because you enjoy our stories: You can give us a roll if you like (guaranteed not to be spent on rolls but on beer).

Read More
← previous post
next post →