Diary of the Freighter Cruise
We turn around the corner in the port and there she stands, the Grande Amburgo – what a colossus. The preparatory stress of the last few days has finally ended with the arrival in port. Next month, we'll finally have some time to calm down. We can wrap up with what is behind us and we begin to concentrate on what is ahead of us. It is the beginning of a journey that we do not know how long is may take, how things will develop and where it will end. It's the adventure we've been dreaming about for a long time.
It was really interesting how different the reactions of the people were when we told them about crossing the Atlantic on a freighter. Some were thrilled, some have declared us crazy, others have predicted that we would get bored on the third day.
For us, the trip with the freighter belongs to this journey. It's a new experience that fascinated us from the beginning.
Welcome on Board
We take a picture quickly and ride further to the big ramp, where we will bring the tiger onto the ship. Things are very hectic here. One new car after another rushes over the ramp and disappears in the cruiser. We leave the tiger with luggage in close proximity to the ramp and first walk on the ship to tell that we're here. Unfortunately, it doesn't seem to be of anybody's interest. We hope in vain for a friendly welcome and briefing. Without a word, we're brought to our cabin. The room is  cozy, but the bathroom was not cleaned before we arrived. With a thousand unanswered questions in our minds, we are left alone. We knew that this is different from a passengers ship and we should not expect special treatment. Nevertheless, it would have been nice to have at least briefly explained where everything is and what habits exist.
Fortunately, this confusion has a quick ending when Graham starts talking to us on the corridor. He and his wife Geraldine are passengers from England and have been on board for nine weeks. For us, they are a true blessing because they really know everything about life on board and give us a detailed introduction. Unfortunately, they won't be joining us for much longer because their trip ends in Tilbury.
Short time after seeing our cabin, we bring the motorcycle on board. Everything has to go fast because the vehicles drive over the ramp within seconds. But also here, we are waiting in vain for information from the crew. "Just drive, there will be someone", they say. So, we're riding up the steep ramp. When we want to know which deck we're supposed to go on now, two guys only give us a tired shrug of their shoulders. Before I can tell Moe, that he shouldn't stop in the middle of the steep driveway, he's already stopped. Turning here with the packed tiger is impossible. However, we can see on the other upcoming cars that we must go back to the lowest entrance we have already passed. I get off and lean on the bike from behind, while Moe is going down slow. A truck that is driving up has to brake. The driver is obviously upset that we're stopping traffic. We are also mad because this dangerous situation could have been avoided if we had just been told that we should take the first entry. Moe turns right and puts the tiger in a small niche, next to a camper-van. While we are unpacking our tiger, the situation around us is both stressful and very noisy. To be sure, we take literally everything off the tiger, including the empty crash bar bags. We have heard these stories too often that parts of other motorcycles have been stolen from ships, even if they are almost worthless. German number plates are supposed to be a popular collector's item. I don't want to imagine what kind of trouble it would cause us if it wasn't there anymore.
The first stops: Tilbury and Hamburg
The next day we are starting. We leave the port of Antwerp and will go to Tilbury, Hamburg and Vigo before Dakar.
Apart from Geraldine and Graham, who have been on board for a long time, there are also two French couples that went on board with us in Antwerp. They want to drive with their vans through South America.
There are three meals a day, with lunch and dinner consisting of three courses each. Since the cook, just like the captain and all other officers, is an Italian, we are spoiled with Italian cuisine (a lot of pasta and a lot of meat – could be worse ?). At mealtime, we even get a small bottle of white or red wine. It also doesn't seem to be a matter of interest if we smuggle extra alcohol on board in our backpacks.
Right across from our cabin we also have a gym, which we are particularly pleased with, even if everything is a little – let's call it – improvised. During the journey, we will workout almost every day to get as fits possible for South America.
At Tilbury, we say goodbye to Geraldine and Graham. Caroline and Lauren come on board, mother and eight-year-old daughter, who have seen many places in this world.
Several times a day, we go out on the deck to move a little and look at the expanse of the sea. Although it is still very windy and cold in the European area, we are very happy to be outside. I really like to watch into the bubbling up turquoise of the waves that surround the boat while driving. Every day, we look forward to the the sunset, which is a special experience at sea as in ports. Moreover, you have an incredible view of the stars in clear skies and we do not rarely enjoy an impressive milky way.
In Hamburg, the Swiss Dora and Fritz come on board, who will also ride with a van through South America. The deeply relaxed nature of the two is very admireable.
Just before Vigo: Christmas at sea
The Sea is becoming increasingly restless. Although we are already right ahead of the coast of Spain in the morning of the 25th December, we have to spend the day on the sea because no one works in the port at the first day of Christmas. I find this quite nice because we have the opportunity to celebrate Christmas in peace and at the open sea.
At 12 noon on the first day of Christmas, we are called to the bridge. Here, the entire crew has gathered to enjoy appetizers and fingerfood together. It is nice that this festival is celebrated jointly, considering that there is a very strict hierarchy between the officers, who are all Italians, and the crew that mostly consists of Filipinos.
The subsequent Christmas dinner is very, very opulent. There are eight courses accompanied with a lot of wine. And even though every second course consists of fish, which I really don't like, we all get more than full. For dessert, we get Panettone, the traditional cake from Milan.
After a short stay in Vigo, we head off to Dakar. The sea will be very stormy. The Captain personally informs us that we should prepare for bad weather and should safely store our belongings. The next two days will be uncomfortable.
On the way to Dakar
I really have to get used to the strong swaying. You're walking like drunk over the corridors and staggering from one side to the other. I can't get any sleep on the first night. On the one hand it is very hot in our cabin because the air conditioning is temporarily out of place, on the other hand there is always something falling down which keeps me away from sleeping. At three o'clock at night there is a huge noise in the opposite gym. These are certainly the weights that must be flying across the room. I'm going over there, trying to get everything back in its place and in a stable position, while Moe is already sleeping like a baby in the cradle for hours, and doesn't realize anything.
The next day, I am quite acclimatised and I don't care that much about it anymore. But what really annoys me is the captain's order that passengers are not allowed to go on deck for the next one and a half days. Too dangerous. All of a sudden, you feel very restricted in your freedom of movement. We get both headaches and we are sure that the lack of fresh sea air is to blame.
When we are finally allowed to go on deck again, we're rewarded with beautiful weather. In just 36 hours, we moved from Vigo to the height of Morocco's coasts. And of course, you can tell by the temperature. While we were still running around with our downjackets in Vigo, we are now comfortable in t-shirt and short pants in a deckchair. The color of the sea has also changed and now shines in a beautiful, deep blue.
On the next day, we see dolphins for the first time. I'm standing at the rail with a coffee in my hand and talking to Moe while I see something bouncing out of the waves in the corner of my eye. At first, I'm not really sure if that was just a figment of my imagination. But at once, many of them blithely hop over the waves surrounding the ship. Moe goes quickly to the room to get the camera. We're not even sure if these are really dolphins, because we remember them to be a bit bigger. When Moe comes back with the camera, almost all of them are gone (article 1 in the unwritten law of photography). But we still have a bit of luck and can take a photo of a distant dolphin that is not impressive, but serves as a proof.
From now on, Moe won't go on deck without the camera. Although we are lucky and also discover dolphins on the next two days, it is really not easy to shoot a good photo in these short periods.
At this point, we would like to state a quote from Douglas Adams "Hitchhiker's guide to the galaxy" which we are appropriately listening to as an audiobook (roughly translated from the German version, so it probably differs a bit from the original):
"It is an important and popular fact that things are not always what they seem. For instance, on the planet Earth, man had always assumed that they were more intelligent than dolphins because they had achieved so much—the wheel, New York, wars and so on—whilst all the dolphins had ever done was muck about in the water having a good time. But conversely, the dolphins had always believed that they were far more intelligent than humans – for precisely the same reasons."
New Year's Eve
On new year's eve, we are finally on the edge of Dakar, which is obvious not only due to the increasing heat, but also through the most curious insects on deck. They say that we have to wait a few days until we can dock at the port of Dakar. There will be probably no beginning of work there until 3.1., and there are also many other ships that have been waiting for the arrival in port partly since Christmas.
New year's eve is celebrated on deck. All come together, and toast with good Italian red wine and grilled fish, which was freshly caught and sold by Senegalese on small colorful fishing boats. The highlight of the evening is the karaoke. The Filipinos sing classics such as "New York, New York" , and also we can't miss this opportunity and sing "Barbie girl" in a duet, which may also have a certain  degree of entertainment. It's a pity none of the Italians dares to sing karaoke. Even if there are joint celebrations on festivals like Christmas and new year's eve, certain borders are never crossed. The crew and the officers remain among themselves. At the highpoint of the evening, all passengers and the Filipinos are singing and dancing together in front of the karaoke, when the youngest cadet finally pulls the plug – party is over. He's probably unhappy that he can't party with us, "since you don't mix up with the Filipinos", as he had explained a few days ago…
Whatever, we celebrate a bit further with the other passengers in the lounge, but soon everyone goes to bed. We take advantage of this peace and sit down with a long cigar on the deck, where we philosophize about Cuba accompanied by starlight and the sound of the waves. Who knows, maybe one day we have the opportunity to smoke a real Havana there.
A day in Dakar [Moe has written this part]
After we were not allowed to go to port for days, the excitement is great when the freighter starts finally moving on the 5.1. and heads toward the port of Dakar. We're going through the narrow entrance of the port. In comparison to the previous, the port of Dakars is visibly smaller and more chaotic. An unpleasant smell rises in the nose when we dock in the bay. From the deck, we watch the ship bringing the ramp down. There are countless workers at the port in yellow safety vests.
The next day, we get up early. We want to visit Dakar with Caroline and Lauren. We got time for a whole day, so we also want to visit Goree island, an island that we already passed when we were driving into the port. So, we're leaving the port and we're on our way. It's dusty, taxis are honking at us and many passers-bys greet us in French. The Ferry to the island is not far away. But before we can enter it, we reach a hurdle. A heavily armed soldier forbids us access. He wants to see some id first. Nicki doesn't have an id card, and we had to leave our passports on the ship because they're needed for customs. Caroline and Lauren want to get tickets for the ferry and wait for us. We need to get back to the ship and get Nickis driving licence. When we come back with ours, the soldier only throws a cursory glance at's's license. We could have showed him a knax club card (a German kids club).
Goree Island
Goree Island has a moving history. Colonists captured slaves from all over West Africa before they were sold and picked up by ships to America. Today, the island is mainly a tourists magnet. Many locals try to sell handicrafts and instruments to mostly white visitors. The unpleasant smell of the streets of Dakar is no longer here on Goree island. Here, you can feel the salty sea air in your nose again. The Island is nicely prepared. It is characterized by the colourful houses of the former colonialists, palm-trees, exotic birds and many sociable salesman.
I'm always asked what my name is and how I feel. A particularly communicative man congrats me for my great family and points to Nicki, Caroline and Lauren. You get the feeling that everyone here wants to sell you something. If you don't want to buy anything, it's not so easy to find the narrow line between a polite decline and a peeved getting rid of someone. That is a pity, because you mind treat those wrongly who might just want to be friendly. "Non, merci" is on my lips a hundreds of times that day.
The most interesting place is the house of slaves, one of the many former prisons for slaves was converted to a museum to remember the cruel past of the island. In small narrow cellars without light, the slaves were held together, while the colonialists in the upper floors led to a seemingly light-hearted life.
We take the ferry back to Dakar. Goree Island leaves a strange feeling in the belly. The apparent island idyll contrasts with the historical significance of the island.
We go to the old town and try senegalese chicken dishes. On the way to a supermarket, a guy on the street starts talking to me. I look like eminem, he says. I'm not sure i should take that as a compliment. We buy two African beers and smuggle them on our freighters in our backpacks.
We cross the Atlantic
Now we're going fast across the Atlantic. We have lost a lot of time before Dakar, which we now need to catch up again, because "time is money" in port business. We cross the Atlantic in just 5 days.
The crossing is much quieter and more unspectacular than I imagined. A highlight is certainly the equator crossing where all passengers and the two youngest cadets have to face the sea baptism. The passengers are baptized by Neptune with a scoop of sea water, while the cadets get poured over the stinking kitchen scraps of the last few days. After that, they are splashed with water and get funny haircuts by the captain. Unfortunately, I miss this spectacle because I have a nerve stuck on that day, and can keep my head upright only in pain.
We regularly sit with red wine and cigar on deck to observe the starry sky. One night, we're very lucky. We see a shooting star shooting like a fireball through the sky. It's so close and bright and flies over our heads for an eternity.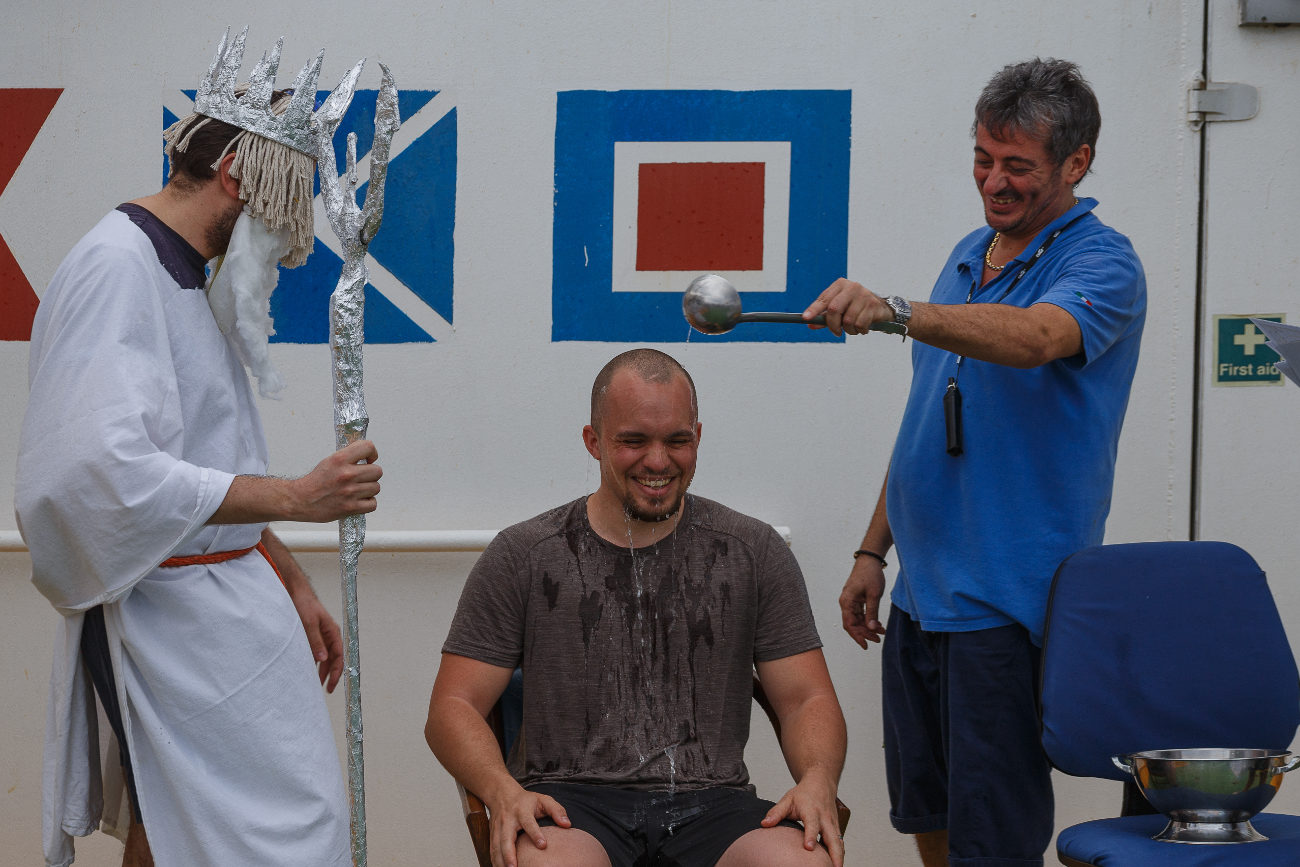 On the other side
A beautiful new world lies ahead of me when I wake up one morning and we are in the port of Vitoria. The small harbour in the middle of the green mountains and the bustle of the little town is quite stunning. I wasn't expecting such a beautiful scenery. There is a huge euphoria rising in me, because now we have done it: we are going to touch South American soil for the first time, and that in a place that enchants me. We see how huge bags of fresh fruit are loaded onto the boat: of bananas, pineapple, papayas, mangoes, melons and  much more  that we will be served with the next few days. The taste of these fruits will be incomparable with those that can be bought in Europe.
Of course, we must go on land, even if we do not have much time and we are told that the city is far away and the way is dangerous. Fortunately, we are with Lauren and Caroline who have lived in Mozambique for the last few years and speak fluent Portuguese. We want to get Brazilian real and sim cards, because apart from the three other brazilian ports we still visit, we will also return to Brazil with the motorcycle. Since the taxi drivers are demanding an exorbitant price from us at the port, we decide to walk. A short time later, a dock worker stops with his car next to us and offers us to take us to the next shopping mall where we can run our errands. Even if I don't like malls, now it's quite practical. On the way back, we take a taxi that costs only about one fifth of the price that the taxi driver demanded at the port.
Too little time in Río de Janeiro
When we get into the port of Río at sunrise it is already clear that we won't have much time here. The great shots that we can take at this early hour in the port are comforting us a little. We had hoped for a whole day in Río, because together with Lauren and Caroline, we' would have liked to go to the Sugarloaf with public transport and then walk over famous Copacabana. When we got told that we have to be back on board around 12 noon, we kick off as soon as possible. You can never know exactly how long the ship will be in the port. But even if it was just a short tourist trip, it was worth it. The view from the Sugarloaf is impressive.
Santos and Paranagua
After Rio, we continue to go down south on the Brazilian coast to Santos and Paranaguá. In Santos, we do not go on land because time in port is short and we have enough other things to do. Honestly, we never got bored on the whole trip! The exit from the port is quite exciting, as there are contrasting worlds along the river. We are in the midst of countless high-rise buildings on the sandy beach on one side and small huts on stilts between large industrial installations on the other.
The last stop before Montevideo: Zarate
Although we are right ahead of the port in Montevideo, it will take a few more days to get back here and leave the ship. We're waiting. For driving up the narrow Río de la Plata, which is strictly regulated with regard to the ships that can drive through it. The Río will bring us to Zárate, our last stop. But when enter the narrow part along Buenos Aires, heading West into the interior of Argentina, it is a beautiful sight. I could sit outside for hours and watch the small piers along the shore that have settled between the densely vegetated forests and the brown water of the river.
In Zárate we spend a very relaxing day with Dora and Fritz, walking in the perfect weather. Here, we also get a sim card that applies not only to Argentina but also to Uruguay and cover us with some Argentine pesos. That makes the imminent entry much more relaxed.
I write these last few lines while we're just heading out of the port of Zárate. It's nice that we are going down the narrow Río de la Plata once again while it is light. We'll probably leave the ship in Montevideo tomorrow. It's incredible how fast the time on the Grande Amburgo has passed. And that even though we spent a week longer than planned. We enjoyed the time. It has made the distance we have travelled a lot more tangible.
If you would like to treat us with something for the 234567 hours of work, because you enjoy our stories: You can give us a roll if you like (guaranteed not to be spent on rolls but on beer).

Read More
← previous post
next post →