Going High and Deep Down
In the middle of the ride, the engine suddenly dies. First, he interrupts, then stops completely. He did already stutter pretty loud before.
And now we're standing here, in the middle of the pass. Moe's first guess is that we ran out of gas. We always have to calculate by ourselves because the display is broken. But according to our counting, we would have made it easily to the next gas station, which is 20 kilometers away. Maybe the consistent rise did cost us too much gas?
Thumb out on the Roadside
First, we have to get off this road. So, I push the tiger over to the other lane so we can get to the next parking lot. Of course it's raining now, everything is covered by dense fog so that we can't see five meters far. We make it to a seafood restaurant. Unfortunately, they don't sell gas here.
But the gas station is only 20 kilometers away. Moe takes a canister under his arm and puts his thumb out at the side of the road. If hitchhiking is working here in Bolivia? I wait at the motorcycle. After an hour, Moe returns with bright smile in his face. Finally, the ride can continue. We fill up gasoline, start the engine and – nothing! Just nothing. After some reviews, we are already at our wit's end: we must take the tiger to a workshop. In Bolivia better not to some random, but one with a mechanic who doesn't see such a motorcycle for the first time. We only know about a workshop like this in Cochabamba, 70 kilometers away.
Finding A Workshop
We make the plan to push the tiger to the next town and organize a transport to Cochabamba from there. But this turns out fastly as a very stupid idea, as we push the tiger along the busy road in complete fog. Way too dangerous! And way too far! So we are going back to the seafood restaurant, where I ask for help again. Both waitresses are very disinterested in our problem but we're not going to leave until they finally call us a towing service. This is absolutely not in our budget, but we do not have a choice here. It will take an hour and a half until they are going to pick us up.
Three hours later, the car finally arrives. The driver is very friendly but obviously tired of the strenuous drive. We keep him awake with a conversation so he can't fall asleep.
When we get to Cochabamba, the tiger can't go to the workshop immediately. It's Saturday night and tomorrow is holiday in Bolivia, which is causing the prohibition of driving cars or other vehicles through town. Nice idea actually to introduce some holidays where one can only walk on foot. But for us, of course, some bad luck right now.
Two days later, the tiger comes to Willi, who already suspects that the problem is caused by the bad, bolivian petrol. Already on the next day, he writes to us that we can get the tiger back from the workshop. We're so happy!
But it seems like we started celebrating too early. The next morning, the tiger needs a lot of gas to start. It's not normal. Instead of driving back to Willis's workshop – which would have been reasonable – we finally want to move forward to La Paz. After all, the tiger is running and that's what matters.
It's Nice in La Paz
In La Paz, we take a longer break – eventually, there's a lot to see here. For example, the numerous cable cars that run across the city. Since the first lines have been built by the Austrians in 2014, it is the largest urban cable car network in the world and public transport number one. A very good solution, since there are up to 1000 meters of difference in height between the areas. A beautiful and unusual perspective, to look from above at the city's panorama with its snow-covered mountains and all the backyards and rooftops. Depending on the quarter, you can look at clothesline ropes between corrugated booths or trimmed lawn in front of small villas.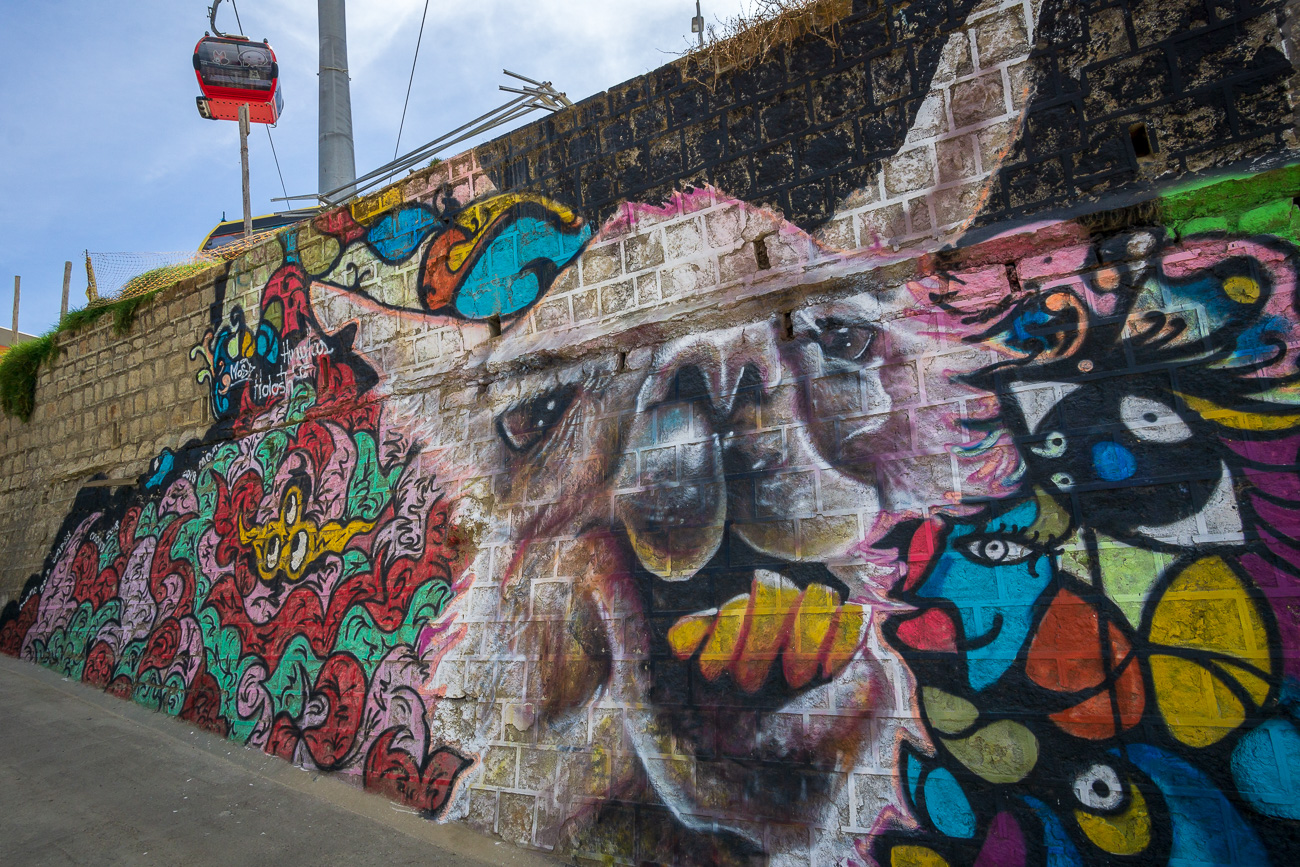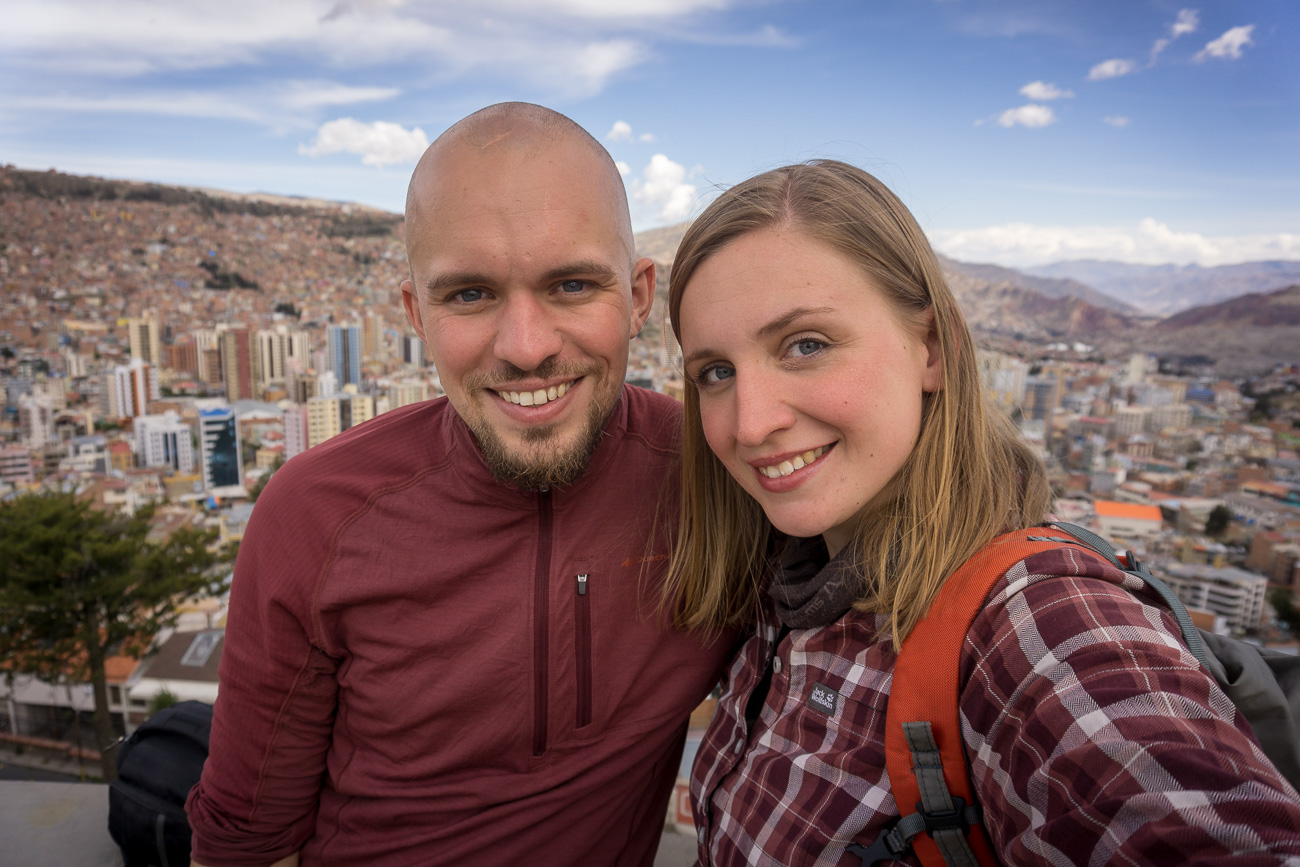 Here in La Paz, we are also invited by Mike and Dani. The two are spoiling us at home with pizza and beer and tell us a lot about their life in La Paz. So, we have an excellent evening with interesting talks about land and people.
At the Abyss
Then, we ride the so-called death road. It received this name because many people died here until a few years ago. At that time, the ruta de la muerte was still the main road: non-asphalt, steep, narrow and directly on the abyss, several hundred meters deep. Since there has been a new bypass, it is a lot more calm now. There are only a few mountain bikers who ride down here in the morning. But since we already know about them, we start riding up a little later. So, we have the road with the insane view almost for ourselves and enjoy each of the numerous curves. A unique experience!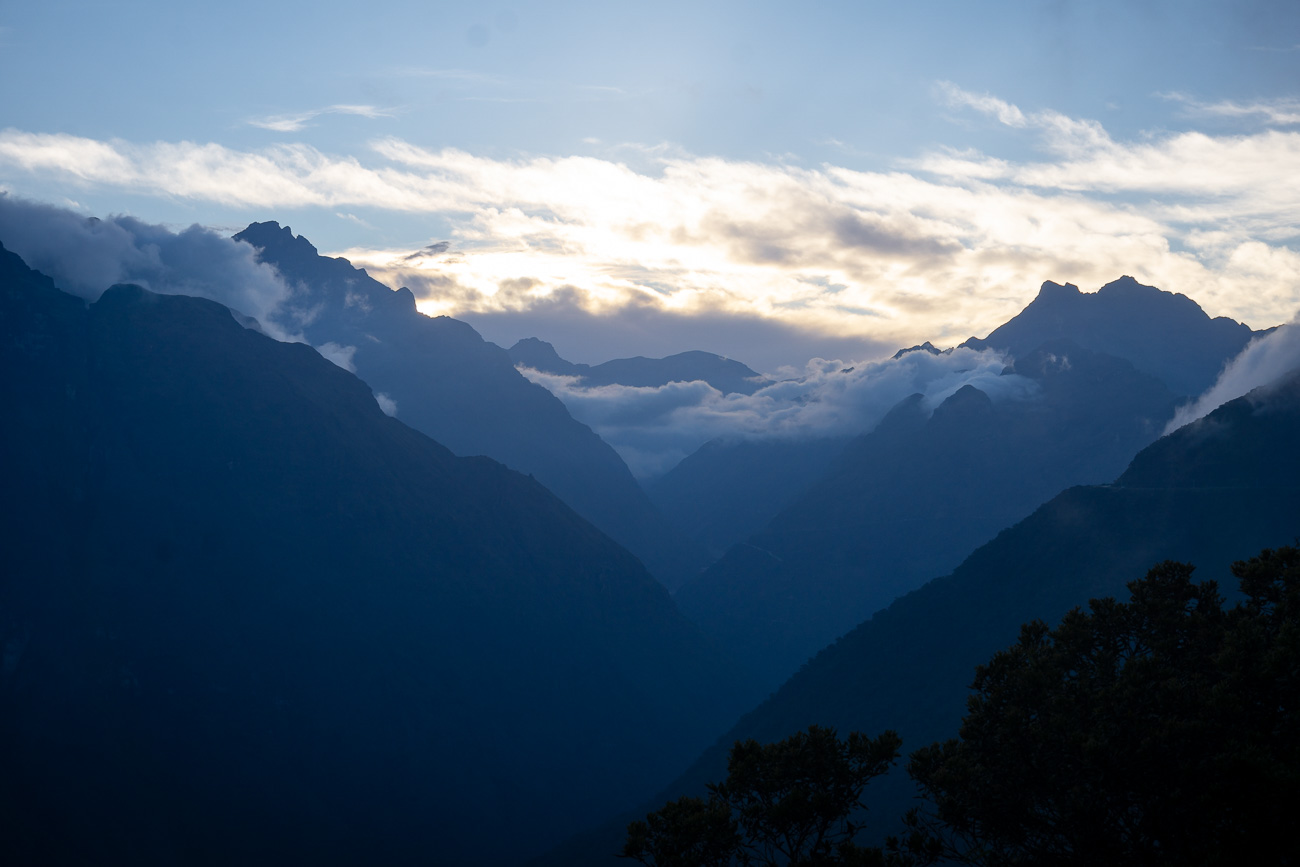 Strong Women
There is also a special highlight in La Paz: Cholita-Wrestling. In a very entertaining show, the indigenous women are fighting in traditional costumes. There are also some men, but the ladies are definitely the bosses here. The power women shine not only with great choreographies but know how to involve the audience spontaneously. Too bad we don't sit in the first row. Otherwise Moe would have got a kiss!
The wrestling is also based on the identity movement of the often abused and discriminated women. Over the past few years, the name Cholita has changed from an insult to a positive term that women are now proud of. Therefore, the wrestling show is also a symbol of women's empowerment in a highly patriarchal world that only gives few rights to the female gender. A small step on the long, arduous path to equality.
It's Going Downhill!
We spend a few more days in La Paz. Big cities are a nice change, but soon, we feel that it's too much: too much traffic, too many people, too much hustle. Moreover, in the large cities of Bolivia, there is often a bad smell that tests our olfactory nerves. We need fresh air!
Eventually, we leave the city for three days and walk along the El Choro trek from craggy rocks and thin air in 5000 meters down to the deep jungle where we meet heat and rain. So it's constantly going downhill and we're amazed at how exhausting that can be. Not so far from the city, we find absolute silence, set up our tent under a sky full of stars and walk besides crystal clear water. Yes, we feel much more comfortable here! Also the small villages we cross are adorable. It's so idyllic here.
But for us it is simply inconceivable how life is here in the mountains. There is no road, just that one way you have to walk for days, thousands of meters uphill if you want to get to town. What drove people to settle down here? How may that have happened? Fighting their way through the dense jungle on the hillside just to explain somewhere, "That's it! Here we stay now!"
Dispute About the Bolivian Kitchen
Just as we once again wonder about the beauty here and that it's just too weird that nobody else is here, we meet two wandering bolivians. We decide to go a little bit together and chat. When the Bolivian girl asks if we like the bolivian food, we react cautious. It's certainly not the culinary highlight of our journey. While I tell her about the not so varied plates which we already tried, she interrupts me and clearly claims that this is not Bolivian food. I'm telling her that that's exactly the food you get here on every corner, in every little town. And it's also what the locals eat. But she doesn't want to know. She's talking patronizing about street food which has nothing to do with the Bolivian kitchen. Instead, she recommends an expensive restaurant in La Paz, which is completely above our budget. If you want to eat authentic, do you need a lot of money?
It makes me think. What counts actually as a typical food of a country? Is it what is eaten everywhere? Or rather what was eaten already centuries ago? Or what's especially expensive? I dare a comparison with Germany: If anyone visits Germany and asks me for German food, then I would probably recommend a rustic brewery to eat roasted pork with potatoes, roulades or something. This is classic, traditional, certainly not very cheap. But with what is eaten daily in Germany, it has often not too much to do. Such food is much more prepared on special occasions. I would also advise the Döner Kebab and a Currywurst – because that is something you can only get in Germany. And it's very popular, you can find it everywhere. Is that not a German food? I don't think so. I don't know if this is something else.
Not with me
Almost all bridges on the way that lead over the raging river in the valley are damaged. Often, there are tree trunks or large stones that lead over it, but in one place my heart stops beating. An improvised cable car – more precisely a wire tied to tree trunks and a hook – should bring us across the river. I refuse because I kind of like my life and eventually a local is holding my hand while we walk through the river with water up to our knees. On the other side, Moe shakes a trunk which almost crashes. No, thanks!
After three days, we reach the bottom, happy and exhausted. However, the small village at the end of the trek upsets us. Intrusive people want to have an utopian price for transport to the next city from where we could catch a bus back to La Paz. It seems that others have already paid this excessive price for lack of alternatives, but we remain stubborn. We rather walk there tomorrow than supporting such a usury. Since it's getting dark, we ask a dear man if we can pitch the tent in the meadow next to his little house. And the next day, after a short walk to the next village, we get a taxi for 5 instead of the 150 (!!) pesos asked for yesterday. Well, you can try it…
Goodbye, Bolivia!
We continue to the Lake Titicaca which lies at the border with Peru. It is the highest navigable water in the world. We stay a while to visit two pretty islands in the middle of the lake.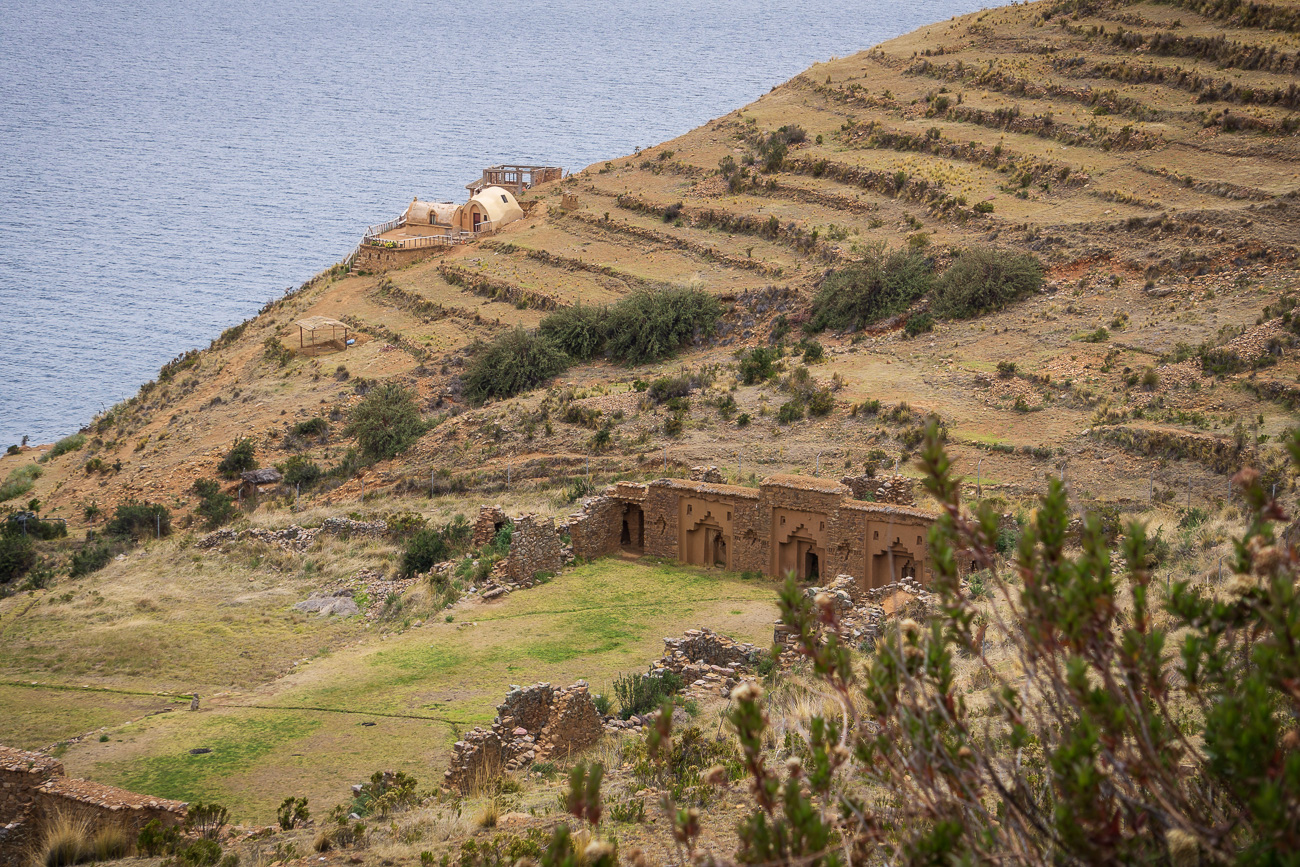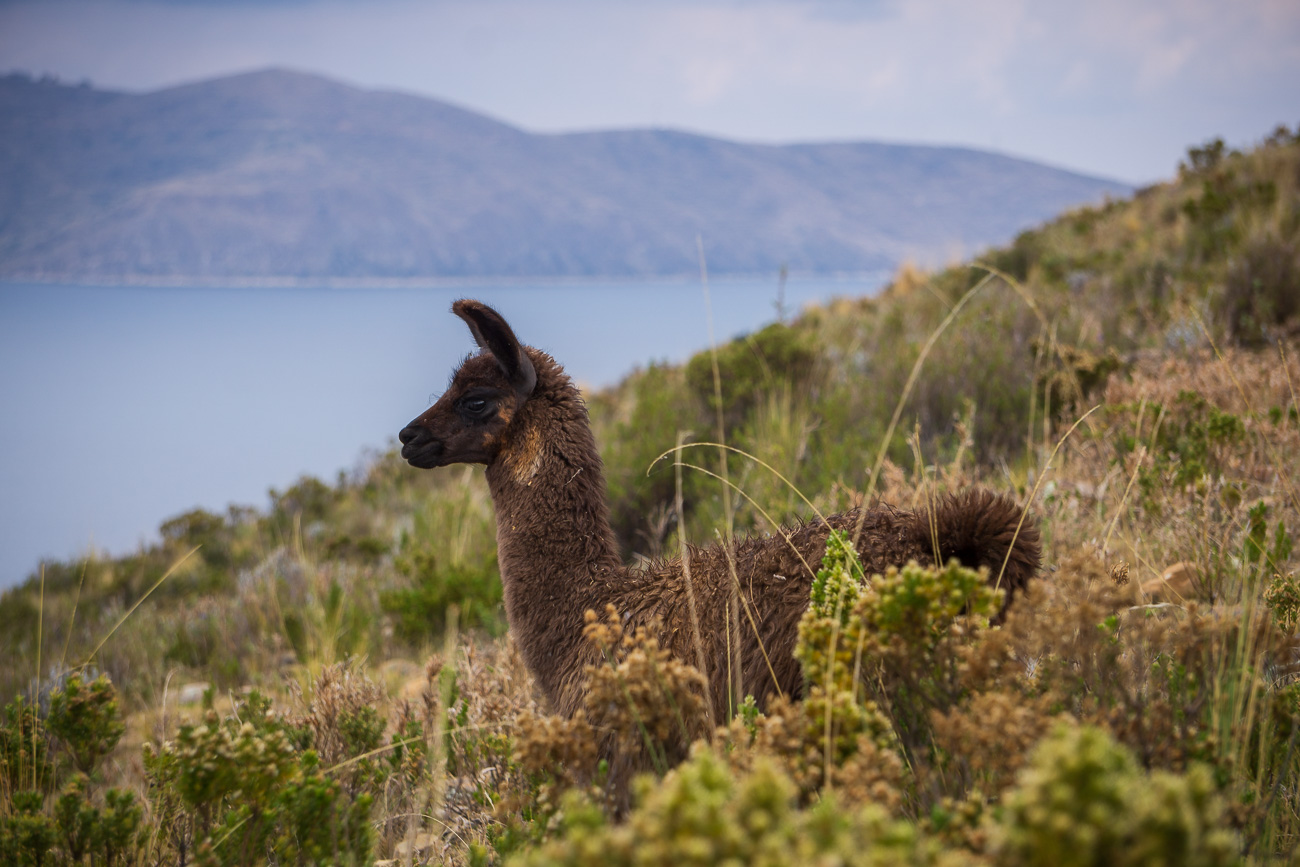 We must say that we are not unhappy when we finally reach the border with Peru. Bolivia delighted us but it was also a challenge. We had a lot of problems with the stomach, were plagued by altitude and couldn't get used to the food – Bolivian or not.
However, it remains to be noted that we have been welcomed by many people. We cannot confirm the widespread stereotype of corrupt police. The roads were partly better than expected. There are very good and very bad, so everyone can choose how much adventure one wants. Certainly, we had enough of that in Bolivia! Now we look forward to Peru!
If you would like to treat us with something for the 234567 hours of work, because you enjoy our stories: You can give us a roll if you like (guaranteed not to be spent on rolls but on beer).

Read More
← previous post
next post →