An Unforgettable New Year's Eve
When we arrive in Peru, the country directly shows us its best side: we get to Juliaca, probably the largest shithole of whole South America. Seriously nothing is nice here: the whole city is flooded, it stinks atrocious and people are as unfriendly as we rarely experienced it somewhere before. It is a huge challenge to find an accommodation, as there is either no space for the moto, they are way too expensive, or simply closed. After a long fight through the mud, we have to be satisfied with the last option. It's by far the greatest shack I've ever entered in my life. First, we get a dirty room with used sheets and paper on the floor, then finally a "clean" room. Clean means that the sheets are stretched but full of weird spots while the wall is covered with leftovers of all kinds of bodily fluids. This sends cold shivers up and down my spine. I don't even want to start telling you about the state of the shared bathroom.
On the run and searching for a Peruvian motorcycle insurance, we are going to a shopping mall. It's certainly the most beautiful place in the whole city. Until the rain starts again. Within a few minutes, the sewage is running full, in other words, the shit comes up from the bottom. The employees can't clean up fast enough what is covering up the whole floor. We should leave this town the next day as soon as possible.
But that turns out to be ot that easy. The tiger had problems starting the engine in the last few days – now he doesn't want to start at all. We do some research, build the tiger apart, screw here and there – and eventually get it back to running. This certainly has nothing to do with our screwing action, it was pure luck, but that doesn't matter now. Just get away here! In Arequipa, the second largest city in Peru, we can take care of the problems much better anyway.
Christmas at Casa Consciente
In Arequipa we stay a while in the Casa Consciente, a colorful house of a German-Peruvian family, in order to work a bit. There's a lot going on here because they are still constructing everywhere and starting a social project, which is why there are a lot of workawayers, couchsurfers or other travellers here.
We also get to know Iv, Matilda and Antonia here. Iv, the mom is travelling through South America for a whole year with her two daughters. We didn't know that something like this is possible for German school kids (because we have compulsory school attendance), but if you apply for it, then it can work at the right school. Cool thing! And they are so happy that it seems to have been the absolute right decision.
After we have prepared and eaten a colorful menu on Christmas Eve with many people, we go on a nice day trip with our three new friends on the first day of Christmas.
A quiet New Year's Eve?
Since we have had such a good time together, we spontaneously decide to escape from the hustle and bustle at Casa Consciente for New Year's Eve and go by bus to the Cotahuasi Canyon. It is one of the deepest canyons in the world, less touristy than the nearby Colca Canyon and known as a real hiking dorado.
However, the bus ride is rather uncomfortable. The numerous serpentines ensure that half of the bus – including me – has to puke during the ride. In the middle of the night, we arrive at the terminal and invade the first hostal, where we meet Joe the next morning, the coolest canadian ever. We quickly decide that our squad is now enriched by a new member and we want to start with a light day hike since everyone is still a little bit bruised.
The locals recommend us a path to a waterfall. Two hours there, two hours back – this should be relaxed. So we start walking, and walking, and walking, and walking… deeper into the canyon. We slowly realize that this is not really doable within two hours and we can't manage to go back while it's light. After all, we make it to the waterfall before it gets dark. A lot of civilization doesn't exist here, so a small house at the roadside needs to rescue us. The friendly owner is happy to help, he calls a taxi for all of us and shows me his huge stock of guinea pigs. They're going to end up on a plate since guinea pigs are a specialty in the mountains of Peru.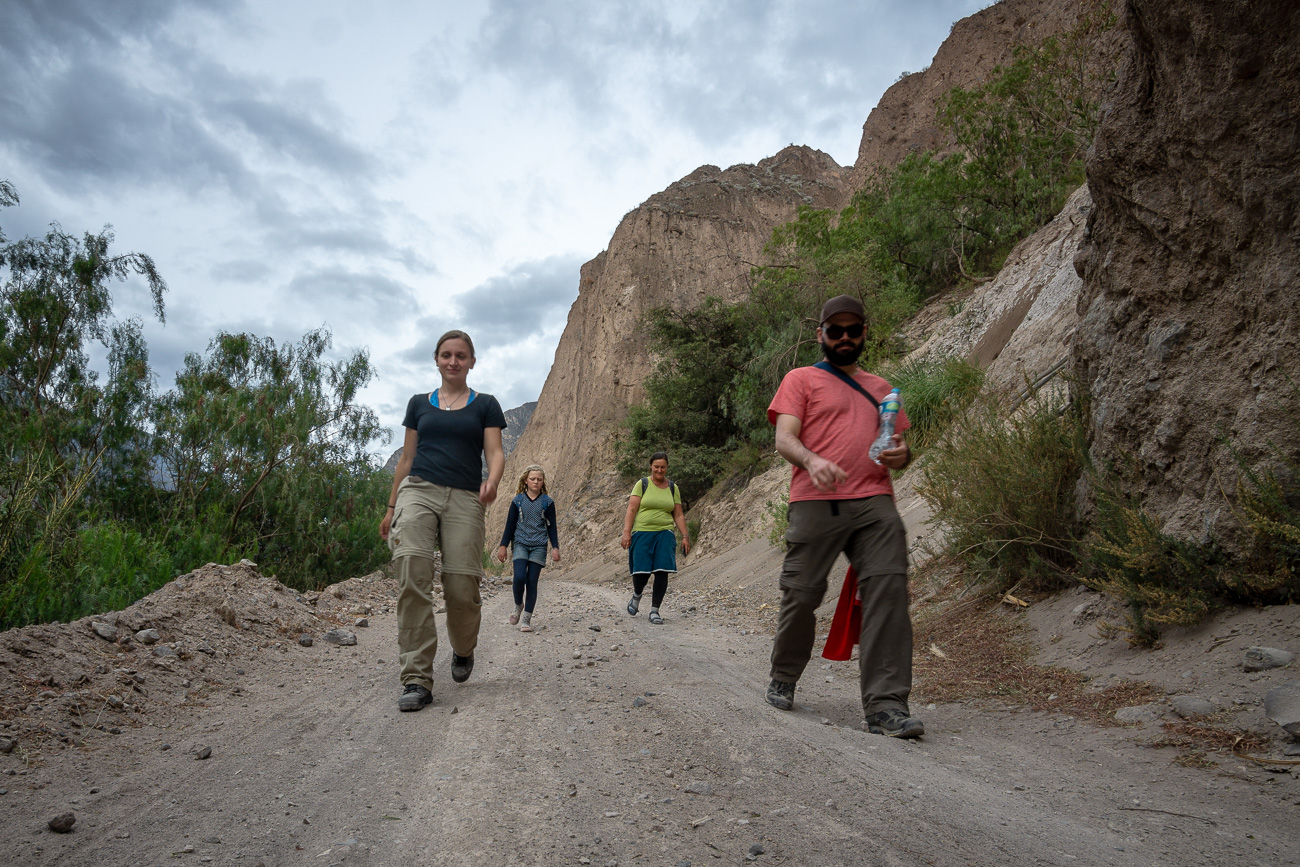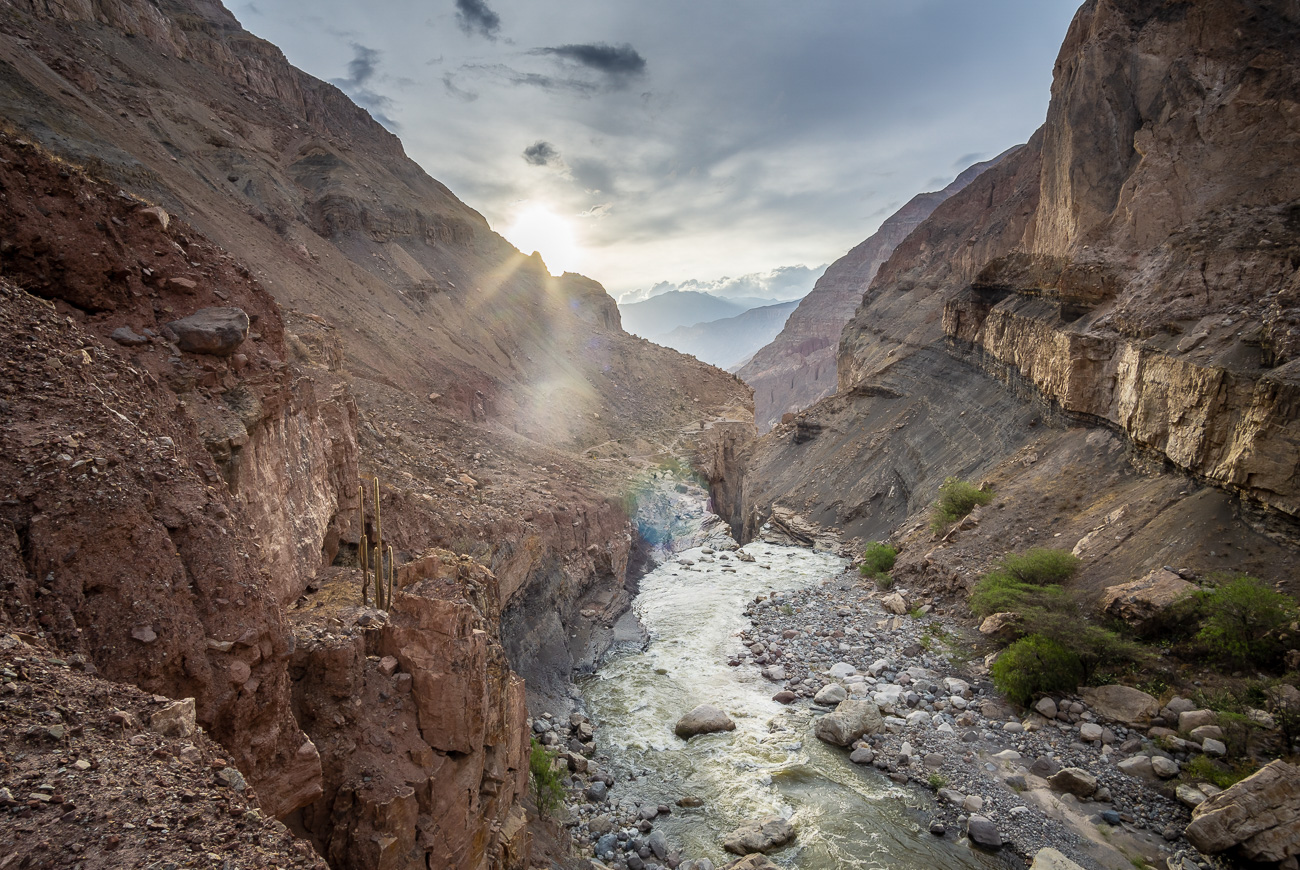 We continue to explore the canyon, bath in wonderful hot thermal baths and find out that there will be also two parties for New Years Eve here. Well, we did come here to escape the great hustle and bustle. But a nice woman in Cotahuasi recommends us the celebration in the small village of Velinga very much. We are not sure if this is the right thing for us. But when she drops the magic words "free beer" and "free food" we change our mind. We can't miss this!
So,we are sitting in the little bus to Velinga two days later. The road is getting narrower, the abyss next is getting deeper and I'm becoming more and more restless. One mistake of the bus driver would mean the certain death for all of us. "The bus driver does this every day and therefore knows for sure what he does", Iv is trying to calm me. It gets particularly exciting when cars are coming towads us on the single track road. Better, you don't look at it.
A Good Welcome
Finally, we get out of the bus and I'm glad we have survived this ride at least. But we have not yet arrived: to get to the small village, it is still a crisp climb on a mountain. Now I know why so many old people are fit here. However, I question myself how they may have brought up all the beer for the party…
With sweat on our foreheads, we eventually arrive on top just to receive instantly a glass of red wine from the first grandpa. The wine is selfmade, so everything artesanal how they call it. The woman from Cotahuasi welcomes us happily with the words "there you are!" and we quickly put up our tents in her garden. Let the fun begin!
Everyone has gathered on the small village square. A small football tournament is still taking place, the band is already standing in front of the church . The rest is sitting around the square and waiting to be served with booze and wine by the two alcohol commissioners. One of the two distributes pisco, the other one wine, and so it comes that the whole village with its approximately 150 inhabitants drinks from exactly two glasses, which are filled up and passed by the two gentlemen. Mine, yours, his – that doesn't exist! You have to be patient until it's your turn to drink. However, the alcohol commissioners give their utmost effort to take care of everyone. And they already had success: some guys can hardly walk straight over the square.
Directly, we are asked to join dancing. The principle is simple: everyone is holding hands and slowly moving clockwise. How you dance is completely irrelevant. Everyone has jester's licence! Wonderful!
The traditional music of the chapel is very loud and very crooked but absolutely entertaining and the spirit for community unsurpassable. No matter how young or old, just everyone dances, all night. That we are right in the middle of this without any questions being asked is even more amazing. Joe is allowed to dance instantly with the queen of the evening in the middle of the circle, Moe gets to lead the little parade to the fairground and I am honoured by swinging the Peruvian flag. To sit lazy around is almost impossible, there is a random hand reaching out to you from the crowd every time as soon as the first trumpet plays. Even when dancing we are well supplied with pisco, beer and wine so we don't get thirsty. In between there is a delicious meal from huge pots for everyone, then we can continue to dance with new energy.
The alcohol is flowing, the dance floor is getting more crowded full and I get asked for dance even in the breaks by some gentlemen, so that there is no longer time to rest. Who cares, I don't need to rest today! It's getting later and we are getting happier and finally I dance with a grandpa, who looks ancient but still knows how to move his hips. "How old are you?", I ask him while dancing. "Fifty", he answers. No, he's not that young for sure. Even when I ask him again later, he insists. Well, then he's fifty tonight.
At some point it's midnight, everyone wishes a happy new year and course we need to drink on that. Moe and I are celebrating a bit longer until we finally fall into our tent. It's a short night because the only bus back to Cotahuasi is leaving early in the morning and so we have to get up even earlier because we have to walk a bit to get there, luckily it's only downhill.
When we crawl out of the tents, Joe tells us that he doesn't know when and how he made it here, but it's nice that he still found his way to the tent.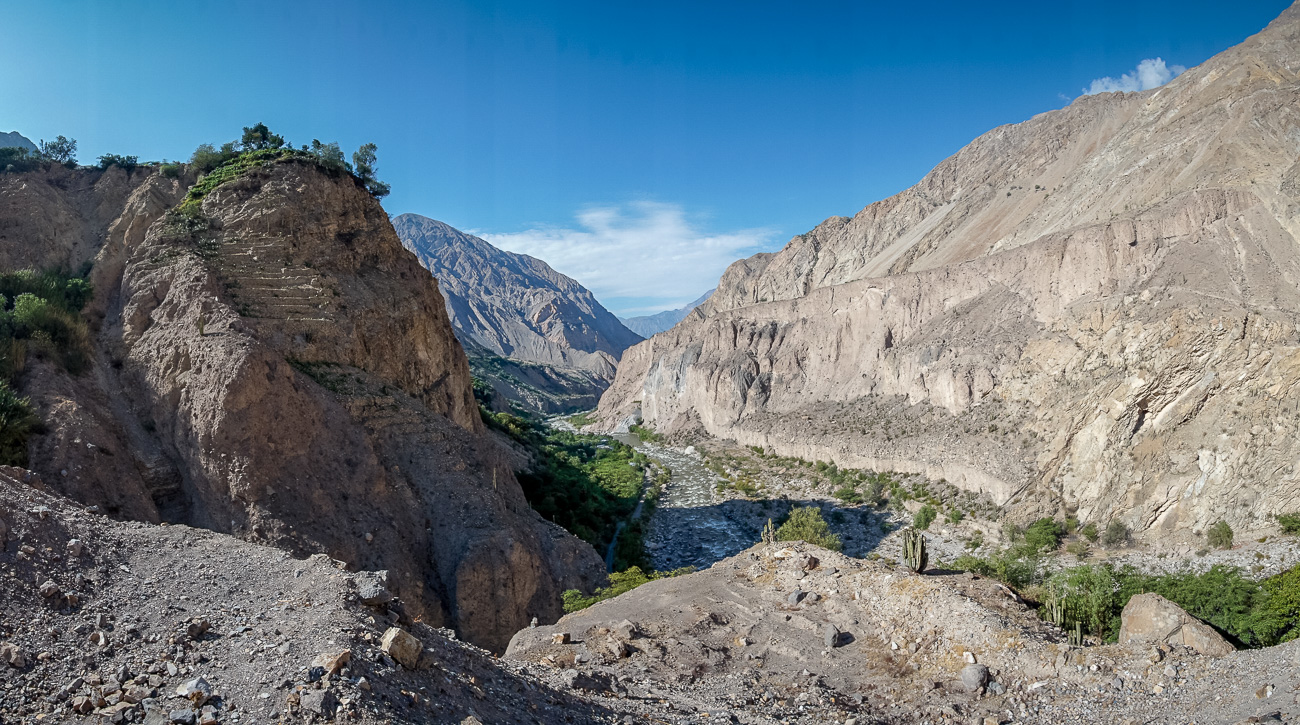 Thanks to celebrating yesterday, I have a deep sleep on our drive back in the horrible bus and can't worry about a "what would happen if…"
In the following days, we visit other small mountain villages of the canyon. On small hikes, we explore rock formations, evergreen terraces and small hiking trails. It's really beautiful here!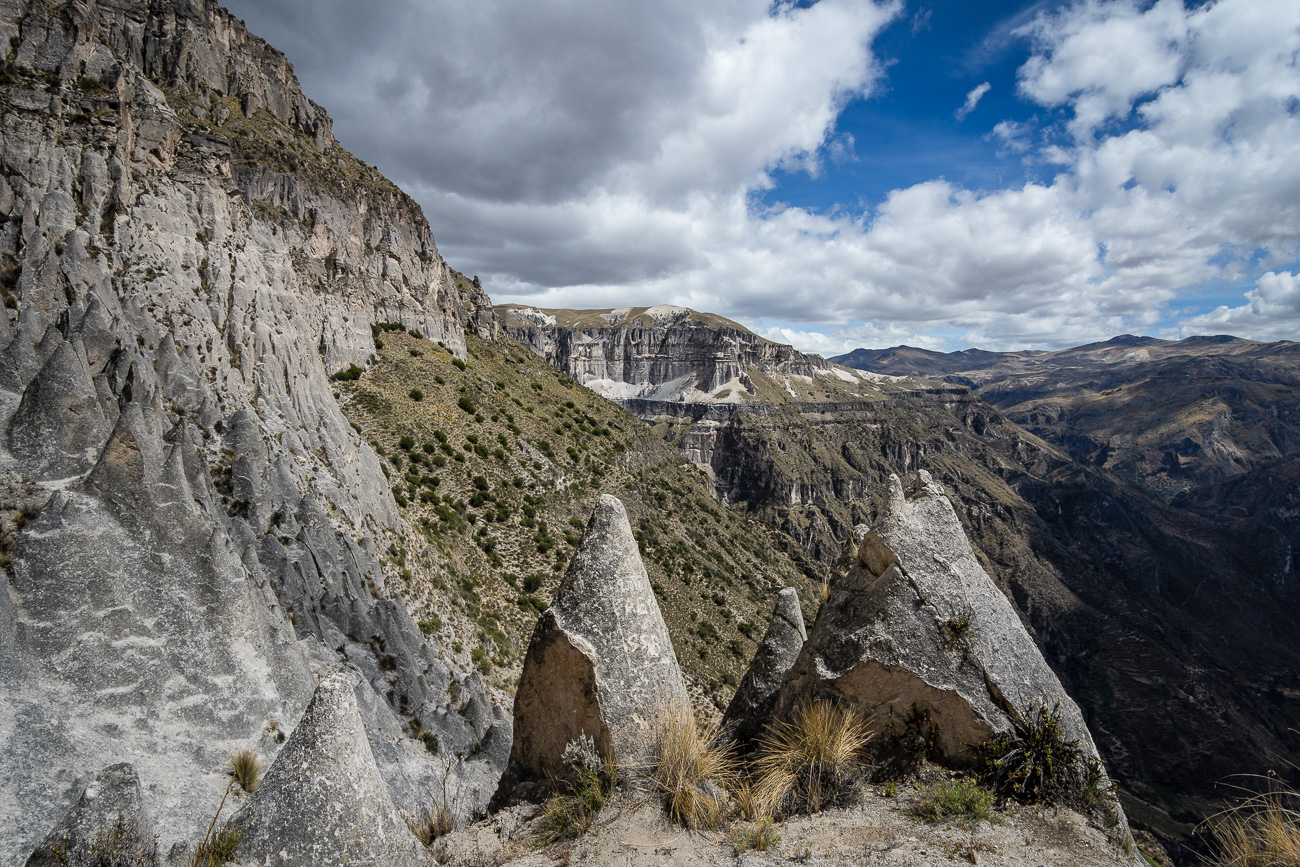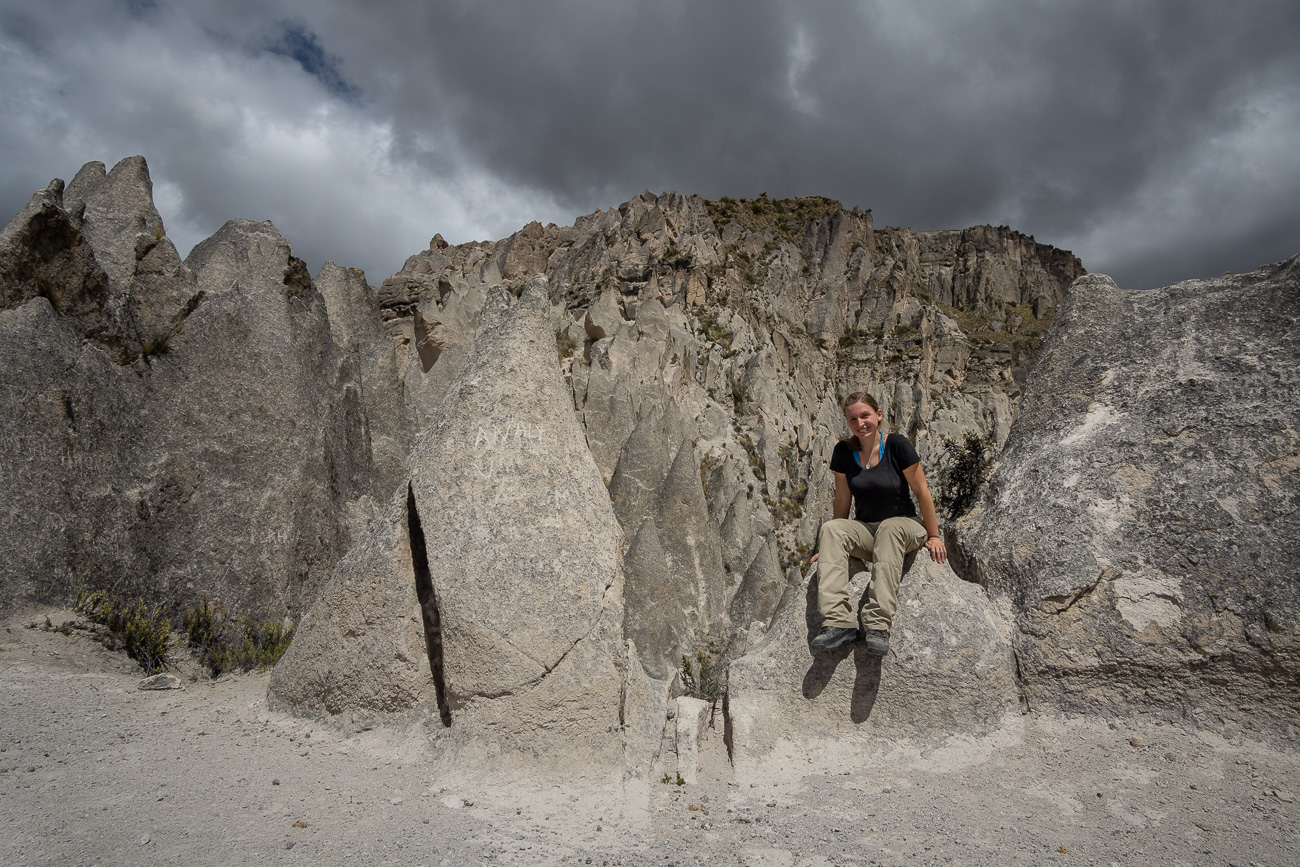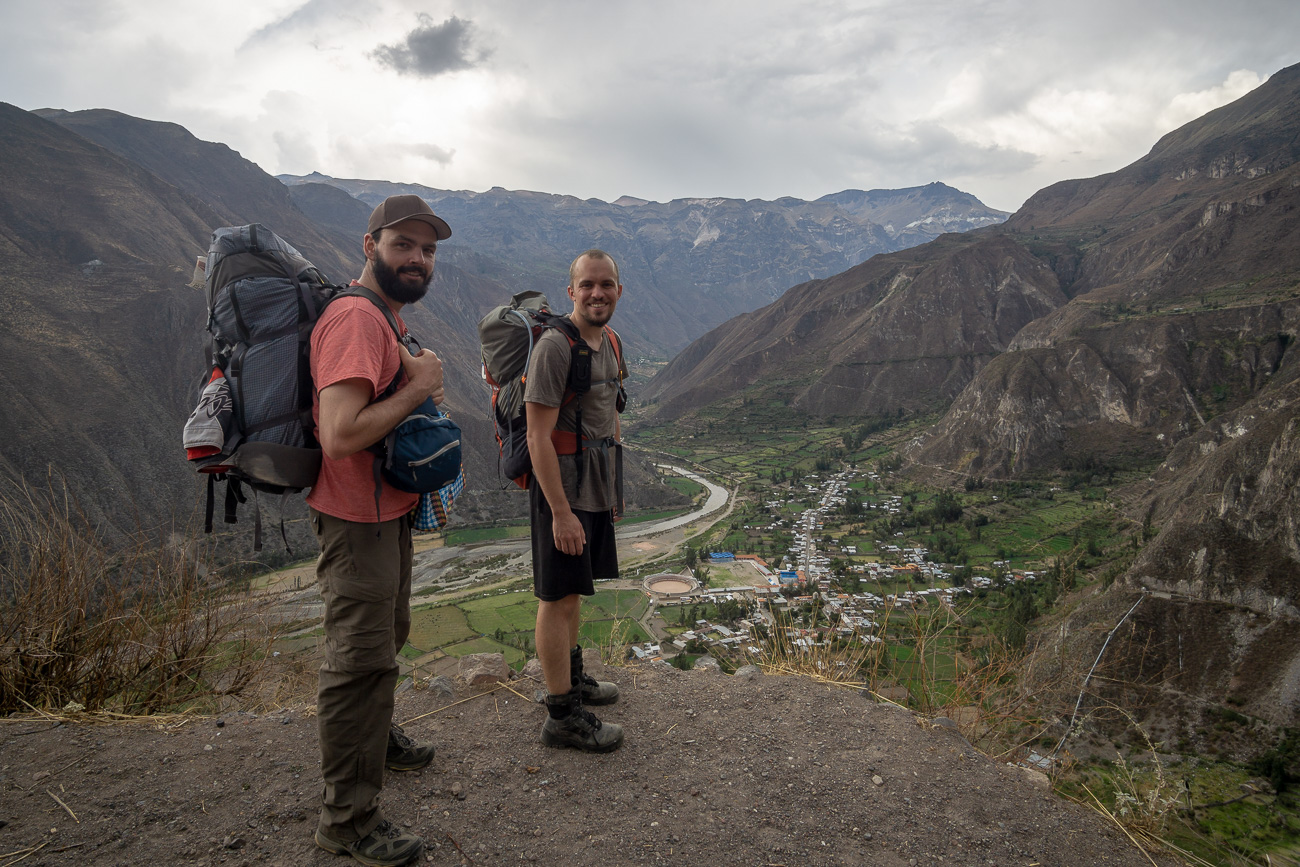 Eventually, we return to Arequipa and take a last trip: rafting. While the two girls of Iv stay at home and have fun on Youtube, the remaining four of us paddle through the wild water and enjoy the splashing wild water. It's a great fun which unfortunately is over way too fast.
Unfortunately, it's time to say goodbye. But fortunately not forever. We want to visit Joe in Canada (how long it may take us to get there? ) and want wo meet up with Iv, Matilda and Antonia once again during their trip in South America. So, everything is just half as bad!
If you would like to treat us with something for the 234567 hours of work, because you enjoy our stories: You can give us a roll if you like (guaranteed not to be spent on rolls but on beer).

Read More
← previous post
next post →