Peru 2.0 – A Love-Hate
Once travelling the Panamericana across the Americas, from North to South or vice versa – this is the declared dream of many. What they don't know, however, is that this road is actually a never-ending nightmare. A pure mass transport track. Large, straight, loud and ugly. There isn't a more uncharming way to ride past everything these countries have to offer. It is incomprehensible why this road has such a good reputation, as it only leads past big, faceless cities, dusty heat and bad-tempered people (no wonder with this scenery). No, that's not how we wanted to remember Peru. Because Peru is so much more!
So after one month of a travel break at the Hacienda Chan Chan in Ecuador, we simply turn around. The rainy season in the mountains of Peru is now over, the roads passable again and we want to venture a second time into the North.
A good start…
And there it is again: the madness. On the way to the Peruvian border we are standing at the roadside after only one day. The tiger has fallen in a bend and does not want to start any more. My heart slips directly into my boots. But just as fast it shoots up again with relief, when the problem is found: the fuse has blown. We get a new holder and the agitation is quickly forgotten.
But it doesn't go on relaxed at all. Muddy roads demand highest concentration and don't make me doubt just once whether it is possible to pass the mountains at all. Even the taxis only have four-wheel drive. However, bumpy, narrow tracks are always an indicator of little traffic and relaxed border operations. So we pass this line on the map in a sleepy nest with two officials who rarely stamp passports.
Back in the former Inca Empire!
Suddenly the cities have names that sound exactly the same again, I constantly see men relieving themselves at the roadside, and complete anarchy rules in traffic – yes, we are back in Peru!
The names of the Peruvian places really confuse us constantly, because they are always composed of the same syllables. If you also want to know how the Peruvian cities sound like: We have made a "city name generator Peru" for you. Sure, we have already applied for a patent, but maybe you shouldn't take it too seriously 😉 :
We notice directly in the first town how much we missed Peru, when a guy winds his way through the traffic right next to us, wearing flip-flops, underpants and an open shirt, defying the pouring rain. He has two lightly dressed ladies sitting behind him. What a wonderful sight!
"Yesterday it wasn't like that…"
We check in a small hostal after a busy day over bumpy roads as we urgently need a shower. So far everything is fine – until the next morning. When we want to jump on the Tiger, which we thought was safely parked overnight in the garage, it looks quite strange: The left suitcase and the holder are totally bent. Surprised, I start to take a closer look at the motorcycle and discover that the right mirror has broken off as well. In addition, the remote control of our communication system on the handlebars is completely broken. I look around: How can that be? The garage is huge and there is not a single other vehicle here. Then I look over to the employee of the hostal. He's keeping a straight face. "What happened here?" No answer.
Please give us only one word!
The bike laid obviously on both sides, but even with the greatest imagination we can't explain such a damage by falling over. I collect questions and scenarios that must have happened here in my head. How long did the motorcycle lie on its side? Why did it drop at all? And what else might have broken?
I take a deep breath, swallow the bewilderment and start – very calmly – to explain that we now have a problem. I explain that we can't go on like this and have to spend the day in a workshop. The gaze remains empty.
Since the garage has been locked and nothing else has been stolen from the bike, it can only have been the employee himself. Therefore I continue asking, explain in detail that this motorcycle is our only property and that we just want to know what happened here. Nothing else.
It is a hopeless case. The condition of the Tiger is only a trifle in comparison to the reaction of this human being: An indifference that I have never experienced in my life. I talk my mouth fuzzy in order to get any emotion, even a single look from him – nada.
role swap
In the face of this unaffectedness, Moe suddenly loses his composure. He starts to rant and rave at the poor guy, and I stand next to him wide-eyed, because Moe doesn't talk in Spanish – no, Moe curses in German.
And what happens? Also this emotional outburst remains without an echo. But there's something positive about it: Now I'm at least the one who can calm Moe down. 😀
At some point the poor devil gives us a bill with which we wants us to finally go away and buy a new mirror. Still not understanding that the slightest touch of empathy would have satisfied us much more than this stupid piece of paper.
Curious glances and a faux pas
Apart from this story, which remains incomprehensible to us, the North of Peru is a positive surprise. The glances of the people show that not many gringos have lost their way to the small villages before. There is a lot to discover culturally and scenically.
A highlight on this route remains the fortress Kuelap of the Chachapoya, a pre-Inca tribe. Known as the "mini version of Machu Picchu", it still counts as an insider tip. The way to get there is particularly impressive, since two years ago an unusual cable car was built up to the fortress (by the way the first and only cable car of Peru). And this one is not for the faint-hearted: the ride takes twenty minutes over an extremely deep gorge – fabulous views guaranteed.
We are early and have the fortress with four other Peruvians all to ourselves. Together we take the first cable car to the ruins and talk. "Where do you come from?" promptly arises as the first question.
I think the discomfort is written on our faces when we get a Hitler salute for our answer (not the first time). It's sad that this is still the first thing some people think of when they hear the keyword "Germany". I suppose benevolently that they just don't know any better. But how do you react in such a situation? Clarify, become angry, simply remain silent or even laugh out of courtesy? We still don't know… (Do you have any suggestions?)
Survival training
Here in the mountains of Northern Peru, it's full of marvels. It is incredibly high, incredibly spectacular, but also incredibly dangerous. The traffic in Peru is not always a pleasure, sometimes it has a lot in common with a fight for survival. That there was no crash: pure luck. Because despite the highest concentration, the horn before every turn and constant brake readiness, we have more than one incident that makes us hold our breath and our pulse beat faster.
This is not only due to the road conditions, but above all to the driving style of many Peruvians, who don't take the concept of driving lanes very seriously or speed around hairpin bends at incredible speeds. Especially on one-lane roads it gets dangerous: Here the right of the stronger applies, that's why motorcycles always have to go to the side immediately. Not a pleasant experience if there is no space, but only a very deep abyss right next to us.
In the workshop
Across the mountains up and down – that is a challenge for the Tiger as well. New brake pads are needed! Despite the loud squeaking rear brake, we ride to the next bigger city Cajamarca and start our search.
The fact that we are finally sent from shop to shop is not a new experience for us. "We don't have it, but ask across the street, they have it." "We? Nah, but ask at the store on the next corner, they should have that." At least all shops of the same kind always gather in the same street or quarter and so you don't have to walk far.
At the end we end up in Anthony's workshop. They also don't have the brake pads, but they want to help us instead of sending us away. And so begins another drama of three days, because Peru probably can't do without.
Up next, a short version of the acts: Screw of the brake pad is broken, brake pad gets brutally enlarged, brake lining is handmade, it is noticed that with this action probably more has gone broken, brake does not work any more, we must possibly order a new one (to which we do not get here without months of waiting time), riding on without rear wheel brake would be suicidal, deep desperation, suddenly the brake is functional again…
Spontaneous Party
And because we sit in the workshop again until late in the evening the day before Moe's birthday, there is a spontaneous party with a lot of beer, random guests and of course we are invited to everything. They even invent a creative birthday cake made of an old piston.
The price we have to pay when we continue our journey is ridiculous. Not even the beer from the birthday party could be paid with it… We are infinitely grateful that the journey can go on now!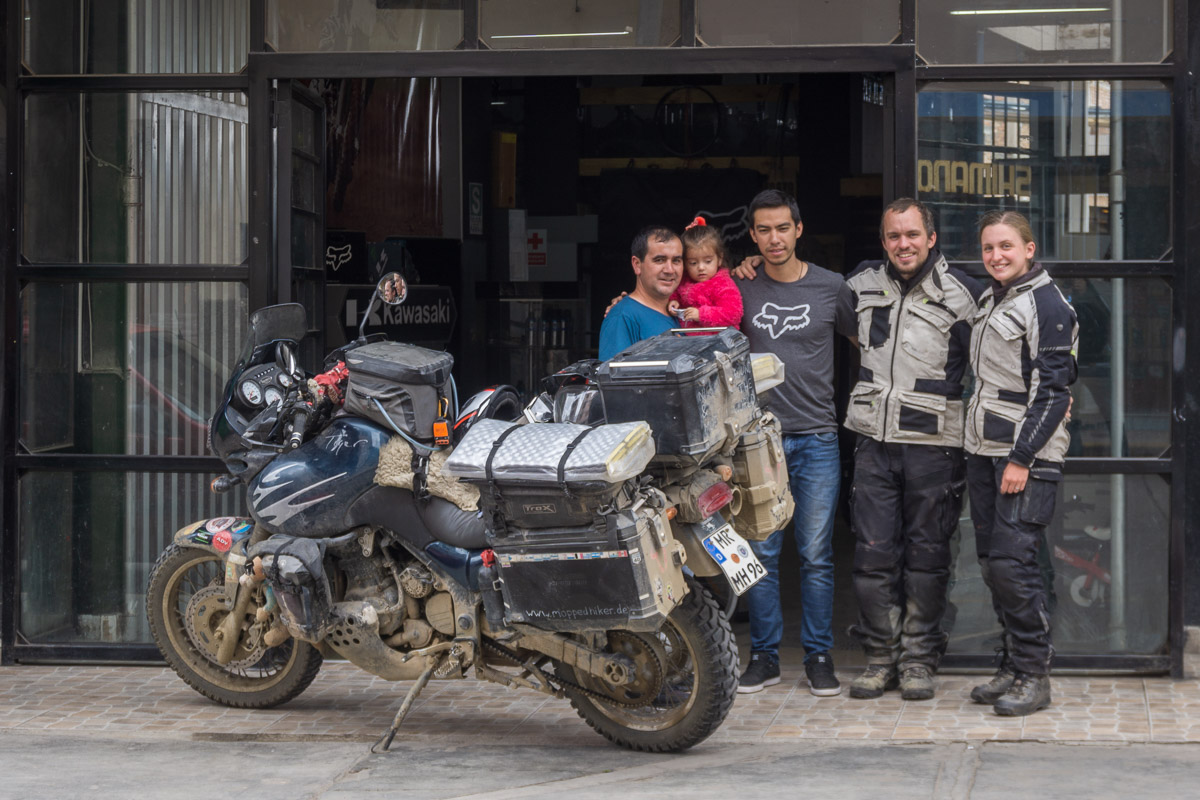 Well intentioned, bad skilled…
We don't get far, then there's a glitch. It's not us but a motorcyclist from the next bigger city. We want to help where we can. But until the end we are not quite sure if our help is wanted at all. Pretty weird, but since it is raining crazy and nobody else is on this road, we don't want to leave the poor guy alone here.
The rear wheel of the small bike is completely scrapped. He even has a replacement, but unfortunately the tire is flat. We try to fix it but we're really not a good help: every time we want to reinstall the repaired tube, there are new holes. We repeat this several times, until a minibus releases us. The bike is loaded up and brought to the next town.
Magical
Although the Northern Peruvian roads demand a lot of strength, they leave us deeply impressed. The seclusion, mad panoramas, deep canyons and rough mountains are of a simply overwhelming beauty. The small mountain villages with hot springs, delicious mountain cheese and curious people do the rest. What a contrast to the Panamericana! On our way back we decide to ride through the mountains to Ecuador again, as there are some of the most fabulous roads of our journey so far. I think the pictures speak for themselves.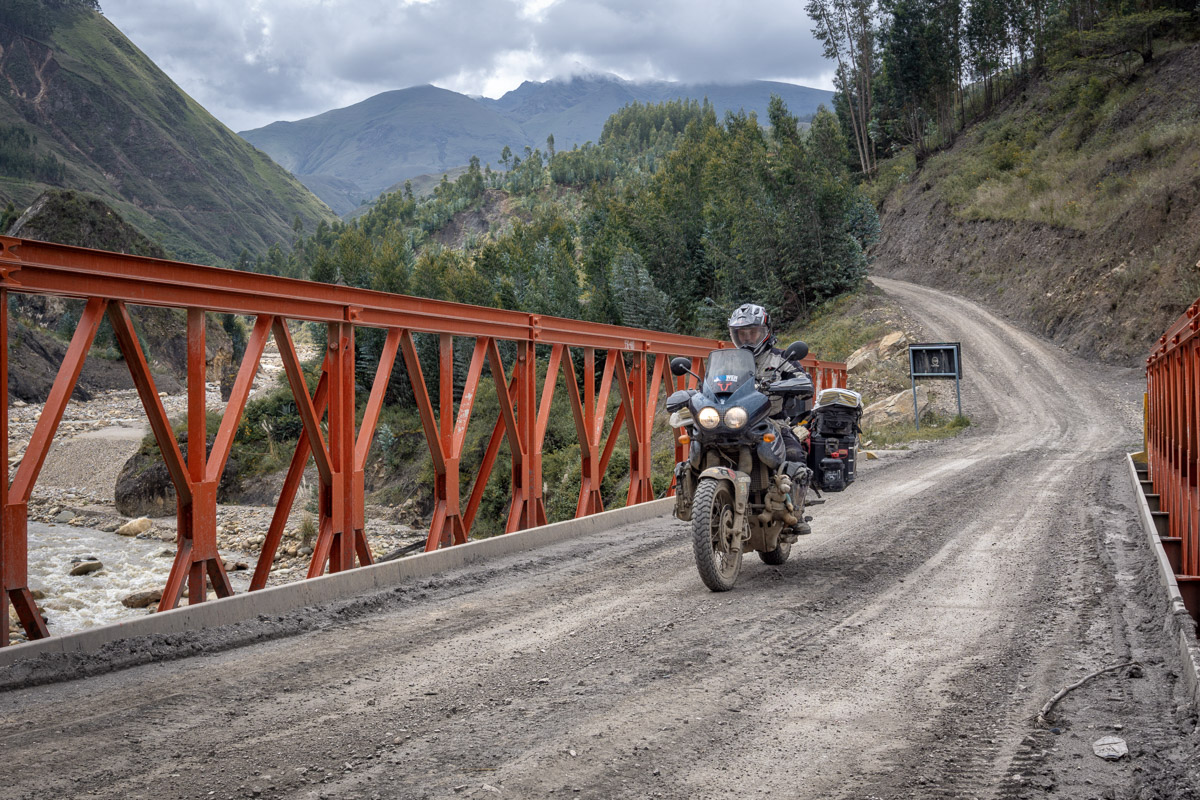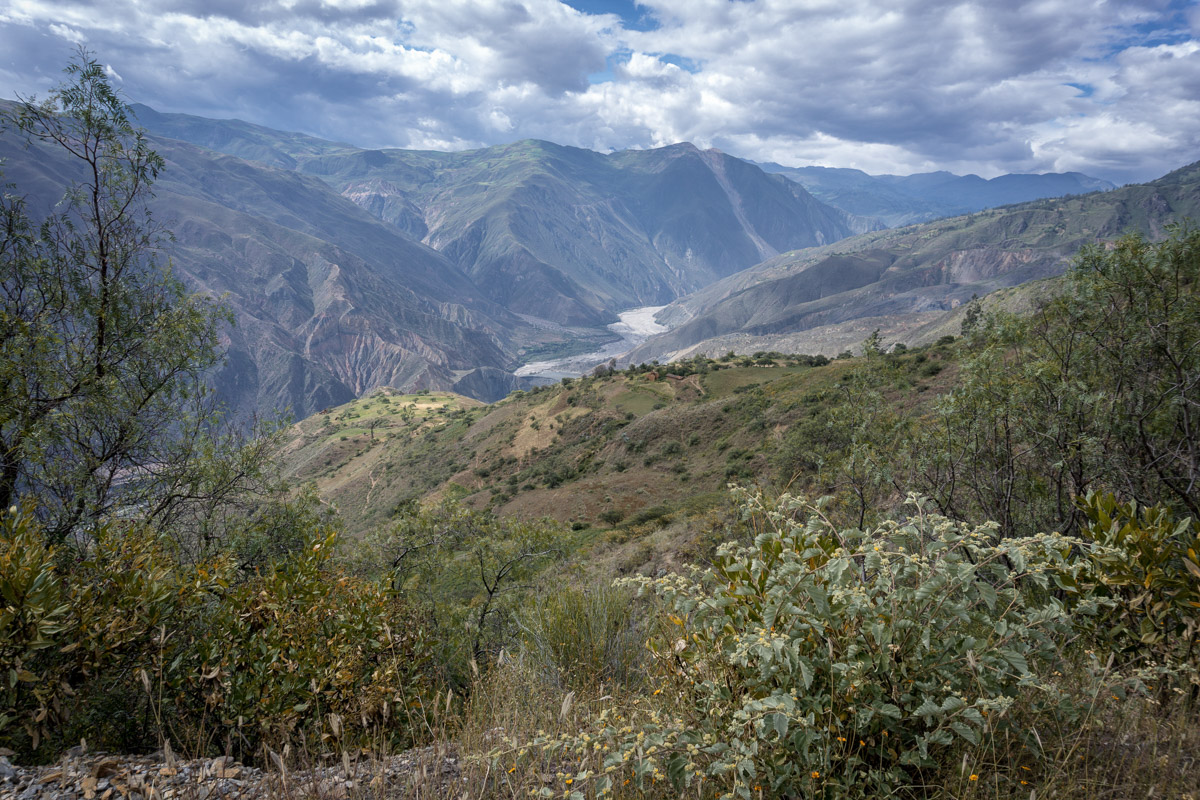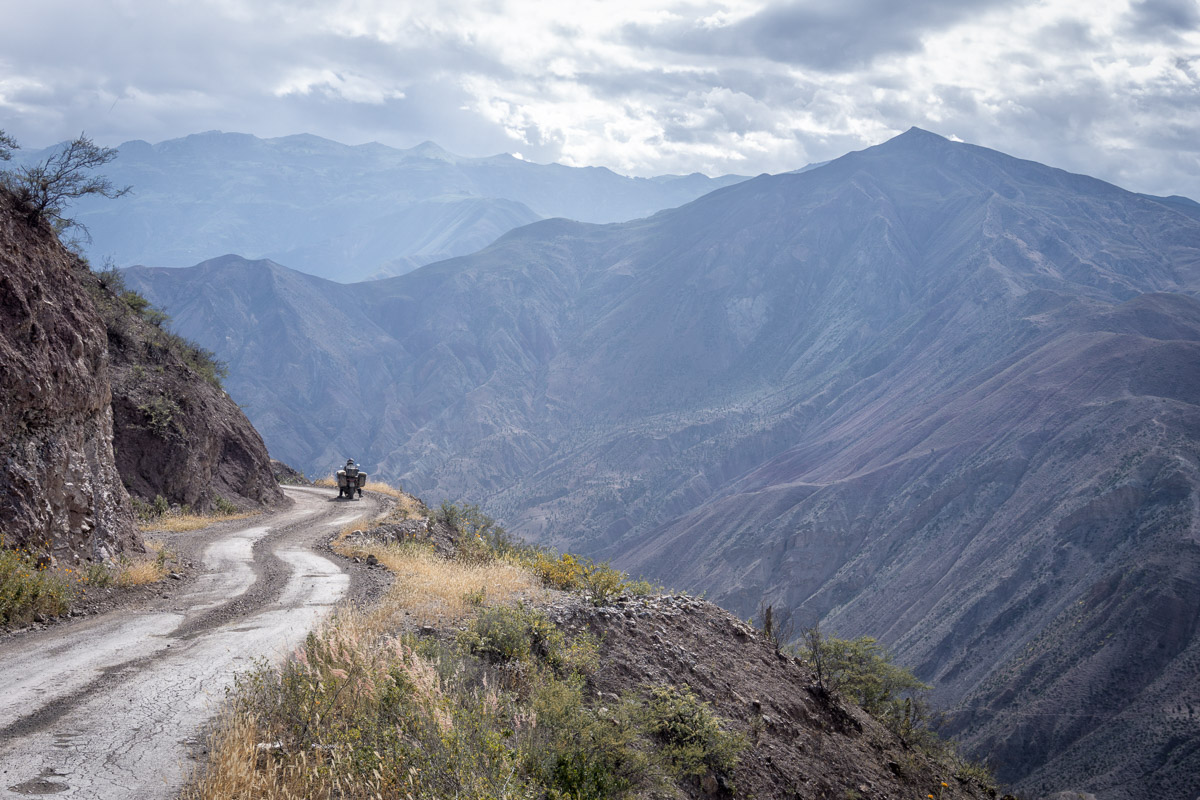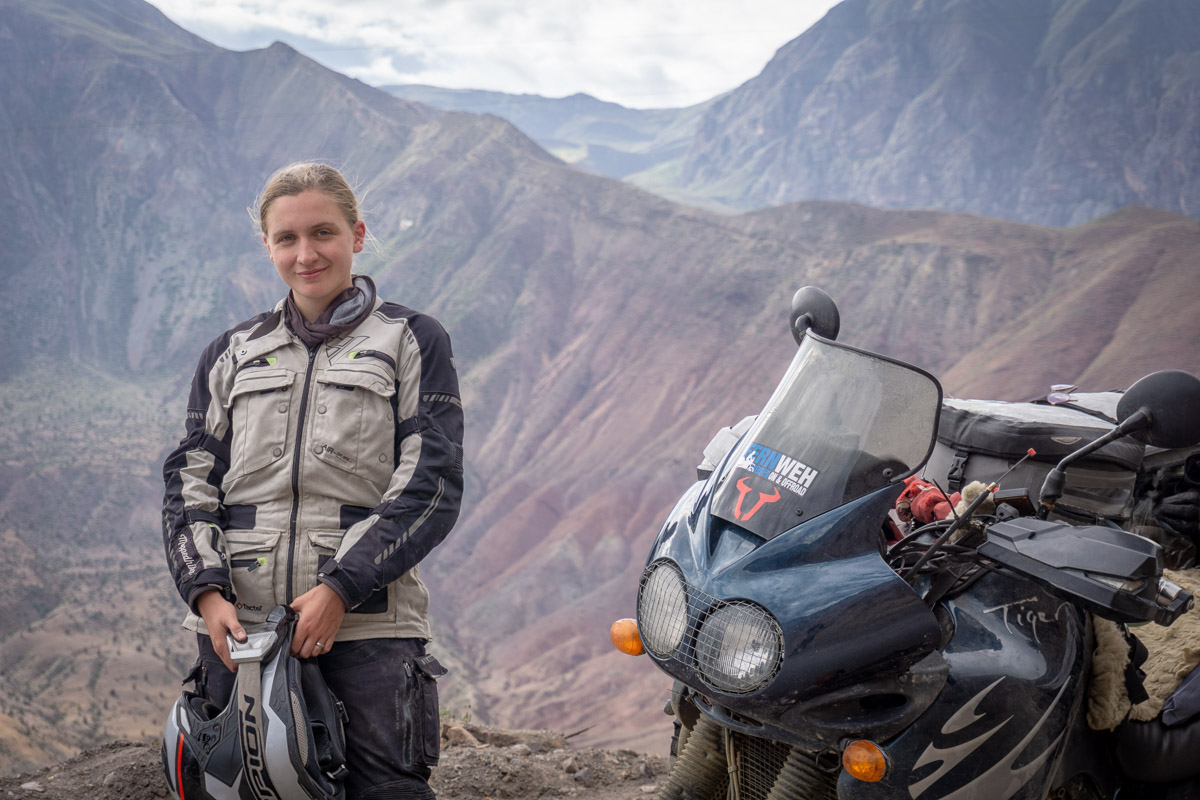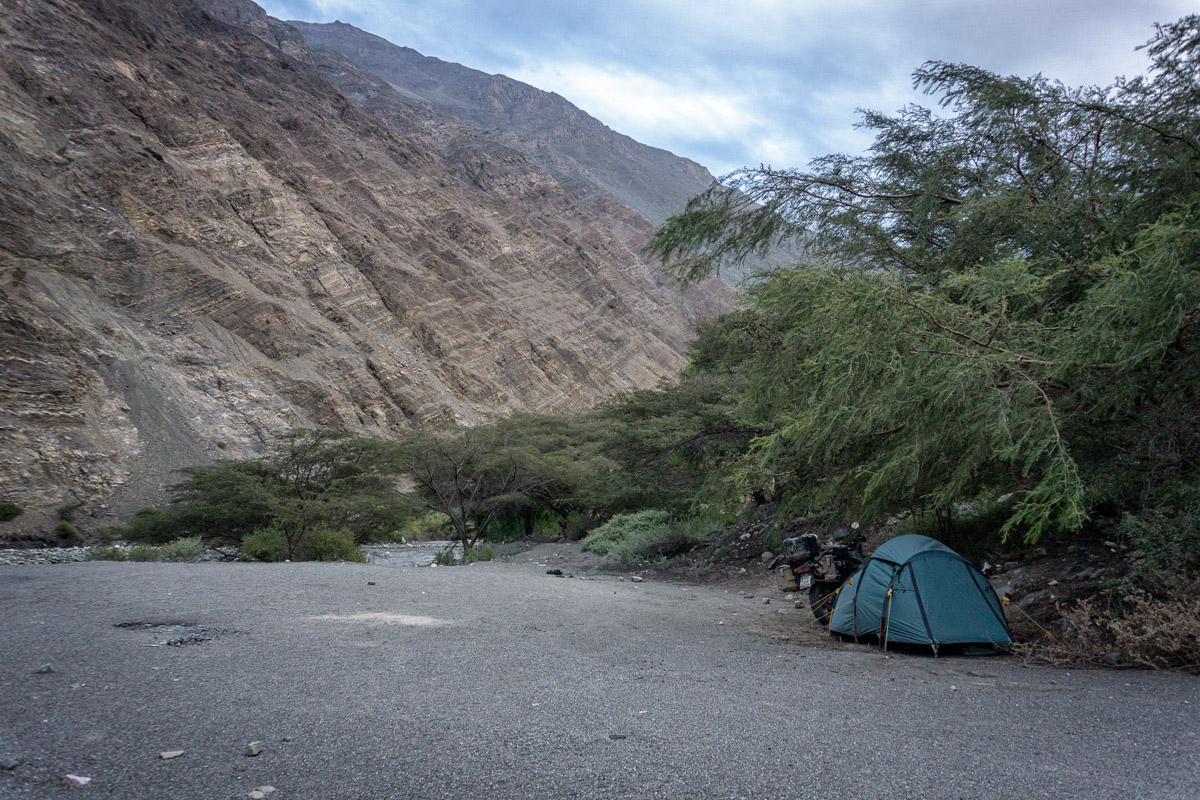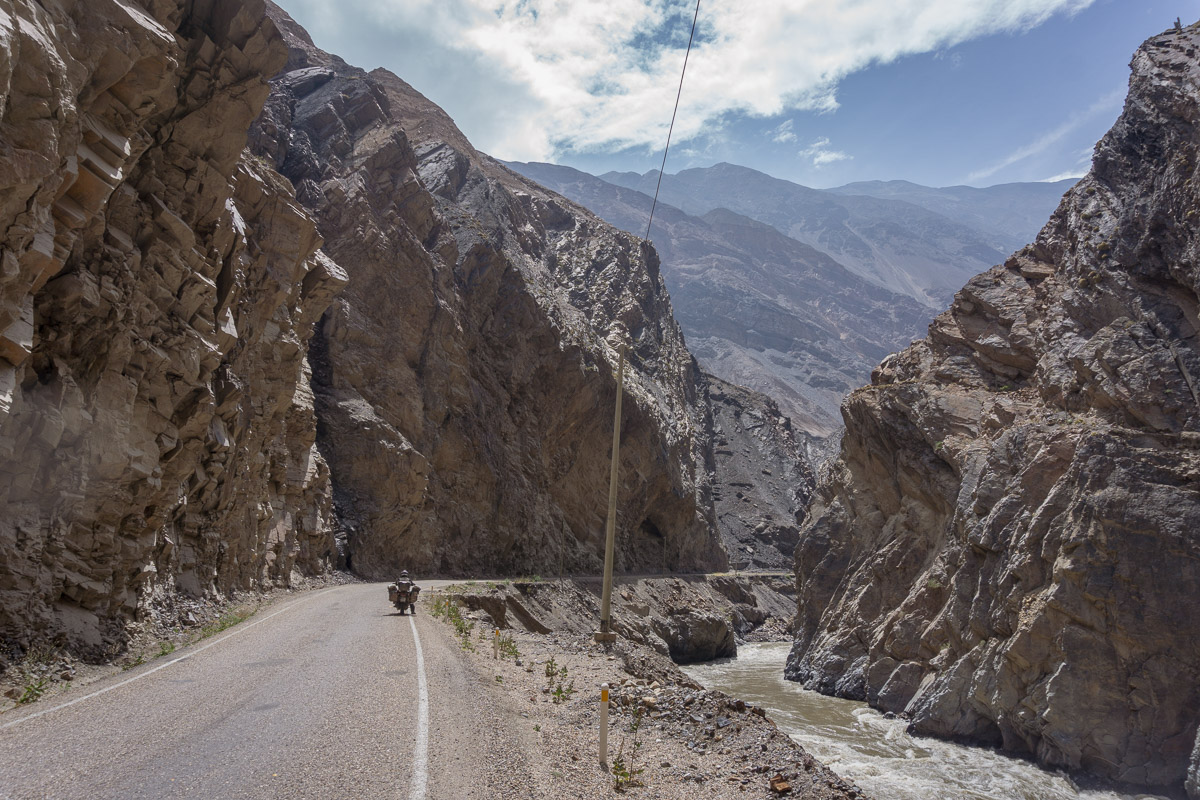 If you would like to treat us with something for the 234567 hours of work, because you enjoy our stories: You can give us a roll if you like (guaranteed not to be spent on rolls but on beer).

Read More
← previous post
next post →